Manayunk Brewery & Restaurant Headlines Hopfest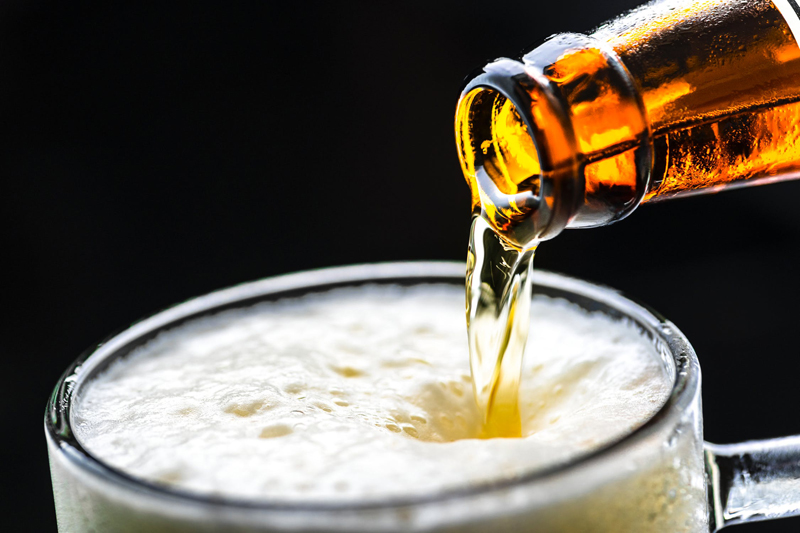 It was Saturday, April 24th, and the streets of downtown Manayunk were abuzz with sidewalk café-ers, window shoppers, and those seeking out local food and drink. The cerulean sky gleamed with the intensity of a backlit oil painting, promising an afternoon of sunshine that would blend well with Hopfest 2010, the 12th Annual Manayunk Brew Fest Extravaganza. Michael Rose, co-owner and General Manager of Manayunk Brewery & Restaurant on Main Street in Manayunk, brimmed with adrenaline, glancing at his watch with anticipation as a massive line of festival-goers swelled along the length of sidewalk in front of the restaurant and along adjacent storefronts.

The word Manayunk has its derivation in the language of the Lenape Native Americans: Menen, to drink; Menewagen, drinking; or Mënetunk, drinking place, or place where we drink - this beautiful location where the Schuylkill and Wissahickon Rivers converge - a gift of Mother Nature, celebrating the quenching waters that sustain life, the ideal spot for this popular drinking venue that is Manayunk Brewery and Restaurant.


As doors opened, it only took moments before the crowd was filling the multiple inside bars, spilling out onto the abundant upper and lower decks, and moving without hesitation into the upstairs River Club to sample Manayunk's cache of hoppy beers that gave definition to the festival, along with selections from such top dogs as Troegs, Victory, Ithaca Brewing, Hometown Beverages, Fegley's Brew Works, Flying Fish, Weyerbacher, Sierra Nevada, General Lafayette, Sly Fox, Lancaster Brewing, Yard's, Stoudt's, Roy Pitz, Philadelphia Brewing, Harvest Moon, McKenzie Brew House, and Appalachian Brewing. With at least two selections served at each station, it would be impossible to taste every style in the four hours that defined the festival, although some were up for the challenge to attempt such a feat.


Beers crafted by Doug Marchakitus, Head Brewer at Manayunk Brewery, and his assistants, Jeff McCracken and Bill Young, were served side-by-side with the two dozen breweries and brewpubs present. As topping on the dessert, a few other Philadelphia Beer enthusiasts showed their mettle: Mat Falco, Founder and Executive Editor of Philly Beer Scene Magazine, was there with his lively crew, handing out samples of his magazine to these connoisseurs who truly love beer. Jason Harris and yours truly (Carolyn Smagalski), founders of the Philly Beer Geek Competition, invited beer lovers to participate in the 2010 Philly Beer Geek Competition, now in its third year, for a chance to win over $1,000 in beer-centric prizes. Semi-Finals and Finals will be proudly hosted by Manayunk Brewery & Restaurant in May and June, respectively. Philadelphia Weekly raged on with the PW Happy Hour Guide - listings available through iPhone.

Hopfest 2010 kicked-off with a special firkin of The Hive Honey IPA, tapped by Doug Marchakitus, with Jeff and Bill close at hand to assist in serving those who swarmed like bees around the gleaming granite bar, anxious for their first taste of this hop mother. The Hive Honey IPA is an eye-pleaser, emitting the gossamer glow of copper light, layered with a thin coating of creamy off-white on the surface. A fruity nose of citrusy grapefruit draws you in, hand-cuffing the palate with immediate intensity. Enhanced with the sweetness of raw honey from a local apiary, the specialty malts and American hops so completely capture the taste-buds that you wish for more, again and again. IBUs are measured at 70, with a 7.1% ABV.


Live music drifted through the air from the outside deck, as hopheads sought out their favorite standbys, newly released summer seasonals, and the latest palate punchers. Whether drinking Sierra Nevada Summerfest, Victory Hop Wallop, Flying Fish HopFish, or Yards award-winning ESA, the atmosphere was light and jovial, a lively taste of summer to whet the appetite.

In addition to The Hive Honey IPA, Doug Marchakitus and crew had prepared a select listing of hop-centric beers to please the most demanding hopheads:

St. Alpha Belgian IPA joins Belgian yeast qualities of apricot, tropical fruits, and banana with the resin-heavy, citrus profile of Pacific Northwest hops.

Hop Phanatic Imperial Amber Ale splashes into the glass with a rich malt foundation and an over-the-top blast of Cascade, Columbus, and Centennial hops, weighing in at a hefty 8.2% ABV.


Beer judges will argue that Black Eye P.A. is an oxymoron, but there is no arguing with the satiating palate-pleasing effects that come from the depths of dark malts, combined with a punch of hops.

California Dreamin' Imperial IPA pushes past the limits of pale ales or IPAs. Gargantuan hop levels and alcohol suspend themselves within the orange-tinted hues, cloaking their power in a body that is silky on the palate, with a sock of alcohol at 8.5% ABV.

Krook's Mill American Pale Ale emerges as a well-crafted session drinker, with 2-row pale malts and Crystal malts forming the backbone for the floral character that comes from gentle Amarillo and Cascade hopping.

Red Rye Ale paints the tongue with the spicy zest of rye blended with the caramel sweetness of crystal malt, drenched in citrusy American hops.
Bill's Pils glows bright yellow, filling the nose with noble hop attributes of delicate florals that embellish the clean, pale malts and end in a quick dry finish.


Three additional Manayunk lagers on tap were Bohemian Blonde Munich Helles Style Lager, Schuylkill Punch Raspberry Lager, and Manayunk Lager Marzen Style, served alongside Yunkers' Gold Golden Ale and Rauch E. Balboa Rauchbier, a brilliant parallel to the fictional Philadelphia boxer portrayed by Sylvester Stallone in the Academy Award Winner and series, "Rocky" - A splendid reminder that we were, indeed, in Philadelphia.

Cheers!
Photos are (from top): Head Brewer Doug Marchakitus taps a firkin of The Hive, flanked by brewers Jeff McCracken and Bill Young; Hopfest 2010 spills out onto the outdoor decks and sunshine; Yard's Brewing serves ESA and IPA; Live Music on the outdoor decks; Whitney Thompson of Victory Brewing; Jason Harris of Keystone Homebrew and Philly Beer Geek with future Philly Beer Geeks

For more photos of the 12th Annual Manayunk Brew Fest Extravaganza, click through my Facebook Album at: Manayunk Hopfest 2010.
 
You Should Also Read:
Philly Beer Geek 2009 - Finals Competition
Philly Beer Geek 2009 Rewards Beer Geeks
Beer Trivia for Master Geeks


Related Articles
Editor's Picks Articles
Top Ten Articles
Previous Features
Site Map





Content copyright © 2023 by Carolyn Smagalski. All rights reserved.
This content was written by Carolyn Smagalski. If you wish to use this content in any manner, you need written permission. Contact Carolyn Smagalski for details.