Ascocenda - Orchid Profile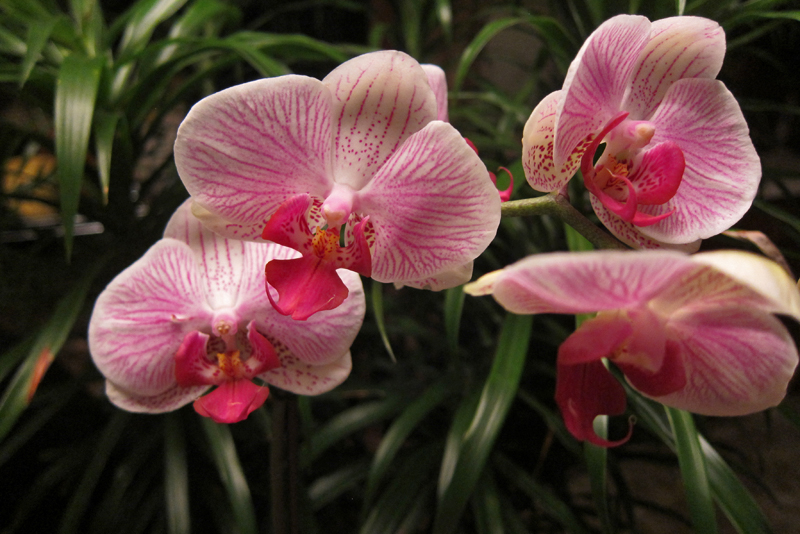 Ascocenda orchids
are a hybrid between
Vandas
and
Ascocentrums
, both monopodial orchids with multiple flowers on an inflorescence. They come in a wide variety of colors from yellow and tangerine, to incredible blues and pinks. The colors are extremely vivid in most varieties which makes them a favorite with growers. One of the most famous varieties is the
Princess Mikasa
cross which comes in blues and pinks.
Although not true miniatures, most Ascocendas are much smaller than their parent Vandas and thus can be grown in smaller spaces which is very important to the home grower. They are normally grown in hanging baskets since their roots like to be exposed to air and hang down. They are warm growing, but will tolerate temperatures down to 50 degrees Fahrenheit, or 10 degrees Centigrade. They are extremely tolerant of higher temperatures so do well in the Southern parts of the United States.
Ascocendas are heavy feeders and grow year round, so they need to be fertilized throughout the year unlike many other orchids. Many growers use time release fertilizers which are activated each time the plant is watered. In warm temperatures they need to be sprayed or watered at least once a day and during the hottest part of the year, several times a day. I have had better luck with them since I put some spaghnum moss in the basket in order to provide some extra water between waterings. Repotting is very easy -- just soak the plant to soften the roots and then work the roots into and through the slats of a larger hanging basket. You should not disturb the existing roots in the old basket. The size of the basket is not really important, they only need repotting when the old basket starts to disintegrate.
They may flower several times per year under good conditions, although they will generally bloom during the spring months. If you are growing indoors, it is advisable to provide a summer outside when the temperatures are moderated. They require a fair amount of light to encourage flowering and definitely appreciate the extra light from being outside. When moving them, be sure to acclimate the plant slowly to more light so that the leaves do not burn.
In general, this hybrid genus is easy to grow and responds to minimal care with the exception of the daily waterings. Try one out for the exceptional color and variety they provide.
You Should Also Read:
Equitant Oncidiums or Tolumnia
Orchid Profile - Vandas
Orchid Profile - Spider Orchids


Related Articles
Editor's Picks Articles
Top Ten Articles
Previous Features
Site Map





Content copyright © 2022 by Susan Taylor. All rights reserved.
This content was written by Susan Taylor. If you wish to use this content in any manner, you need written permission. Contact Anu Dharmani for details.