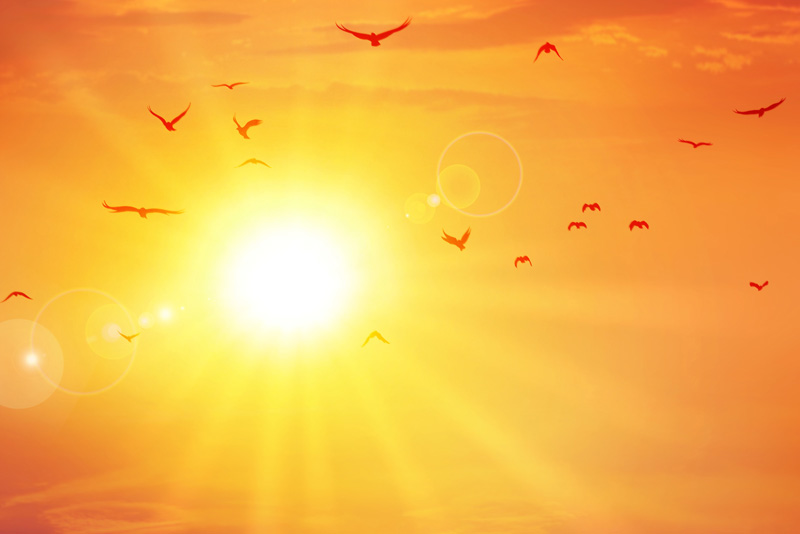 We know Adam as the first person ever to walk this earth. After God had formed the heavens and the earth he formed a man from the dust of the earth. The name Adam is Hebrew for man and is related to the Hebrew word for ground. God made him in His own image and when He was satisfied with the result God breathed the breath of life into his nostrils so that first man, Adam, became a living being.
Now God had planted a garden - we call it the Garden of Eden - and He put the man in the garden to work it and to take care of it. He even got the responsibility of naming all of the animals in the garden. Adam was created to serve God. Caring for the garden was easy work and there were all kinds of lovely trees producing good fruit. In the center of the garden there were two trees - the
Tree of Life
and the
Tree of the Knowledge of Good and Evil
. God commanded Adam not to eat from one of the trees - the
Tree of the Knowledge of Good and Evil
. He could eat from every other tree and there were many including the
Tree of Life
.
One day God looked at Adam and saw that he was alone. God had called everything else in His creation "good" but when He saw that Adam was alone, He said that it was "not good." Adam needed a female for companionship and reproduction in order to fully realize his humanity. God put him to sleep and created a woman for a rib from Adam's own body. The woman was a helper for him. She was of the same nature. The two completed one another. This was the first and the most perfect marriage. There were no barriers between man and wife. They were morally innocent and felt no shame.
Unfortunately, the serpent was in the garden and he was a crafty creature. He caused Eve to doubt God's word and she ate the fruit from the Tree of the Knowledge of Good and Evil. The Bible says that Adam was with her and that he ate some too. He could have refused to listen while the serpent twisted God's words. Adam could have said that he believed and trusted in God's wisdom in keeping them from eating the fruit, but he chose to share in the sin.
Adam's life changed at that point. He and Eve felt shame so they sewed fig leaves to cover themselves. God killed animals and gave them skins to wear instead. It takes a blood sacrifice to cover sin. Adam's close bond with his Father was broken and he hid when he heard God walking in the garden. His perfect bond with his wife was broken and as he blamed her for giving him the forbidden fruit.
His perfect life was changed. From that point on he would work long and hard to produce his food. Even when his crops grew, there would be thorns and thistles to deal with. God knew that the ravages of the sin would be too much if they were allowed to live forever. Adam and his wife were put out of the Garden of Eden. They could not be allowed to eat from the Tree of Life again.
One little sin usually doesn't seem like much at the time, but sin has a way of growing and spreading throughout one's life. Adam felt the pain of seeing his one sin grow and corrupt his family so much that his son Cain became a murderer, killing his own brother Abel.
Adam allowed the serpent to twist God's words. He believed the serpent when told that if he committed this one little sin he would gain wisdom. He did not gain wisdom. Wisdom begins with the fear of God. (Proverbs 9:10) He believed he would gain divinity but he did not become like God - far from it. Today, men and women still try to be God, creating their own rules, but we are not God, we are His creation.
The good news of Jesus Christ is that through His blood sacrifice we can permanently regain that close bond with our Creator and begin to repair our broken lives and broken relationships.
Read about Adam in the Bible in Genesis chapters 2 and 3.
You Should Also Read:
Eve - the Mother of All the Living
Temptation
Satan - the Devil


Related Articles
Editor's Picks Articles
Top Ten Articles
Previous Features
Site Map



Follow @LynneChapman
Tweet





Content copyright © 2022 by Lynne Chapman. All rights reserved.
This content was written by Lynne Chapman. If you wish to use this content in any manner, you need written permission. Contact Lynne Chapman for details.