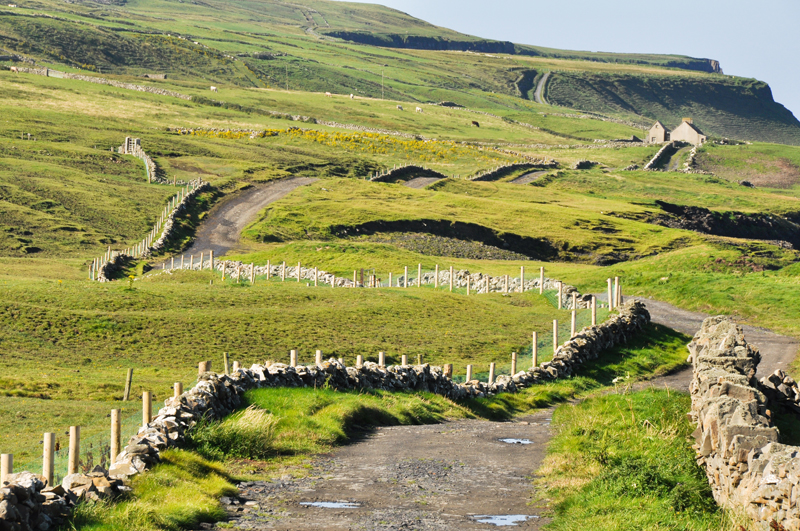 "Nollaig Shona Dhuit" (NoLik Suna Ditch) means "Merry Christmas" in Irish Gaelic.
"Christmas is coming, the goose is getting fat. Please put a penny in the old man's hat. If you haven't got a penny, a ha'penny will do. If you haven't got a ha'penny, God bless you!"
Cleaning for Christmas
The time leading up to Christmas is busy in Ireland. Women clean the inside, polish the floors, the silver, the furniture, every nook and cranny is "made presentable." The men clean and whitewash outbuildings and yard entrances, passageways, and surroundings. The children are especially good, because in Ireland...like elsewhere in the world...Santa's watching!
Advent
The Christmas season really begins with Advent, the four weeks before Christmas. In many homes, Advent wreaths and Advent candles are used. The Advent candle is lit every night and prayers said to prepare hearts for the birth of the Christ Child.
At the beginning of December, children start opening the windows of their Advent calenders revealing a Christmas picture or perhaps uncovering a sweet chocolate.
Twelve Days of Christmas
During the centuries when it was a crime to be Catholic and to practice one's faith, the "Twelve Days of Christmas" was used as a memory aid. The gifts listed in the song are hidden references to Catholic dogma.
Lighting Candles
Candles are placed in windows to light the way for travelers on Christmas Eve. Today people use electric candles for safety reasons. The "light in the window" welcomes family and friends coming home for Christmas, but it also symbolizes the welcome for the Holy Family. Every window in the house is garlanded with lights.
The Christmas Tree
The tree is decorated with tinsel and baubles and lights and gifts are put underneath. The gifts are opened on Christmas morning, not before!
Here is a nice collection of Christmas ornaments and decorations from Ireland.
Christmas Theme
Gift Giving
Presents are a big thing in Ireland. One need only visit the cousins to find that nearly anything that is admired is offered. The usual politeness must be abandoned. It's acceptable to tell another that a scarf, for example, suits them, but to admire it outright is akin to asking for it. Beware.
At Christmas, gifts are given to the whole family. The Irish are generous people. If it is at all possible, everyone gets a little something. Usually, there is one main gift given by the person closest and a constellation of small gifts are exchanged based on relationship. At the very least, a Christmas card, usually with a robin or cardinal on it, and maybe a little folding paper inside, is given to extended family.
St. Stephen's Day
Christmas leftovers are enjoyed all day. A soup is made from the remnants of the bird, with a mix of vegetables from the Christmas dinner. Sometimes a luscious pie is made of ham and turkey with layers of mashed potatoes and gravy. The plum pudding is reheated in a little butter in a heavy frying pan.
Traditionally, pantomime plays are performed on St. Stephen's day, in which women play the men's roles and vice-versa. In Dublin there are usually several plays going on with subjects including Cinderella, Sleeping Beauty, Puss in Boots, and Babes in the Wood.
On St. Stephen's Day, which is also known as Boxing Day, it's customary to give small gifts, usually of cash, to the milkman, mailman, and others who perform services throughout the year.
Epiphany
The official end of the Christmas season in Ireland occurs on January 6th, the Feast of Epiphany, or Feast of the Magi (also known as "Little Christmas"). This is the day when all Christmas decorations are taken down, and the last festive dinner is served.
Have a wonderful Christmas!
You Should Also Read:
Shopping in Ireland
Plum Pudding and Brandy Butter
Trifle, the Low-Carb Way


Related Articles
Editor's Picks Articles
Top Ten Articles
Previous Features
Site Map





Content copyright © 2022 by Mary Ellen Sweeney. All rights reserved.
This content was written by Mary Ellen Sweeney. If you wish to use this content in any manner, you need written permission. Contact Bee Smith for details.