Jeff Bagby - Lucky Pants at the 2010 GABF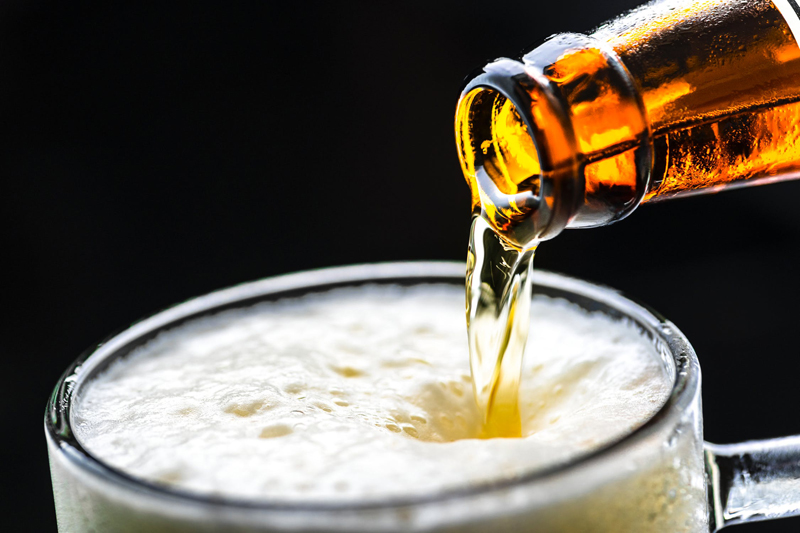 From my vantage point, stage-side, at the 2010 Great American Beer Festival award ceremony, I thought I was re-visiting Phil Connors on Groundhog Day. Jeff Bagby's tattersall check pants just kept flashing before my eyes – five times, six times, seven times … I knew something special was afoot. It had to be artisanal magic, the end result that can only be achieved with intense attention and diligence to every aspect in the brewhouse. In 2009, those same colors of red-and-blue on white flashed across the stage so many times, there was little doubt that Pizza Port Brewpub Carlsbad, would be selected as Large Brewpub and Large Brewpub Brewer of the Year. Then, with Ignacio Cervantes and Rich Carney, Bagby seized the same two titles for Pizza Port Carlsbad at this next go-around at the 2010 Great American Beer Festival.

Some people would call Jeff Bagby, Head Brewer at Pizza Port Carlsbad, California, "Lucky Pants." My collection ofLucky Pants photos just keeps growing, as the Carlsbad Brewing Team continuously crafts beer fit to be called World Class. Three of the Pizza Port Carlsbad beers that scored medals at the 2010 GABF had also been selected as medal winners at the 2010 World Beer Cup Competition, along with a fourth, crafted by the same Carlsbad team.


In the 2010 GABF Competition, Pizza Port Carlsbad received 3 Gold medals, awarded for Beech Street Bitter, Revelations, and Reed's Wee Heavy; 3 Silver medals, awarded for Coffee Monster, Good Grief Brown, and Night Rider Imperial Stout; and 1 Bronze, awarded for Port Truck Stout. Brewers (or a brewpub chain) may enter as many categories as they wish, but may only submit one beer in each category. They must also prioritize only eight of those beers for competitive assessment for Brewpub/Brewery and Brewer of the Year. To win this honor two years in a row is an astounding achievement.

The story gets better. Soon after Jeff Bagby came to Pizza Port Carlsbad in November, 2005, he was also made Director of Brewpub Operations. In that role, he now oversees all four Pizza Port Brewpubs: Carlsbad, San Clemente, Solana Beach and Ocean Beach. More magic dusted the stage at the 2010 GABF Award Ceremony when Bagby's team at Pizza Port San Clemente – Noah Regnery and Casey Hendrix - snatched the stage for the Small Brewpub and Brewer of the Year award, winning two Gold Medals: one for Pseudo IPA (against 142 entries) and one for Doheny Double IPA (against 97 entries). Pizza Port Ocean Beach also won Silver for Skidmark Brown.


Chris Swersey, Competition Director at the Brewers Association, reported stats that 3523 beers were entered in the 2010 GABF Competition, evaluated (blind) by 151 qualified judges from 11 countries. Judges are provided the style guidelines, as set forth by the Brewers Association, and assess the beers based on adherence to style at world-class levels, both from a technical and organoleptic perspective. Groups of six or seven judges can taste as many as 12 beers at a time, and may taste as many as 55 beers in a day. They rarely judge the same category. With as many as 142 beers entered into the largest category, it is impossible to "know" what brewery is tied to any two-ounce sample. The use of cell phones or other electronic devices is strictly prohibited during the judging sessions. This is what makes the success of Jeff Bagby and Pizza Port so astounding.

Jeff Bagby is passionate about world-class craft beer. After graduating from the University of California, Santa Barbara in 1997, he earned his wings in production brewing at Stone Brewing under the direction of Steve Wagner and Lee Chase.
For a brief time, he bounced away from brewing to a position at the YMCA in Encinitas, but soon returned to the craft through White Labs in San Diego, eventually working with Tomme Arthur in Solana Beach where they developed a program for successful experimental and seasonal beers. In 2003, he landed a position as Head Brewer at Oggi's, where he designing and crafting two of Oggi's three medal winning beers for the World Beer Cup 2004. By November 2005, he had returned to Pizza Port, this time as Head Brewer at Carlsbad, and has led his team in the art of crafting consistent, world-class beer.  To ensure success, he wears his "Lucky Pants" at every Awards Ceremony.  It has worked, so far ... but I don't think it's the pants.

Cheers!

Photos are (from top): Jeff Bagby, Ignacio "Nacho" Cervantes, Rich Carney of Pizza Port Carlsbad, with Charlie Papazian; Large Brewpub of the Year onstage - Rich Carney, Ignacio Cervantes, and Jeff Bagby; Charlie Papazian with PizzaPort San Clemente Casey Hendrix and Noah Regnery; Lucky Pants photo of Rich Carney, Jeff Bagby, Nacho Cervantes, and Charlie Papazian


 
You Should Also Read:
Six Tips - Doing the Great American Beer Festival
The 2010 Great American Beer Festival Rocks Denver
Beer Events Before & After the GABF 2010 in Denver


Related Articles
Editor's Picks Articles
Top Ten Articles
Previous Features
Site Map





Content copyright © 2023 by Carolyn Smagalski. All rights reserved.
This content was written by Carolyn Smagalski. If you wish to use this content in any manner, you need written permission. Contact Carolyn Smagalski for details.