Bridget Foy's - Merging Art and Local Craft Beer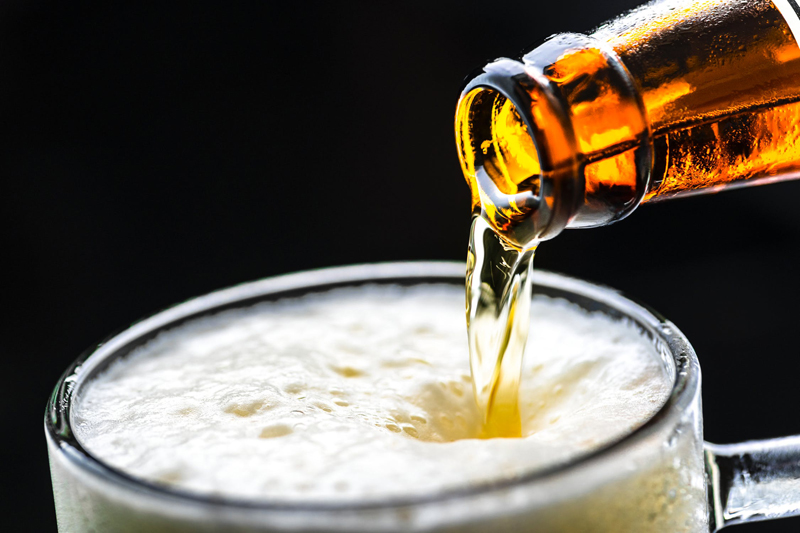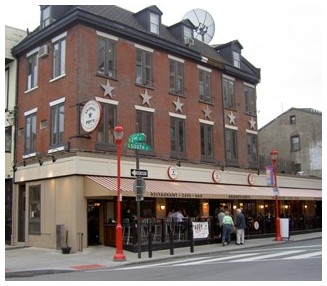 Monkeys and martinis make a sound foundation for a craft beer bar, especially on South Street in Philadelphia, Pennsylvania, USA. When Bernadette Foy was attending art school at Glassboro State, she had a profound revelation. "When I drank martinis, I talked too much," she said. With that in mind, she began painting talking olives in martini glasses, and her style as an artist was born. She moved forward as a portrait artist, but without the photo-realism stuck in traditional mire. Instead, she transformed the subject matter into well-dressed monkeys, surrounded by regal or domestic settings, complete with crowns or birthday cakes and an occasional family pet in the background. She set up her studio in the family kitchen, amidst the activity of a buzzing household, and everyone would basically ignore her as she went about the business of painting. It was just "something Mom always did."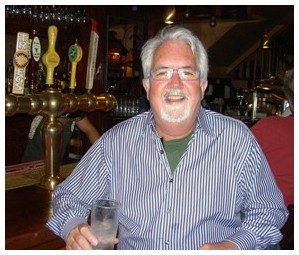 John Foy had opened his tavern on South Street in 1978, (then called the East Philly Café) and Bernadette became a part of it when they married. They named Bridget Foy's after their daughter who, as an adult, has now gained true presence as the General Manager. Bernadette displays her artwork on the walls - her own personal gallery in an American-Eclectic setting. Patrons who wander in for refreshment might be so emotionally stirred by her pieces that they purchase them on the spot, while others commission her to paint portraits of their families - often offering between $1,500 and $2,500 for each piece, painted in her unique monkey-vision.

John, his white hair and goatee adding a soft, amiable look to his visage, smiles with approval as his wife speaks of her art. "I had painted a piece called Martini Descending a Staircase," said Bernadette, "which hangs in the rear stairwell here. My daughter never gave it much attention, until she visited the Art Museum and saw Marcel Duchamp's Nude Descending a Staircase.
Overwhelmed, and suddenly aware of what I was about, she returned with open eyes: 'Mom, you're GOOD!' she said."

Bridget Foy's stands as a prominent landmark at the corner of 2nd and South Streets, only blocks from Penn's Landing. In old, classic brick and white paneling, the building is highlighted by a red-and white striped awning that shadows the outdoor sidewalk café. Outdoor seating is surrounded by a black, wrought iron railing, giving it a European, yet eclectic, appeal. Pale gray stars highlight the building between the windows of the second and third floors, while inside, the highly-polished ceilings add their hardwood warmth to the neighborhood feel. Bars and dining are available for group meetings, wedding receptions and parties on the 2 upper floors, and can be reserved in advance. Although a deposit is necessary to hold the space, there is no additional charge beyond the group's food and drink, although a $300 minimum is required for any such group party. Patrons can even see fireworks above Penn's Landing from the third floor on New Year's Eve.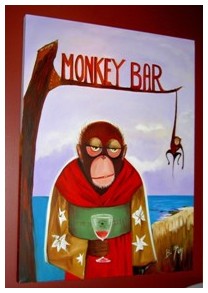 Seven taps dispense local beers, including 5 steady drafts and 2 rotating beers. Sangria specials, house made by Jessi Black, are readily available. John and Bernadette support the local neighborhood, and sponsored a Philly Beer Geek Preliminary Round for the Women's IPA Club of Philadelphia. Jessi Black, a recent Philadelphia resident and employee at Bridget Foy's, won a chance to compete for the $1,000 prize in the Philly Beer Geek Competition at the Semi-Finals in May, 2010, and was so well-versed in the subject of beer that she advanced to the Finals in June 2010, as only one of 6 Finalists in this city of 1.5 million people.

Chef Brendan Mullen has been revvin' it up in the kitchen for 10 years, and updates the menu with seasonal delights, as well as keeping current on food styles such as dishes for vegetarians and Sunday Brunch until 3:00 p.m.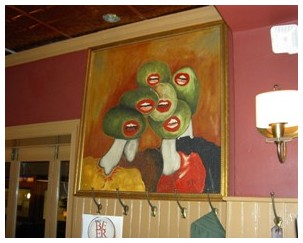 With no Bud and no Miller on the menu, the beer selection pairs well with the food and easily satisfies those who believe in local and hand-crafted.

Bridget Foy's also offers The Rewards Club as a free perk for customers. As benefits they get $10 off their 1st tab, a $25 Gift Certificate on their birthday, 25% off their cheque after 10:00 p.m., and emails about special events and menu items. Interest in the Club is brisk - John and Bernadette get 30-50 sign-ups per week.

Cheers!

Photos are (from top): Bridget Foy's at 2nd and South Streets, Philadelphia; Owner John Foy; Owner and Artist Bernadette Foy; Monkey Bar - Art by Berndette Foy; Talking Martinis - Artwork by Bernadette Foy

 
Let your own inner artist shine forth:
Royal & Langnickel 104-Piece All Media Easel Artist Set


Do you love monkeys as much as I do? Have a little fun with your passion:
Flingshot Slingshot Flying Screaming Monkey
You Should Also Read:
Beer for Sophisticated Restaurateurs
Breakfast Beer
Halloween Spirits and Dracula's Midnight Feast


Related Articles
Editor's Picks Articles
Top Ten Articles
Previous Features
Site Map





Content copyright © 2018 by Carolyn Smagalski. All rights reserved.
This content was written by Carolyn Smagalski. If you wish to use this content in any manner, you need written permission. Contact Carolyn Smagalski for details.