Beer for Sophisticated Restaurateurs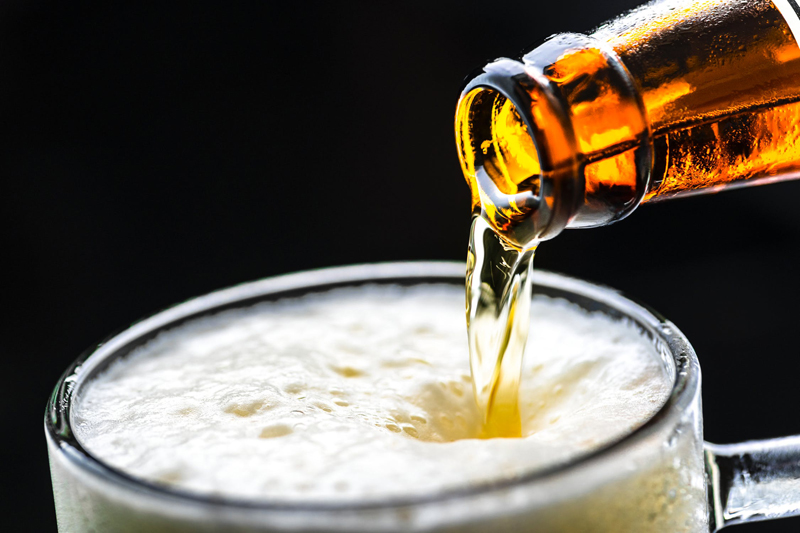 It was a memorable day, that "coming-of-age" moment when I was mature enough to be included in the family toast. With curiosity gnawing at my imagination like a Rotweiler with a chew toy, the prospect of raising an Austrian crystal of aromatic wine to my lips was irresistible. The laws, of course, admonished parents to keep their anxious children "innocent" until twenty-one, but my prudent parents allowed this vinous pleasure as recognition of my ability to act responsibly. From that point on, I entered the romantic world of women and wine.

In American culture, women are presented with romanticized images of private dinners, coupled with the ever-euphoric glass of sparkling wine – French Champagne, Asti Spumante, Pinot Noir, Riesling, Australian Shiraz, or Port from the Douro Valley. They are rarely discretionary about style, beyond the commonplace rules that govern red or white wine-and-food pairings. The glass of wine is an unspoken connection to foreplay, albeit of an intellectual nature - a precursor of a woman's image as an object of desire, one who is titillating and sensuous in private, yet a classic goddess at public gatherings.

With such imagery burned into the psyche of the American public, women are challenged when offered a chalice of artisanal craft beer. When presented as eye candy, poured from a 750 ml bottle with cage and cork, she finds it hard to resist. However, her indoctrination into the "evil image of beer" may be so intense and complete that it prevents her from making a choice that would expand her world.

Attitudes of such magnitude extend into the minds of men, too. A woman who is keenly aware of the characteristics of Dubbels and Tripels, IPA's and Russian Stouts - and likes them – can be intimidating to a man who only drinks Bud and has little knowledge of the micro brew scene. How often does a couple request a bottle of Ommegang Rare Vos to toast a special occasion? Even more rare is the restaurant that could fill the request from a well-stocked cache of finely crafted beer.

It is downright un-American!

America is a country of innovators, entrepreneurs, and free thinkers. Nowhere in business is this more apparent than in the world of the craft brewer. Trained with the traditions of Western European excellence, the imaginative faculties of the beer-artisan lift American beer to a higher plateau, into a realm that defines it as "Americana Brewivana." A rich tapestry of opportunity creates a positive progression into extreme signatures of beer in America, while maintaining a balance between traditional distinction and resurrected styles.

Of Yeast…

Innovators, such as White Labs and Wyeast Laboratories, provide the retrieval and preservation of high quality yeast strains, technical support, testing and analysis that can enable brewers to maximize the performance of yeast in the development of rich flavor profiles or higher attenuation. Alcohol levels that push-the-limit allow brewers to produce beers that compete with ports or cognacs as after-dinner sippers and relaxing nightcaps. Boston Beer Company is profiled in the Guinness Book of World Records for producing Samuel Adams Utopias, a non-carbonated big-boy at 25.6 % ABV, surpassing previous records held by SA Triple Bock and Samuel Adams Millennium.

…and Hops

Although the Yakima Valley in the state of Washington produces seventy-seven percent of the total hop crop in the United States, Oregon State University has gained significant notoriety among brewers for their highly successful "High Alpha-acid Breeding Program." The significant hop acreage of Oregon joins with Washington and Idaho to produce 94% of the total American hop crop, concentrated in the Pacific Northwest US.

American hops are known worldwide for the intensity they impart to the profile of "hop-monster style" brews. Inspired by the bold spirit of American brewers, a handful of artisan brewers from outside the US are endeavoring to use hops from the Pacific Northwest to bring exciting American flavors into their segments of the planet.

Craft brewers Sara Barton and Sean McArdle of Brewsters Brewery in the UK inject this touch of the American West Coast into Jezebel - a pleasure-seeker with aromas of black currants, spice, and hints of citric earth - developed from a delicate blend of proprietary yeast and single hopping with English Bramling Cross Hops and American Hops. Hildegard and Bas van Ostaden of Urthel in Belgium have merged carefully selected yeasts with American hops to create Hop It, a Belgian Ale with the zapping characteristics of a Double IPA. This is American innovation - so intense that it ignites the heat of imagination and leaves an indelible imprint in traditional brewing countries who were once critical of the American beer circle.

…and Grain

Sorghum? As leaders in the development of gluten free beer, American brewers are tackling the challenge of creating full-bodied, gluten-free beer with flavors that can rival barley-based beer. Bard's Tale has contributed significant research to the development of a malting facility used exclusively for sorghum, assuring that Celiacs have a truly safe, malt-based beer with full flavor profile and balanced character.

Beer Fox Recommendations for Sophisticated Dining Establishments

American Beer has achieved worldwide recognition as a topaz gem deserving of a prominent position in the genre of drink. Styles are so varied that you can choose a different one for each dinner course and not suffer the ill effects encountered as with other forms of alcoholic beverages.

Due to pre-established social norms, however, many restaurateurs have never considered a stock of well-crafted beer or the necessity of a "Beer List" for their patrons. In my travels, I have spoken to many who admit their unintentional omission is simply due to their lack of knowledge about beer. It is unfortunate that this small insufficiency causes so much anxiety and intimidation for the average person - the woman who wants to order a sophisticated beer that will pair well with her dinner; the man who desires a beer that his woman would view as enticing and erotic; the wait-staff who appears at a loss when questioned about the "Dinner Beer List" – patrons do not enjoy seeing them break out in a cold sweat and stammer nervously in discomfort due to a lack of vision on the part of management.

Tip for restaurateurs: Get some classic craft beer and market your willingness to seize American innovation!

Following are some East Coast/West Coast sophisticates to get you started in a world of gastronomic variety:

American Belgian Beer – 750 ml Bottles with Cage and Cork

Brewery Ommegang – Cooperstown, New York, USA

Ommegang Witte – Belgian Style Witte - An ethereal body of hazy lemon is topped with a capacious, white head that sheets the glass in a frothy web. Aromas of Caribbean orange and coriander emanate into the air, compelling you to delve into the citrusy flavors that await your palate. Sweetness is tempered by light carbonation and a stinging, but refreshing, acidity that lingers within the recesses of your mouth. Broccoli and cheese quiche with a side of Waldorf salad is the perfect accompaniment to this light, crisp brew.

Hennepin Farmhouse Saison - Saison - A shimmering, orange glow translucenizes through golden hues to play upon your senses. Aromas of fruit and earth envelop the nose, touched by horse blanket, florals and ginger. On the palate, a sweet maltiness mixes with peppered fruits of lemon, orange, pineapple and white grape, while the musky earth profile lingers in complex waves of spiced warmth. Such an orgasmic mix of flavors is an achievement that requires an encore. Flavors are so assertive that they blend as easily with a salmon steak dressed in orange glaze and mint garnish as with tournedos of beef atop spiced wild mushrooms and roasted pecan chips.

Three Philosophers Belgian Quadrupel – Quadrupel – Garnet red lights flicker within the intense mahogany body, as aromas of sun-soaked raisins, Arabian figs, dark cherries and sweet pear float through the air. A finely bubbled effervescence taps across your tongue, awakening it with caramel maltiness, earth, spices and chocolate-covered fruit, while a satin-draped seductress of warmth spreads through your body. Venison with sour-cherry sauce, herbed organic chicken with walnut stuffing, duck, goose, pan-seared steaks or glazed ribs come alive when their caramelized flavors blend with the fruity warmth of this temptation in a bottle.

Russian River Brewing Company – Santa Rosa, California, USA

Damnation – Belgian Strong Pale Ale - Golden mist effuses out of the bottle with omnipotent white fluff that clings to the glass in expansive patches. The mellifluous sweetness of biscuit, malt, melons, and pear merge with floral hops and spice in a sophisticated profile that drips with complexity. Zesty, Cajun-style pork with a side of baked potato garnished in rosemary sets the stage for the bold characteristics of this fine offering.

Supplication – American Wild Ale – Hues of crimson-amber-orange pour dramatically out of the bottle, with a thin head of tawny foam. Sour cherries, Brettanomyces, oak, papaya, plums, wet straw, horse saddle, and citrus fruits fill the nose with cheerful intensity. Light effervescence and creamy lactic character initially greets the palate, followed by clean, tart flavors of cherries, citrus fruit, and berry skins, with a touch of old cheese. Remarkable complexity brightens the flavors of lobster and shellfish, omelettes of cheddar or goat cheese, tuna steaks and mussels.

Salvation – Belgian Strong Dark Ale – A body of bronzed copper is topped by a frothy almond-tinged head of foam. Your olfactory senses fill with spicy, tart dark grapes, raisins and banana mixed with vinous notes of sweet malt, toffee and candi sugar. Dark fruits, banana and malts echo in the flavor, with warmth rising in the throat. A smooth, creamy, silken mouthfeel lingers on the palate. Flavors of pork, honey glazed ham, carbonnade flamanade, and standing rib roast merge well with the rich, full complexity of this Belgian wonder.

As you become more well-versed in your selection of sophisticated beers, you will discover an explosion of flavors that are enlivened by the introduction of perfect pairings between beer and food. Brewers of Belgian-style beers have emerged in the American craft landscape like fine roses in a manicured garden.

The following is a list of brewers and beer you may consider for your selective portfolio:

Pizza Port and Pizza Port Brewing Company, Solana Beach, California, USA – Cuvee de Tomme; Antwerp Belgian; Le Woody Brune; Lucidity; Simcoe Pale Ale

Allagash Brewing Company, Portland, Maine, USA – 10th Anniversary Ale; Grand Cru; Allagash Curieux; Tripel Reserve; Dubbel Reserve;

New Belgium Brewing Company, Fort Collins, Colorado, USA – Abbey Grand Cru; La Folie Wood Aged Beer; Belgian Strong Dark Ale; Le Terroir; Abbey Belgian Style Ale; Biere De Mars Ale

Dogfish Head Craft Brewery, Milton, Delaware, USA – Au Courant; Raison D'etre; Hommel Bier, Raison D'extra

Avery Brewing Company, Boulder, Colorado, USA – The Reverend; The Beast Grand Cru; White Rascal

Midnight Sun Brewing Company, Anchorage, Alaska, USA – La Maitresse Du Moine

Brewers Art, Baltimore, Maryland, USA – Cerberus Tripel; Scarlet Fever; Canard; Proletary Ale; Odum Dubbel; Ozzy Ale

Southampton Publick House, Southampton, New York, USA – Abbey Double; Abbey Single; Abbot 12; Biere de Mars; Belgian Red Ale

Russian River Brewing Company, Santa Rosa, California, USA – Benediction; Deification; Erudition; Sanctification; Rejection; Perdition; Redemption
Cheers!
You may wish to add a bit of class when serving beer. This beautiful set is a great starting point for classic service in durable glassware. You may also wish to seek out Stemmed Pilsners or Wheat Beer Glasses before expanding to Oversized Wine Glasses, Water Goblets, Champagne Flutes or Digestive Glasses.
Spiegelau Barrel Beer Classics Lager Glass, Set of 6 in Barrel Gift Tube
Spiegelau Beer Classics Ultimate Beer Glass Set 6-pc.
You Should Also Read:
Delicate Pairings of Beer and Cheese
The Grand Embellishment of Food with Beer
Tapas and Beer - Tasty Food Pairings


Related Articles
Editor's Picks Articles
Top Ten Articles
Previous Features
Site Map





Content copyright © 2022 by Carolyn Smagalski. All rights reserved.
This content was written by Carolyn Smagalski. If you wish to use this content in any manner, you need written permission. Contact Carolyn Smagalski for details.