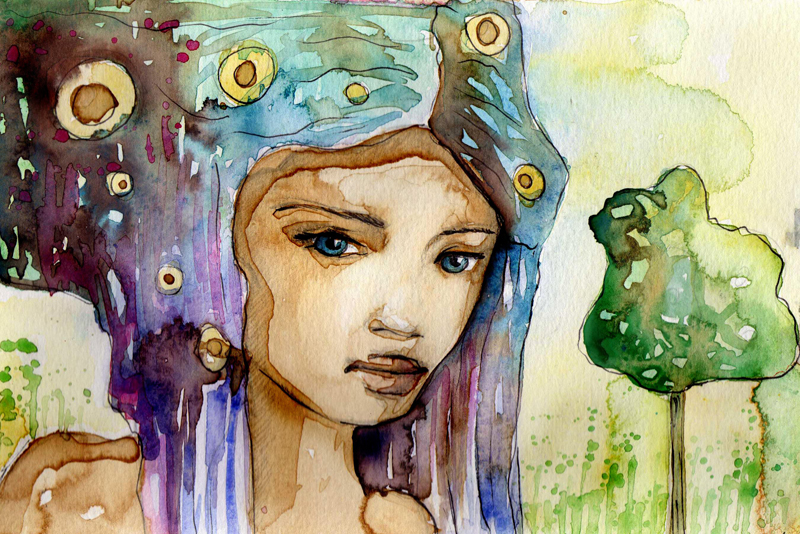 This weeks article is one that was written by a former Bella Ethnic Beauty editor on hair. It says a lot about ethnic beauties, how we feel about our hair and what we often do and don't do when it comes to caring for our hair. Enjoy!
Hair, we all have it. We may not have as much as we'd like, and ours may not even appear
where
we'd like. Instead of on our heads it may sprout above our lip, on our chins, on our legs, or Heaven forbid on the backs of our hands or on our beautiful bosoms. If this has not happened to you, yet, be thankful. The point I'm trying to make it that hair is universal. It's something we all deal with, or have dealt with. Fidgeting, fussing, and even fighting with it, we can all relate to. We can even all agree that there have been days when we've felt our hair looked incomparable. Funny, how on those days we feel as though we can conquer the world. Then we've all had that inevitable bad hair day, or the day when we just didn't have it in us to care.
One thing I've learned though, through my many trials with my own hair is that we must let it be. It sounds simple, quite possibly even stupid, I know, but that's how it is. Instead of longing for a different type of hair, why not learn to deal with the hair you actually have? I know you've been privy to this... Someone who has a lovely head of gorgeous curls wants straight hair. Those with thin or baby fine hair long for thick waves. Again, I say, let it be; deal with the hair you have. Then you can make the best of it. Now in making the best of it, I am not saying go into control mode. You don't want your tresses to look stressed or like a helmet. You don't even want your hair, grown or store-bought, to look like a hat. Don't you want your locks to appear healthy, no matter their length and style? Don't you want your hair to appear soft, touchable, and manageable?
Well, the trick is to find the products that are right for you, for
your
hair. It may take a while, but man, is it worth it! I'll give you a tip. The quickest way to find out what may work for you -- if you are seeking -- is to ask someone. Simple, right? Not just anyone though; ask the fab haired woman at the checkout before you whose hair is similar in texture to yours. Hopefully, she'll be gracious enough to share her secret(s) with you. Or if you've got a friend, same scenario; should she not want to tell you, beware. Perhaps she is really your frenemy -- sort of a friend, but sort of an enemy. Ask a stylist, or do something similar to what I used to do. While waiting for the bus, I'd watch the women in the nearby salon. I mentally cataloged the patrons as well as the stylists. You can learn a lot by doing so, even if you just make one fact-finding trip. However, back to my story... One day, feeling courageous, I went in and asked questions. I spoke to the stylist whose technique appealed to me. Of course she told me she couldn't make
my
hair look like her patron's. She said something about mine not being cut right. Whatever. I left (a little disappointed -- ok, feeling huffy, I'll admit; no laughing please)
but
with the resilience of youth, I started again -- looking for a 'do that the stylist
could
do, for me. See what I mean about dealing with the hair you've got?
Yes, and I know I said this in a long ago article, but I'll say it again, and again. Condition your hair. We ask a lot of our hair, grown from our very own heads or imported from halfway around the world. So to keep it moving, manageable, and
healthy
, hair needs help. We moisturize our lips, our hands and all elsewhere don't we? Well, if our hair is dry, the ends are brittle, or if it's slowly becoming that way, perhaps due to coloring, why not relieve it? And remember, if you wind up with a style you don't particularly care for, or if your hair happens to be cut too short, it will grow back. Just don't pull out your hand mirror every five minutes, because as mama said: a watched pot never seems to boil. If you can't wait for growth, pop into a beauty supply or a salon, they've got hair of every texture and type, just waiting for you. Then, if you see someone with great looking hair tell her so, pay it forward. Why? Because one day, soon, the same compliment could come your way -- because as I said, hair is universal.
If you like what you've read, share it with a friend. Don't for get to visit the Ethnic Beauty forum.
That's it for this week,
Dedicated to Your Beauty
Juliette's Website
https://www.nyrajuskincare.com


Related Articles
Editor's Picks Articles
Top Ten Articles
Previous Features
Site Map





Content copyright © 2023 by April Alisa Marquette. All rights reserved.
This content was written by April Alisa Marquette. If you wish to use this content in any manner, you need written permission. Contact Juliette Samuel for details.