Victory at Spinnerstown Hotel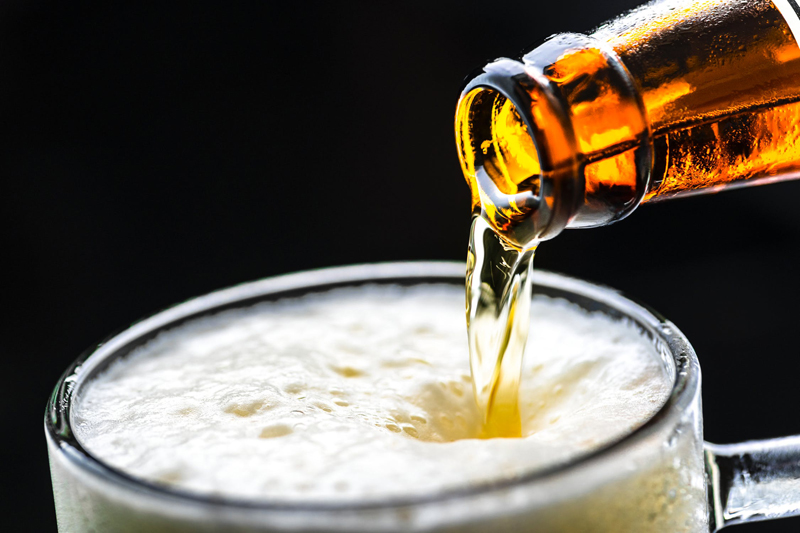 The lighting was soft, reflecting through pine boughs dressed in crab apples, glazed berries and cinnamon sticks. Spinnerstown Hotel and Tap Room was poised for a sell-out crowd of enthusiastic beer lovers, some traveling nearly 75 miles for this 4th Annual Holiday Beer Dinner with Victory Brewing. Above the fireplace, German beer steins and oversized Belgian beer chalices stoked comments among those who imagined holiday parties filled with flowing Doppelbock and Belgian Dubbels.

Bill Covaleski, co-owner of Victory Brewing Company, and Pete Danford, Area Sales Manager for Victory, presented six of their finest beers paired with the culinary artistry of Chef Karl Kerwood. Covaleski entertained before each course, telling anecdotes, talking about ingredients and their nuances of intermingling flavors, and of collaborative projects with fellow brewers.

In 1997, Bill Covaleski and Ron Barchet introduced Prima Pils into a "market where the pilsner style had been run over by weak, lame branding," Covaleski explained. "No one wanted it, but we launched it anyway. It was so successful that it opened the way for our Braumeister Series." Our first course showcased Braumeister Harvest Pils, fresh hopped with whole flower hops from a farm near Seneca Falls in New York state. Cascade and Mount Hood hops, a variant of Hersbrucker, were infused in the kettle within 10 hours of leaving the vine. This allowed the coveted hop oils to transfer their earthy, spicy aromas into the body. The middle is fatter, producing full richness in the mouth. Paired with a winter salad of spinach with grilled chicken, toasted walnuts, muenster cheese and a delicate cranberry vinaigrette dressing, the alpha bitterness easily cut through the natural fats in the cheese, nuts and dressing, leaving the palate clean and vibrant.


Covaleski next introduced Pete Danford, along with Simcoe Pursuit Pale Ale. The Pale Ale Series introduces a different hops variety each time, similar to the foundation laid by the Braumeister Series. This version showcased the pineapple and mint profile of Simcoe, paired with Crispy Bleu Horse Wings – an upscale version of wings, dressed with a creamy bleu cheese and horseradish sauce. Pursuit Pale Ale gleams like fine copper in the glass, decorated with a thick, creamy head of off white and chunky lacing. It serves well in unison with the creaminess of the wings, scrubbing the palate, while quenching the heat of the horseradish.


Rather than presenting Wild Devil as an aperitif, as is often the case with flavorful Belgian beers, it was served as an intermezzo, a delightful break between courses to prepare the palate for the main entrée. Bill Covaleski opened a bottle of 1-year-old Wild Devil, so we could compare it to the draft version. In both versions, the caramel sweetness and citrus hop character was enhanced by the wild character of the Brett (Brettanomyces) yeast. The body is a stunning vermillion orange, with a soft, foamy head. In the aged version, the tart flavors and dryer tannins had rounded out and laid with a softer layer in the mouth. At 6.7% ABV, this Devil could sneak up on the unsuspecting, so remember to look over your shoulder when drinking this bad boy.


Beer lovers commonly believe that collaboration among brewers always results in one final beer, but this is not always the case. When Bill Covaleski, Sam Calagione of Dogfish Head Craft Brewery in Delaware and Greg Koch of Stone Brewing in California wrote their manifesto as "Brewers United for the Buff," they agreed on a select bouquet of culinary herbs for a 6.5% ABV beer, along with the grains and hops that would form the base of the recipe. They also agreed to each use a different yeast, producing three totally distinctive beers in the final heat. Victory used a Blauges yeast, the same yeast strain used in their Helios. The result is Saison du Buff, a golden aromatic farmhouse ale, made with lemon thyme, sage, parsley, and rosemary. The nose is initially floral, then dances between the herbs, with sage emerging in the secondary, and lemon thyme announcing a presence as it warms. With our entrée of lemon-pepper and potato encrusted orange roughy, dressed with apricots and accompanied with asparagus shoots and a Spinnerstown rice blend, the herbal character of Saison du Buff undressed each soupςon within the dish.

As a the grand finale, Victory 12, a vintage dated Belgian Quadrupel with hues of deep mahogany-orange, was served with a pear, almond and apricot tart and poached pear, glazed in a V-Twelve sauce. The sweet malts seduced the palate with 12% ABV, painting the tongue with flavors of candi sugar, plums, apricots, wood, brandy and heat. The bigness of the Quad complemented the sugar-and-cream middle of the dessert, and provided the long finish of an enduring love affair.

Cheers!

I thank John and Susan Dale, owners of Spinnerstown Hotel and Tap Room, and their daughter Anna Dale, for hosting me as a guest at this marvelous holiday dinner. Both Covaleski and Danford were charming presenters, and I thank them for sharing their insightful comments on each Victory Beer, their development, and the anticipated future growth at Victory Brewing.

 
You Should Also Read:
Philly Beer Geek 2009 Nugget Nate Gefvert
Tour of the British Isles Beer Dinner with Michael Jackson
Beer for Sophisticated Restaurateurs


Related Articles
Editor's Picks Articles
Top Ten Articles
Previous Features
Site Map





Content copyright © 2023 by Carolyn Smagalski. All rights reserved.
This content was written by Carolyn Smagalski. If you wish to use this content in any manner, you need written permission. Contact Carolyn Smagalski for details.