Guest Author - Jeanne Egbosiuba Ukwendu
Name:
Grévy's Zebra also known as Imperial Zebra
Scientific Name:
Equus grevyi
African Names:
Loiborkurum (Samburu), Mbizi (Shona), Pundamilia (Swahili), Pitse (Tswana), Idube (Zulu)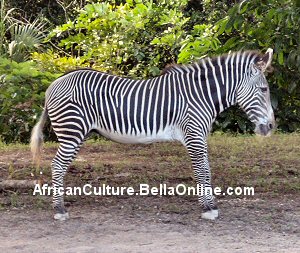 Height:
The Grévy's Zebra stands about 4 feet 7 inches to 5 fett three inches at the shoulder and is 8 to 9 feet long from head to tail.
Average Adult Weight:
770 to 990 pounds
Life Span:
20 to 25 years.
Description:
The stripes of the Grévy's Zebra are narrow (broader on the neck) and closely set. The stripes they extend down to their hooves. There are no stripes on this zebra's belly or around the base of the tail. Their ears are very large, rounded, and conical. The head is similar in to a mule's - large, long, and narrow. Grévy's Zebra has a brown muzzle. The mane is tall and stands up straight.
Habitat:
Zebras prefer open grassland areas and woodlands where there is sufficient vegetation. They will move around depending on food and water availability.
Countries found in:
Ethiopia and Kenya
Babies:
A single foal is born after a gestation of 390 days. The foal will weigh between 80 and 125 pounds and has dark brown stripes at birth. The brown stripes turn brown within a year. The foal stands up and begins walking within an hour of its birth.
Food:
Zebras are grazers and eat shrubs, twigs, bark and leaves.
Group Name:
Groups of zebra are known as crossings, dazzles, zeals, cohorts, or herds.
Habits:
During the dry seasons, the Grévy's Zebra uses its pointed hooves to dig waterholes.
They bray loudly, like donkeys, to communicate with each other.
Conservation Status:
Endangered. Grévy's Zebra were once found all over Kenya, Eritrea, Ethiopia and Somalia. There are less than 2,500 in the wild. The main threat to Grévy's Zebra is loss of habitat and competition with domesticated livestock for food.
Predators:
Lions, hyenas, wild dogs, cheetahs and leopards.
Interesting Facts:
In 1882, the Grevy's zebra was first described by French naturalist Émile Oustalet. He named it after Jules Grévy, the president of France at the time.
Grevy's zebra can survive five days without water.
The word zebra comes from an old Portuguese word "zevra" which means "wild ass".
Zebra can run up to 40 mph.
Each zebra has a unique stripe pattern.