Guest Author - Jeanne Egbosiuba Ukwendu
Name:
Gerenuk, Waller's Gazelle, Giraffe-necked Antelope
Scientific Name:
Litocranius walleri
African Names:
Swala twiga (Swahili meaning Giraffe gazelle)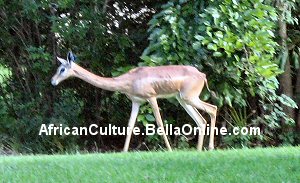 Height:
42 inches to their shoulder
Average Adult Weight:
80 to 115 pounds
Life Span:
About 8 years in the wild and 13 years in captivity.
Description:
Gerenuks have a proportionally small head in comparison to their body. They have large eyes and ears. They have an unusually long neck. Their coats are brown on the back and lighter underneath. Their tails are short and black.
Habitat:
Gerenuks are found in areas with woody vegetation, especially dry, flat thornbush.
Countries found in:
Kenya, Tanzania, Ethiopia, and Somalia.
Babies:
The gestation period is seven months. One baby gerenuk is born at a time. The baby will weigh about six and a half pounds.
Food:
Gerenuks are able to eat food from higher places than most other gazelles because they stand on their hind legs and use their long necks to reach the higher branches. The like to eat tender leaves and shoots of prickly bushes and trees, but also includes buds, flowers, fruit, and climbing plants.
Gerenuks get all the moisture they need from the food they eat so they are able to survive in very dry habitats.
Habits:
Gerenuks communicate with bleats, buzzing sounds and whistles.
Gerenuks live in small groups of two to twelve animals.
They are active during the daytime, but spend midday in shaded areas to avoid the heat.
Conservation Status:
Threatened due to loss of habitat and hunting.
Predators:
Humans, wild dogs, cheetahs, leopards, lions, and jackals.
Interesting Facts:
Gerenuks have an extra vertebrae in the spine that allows them to stand erect on their hind legs.
In the Somali language, "gerenuk" means "giraffe necked".