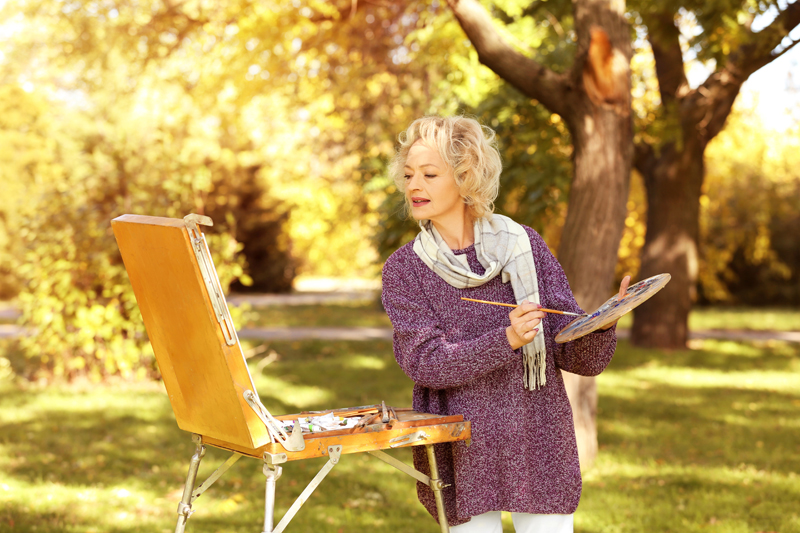 Several studies have researched older adult happiness and the reasons we are able to meet life's challenges with a positive approach. One of them conducted in 2008-09 by Gallup interviewed around 600,000 Americans in all age ranges. The interviews were conducted with respondents on land-line and cellular phones. The researchers asked three questions about whether participants experienced happiness, laughter and enjoyment the day before the interview. Survey respondents received a positive happiness score if they answered 'yes' to all three questions.

The summary of findings tells us that the happiest adults are those aged 18-20. From our 20's until our 40's our moods worsen, presumably because of the stress of work and experiencing some of life's curve balls. From our 40's to our 60's, we steadily remain at a lower happiness range. At around age 60, there is a noticeable upswing, and we gradually become happier until we are in our 80's. Surprisingly, the scores in our 90's are the same as when we are 65, despite all of the health and loss issues we may confront at that age!

Averaging across all age groups, there is only a very slight difference between women's and men's "happiness" scores, with women, at a score of 73.4, about one percentage point higher on average than men, at 72.5. Given the large number of participants in this study (more than 300,000 men and more than 300,000 women), the score differences are not considered major. You can find out more on the research results by Googling the Gallup Poll happiness study.
The poll did not determine the reasons for the older age "happy curve" so we have to look elsewhere for those. Some of the theories advocate that older persons, despite increasing health issues and less mobility, have:

•Increased "wisdom" or psychological intelligence in handling life.

•Fewer aspirations and expectations of self.

•A sense of fulfillment and accomplishment.

•Greater appreciation for life.

•A sense of living in the moment with less worry about the future.

•Greater ability to regulate emotions, especially patience, than younger people.

•Less worry about pleasing everyone all the time.

•A positive approach when recalling past memories.

•An overall tendency to view all situations more optimistically.

Numerous study findings support these theories and suggest that we grow happier due to improved overall coping abilities, as we tend to deal better with hardship and negative circumstances than younger folks. As older adults, we also take the pressure off by being more realistic about our expectations. This is all good news, and tells us our quality of life may get a boost merely by having another birthday!

There is nothing more positive than making a goal in life to become a happier person by actively seeking out making positive memories by the kinds of things we select to do on a day to day basis; by participating in enjoyable activities and events; by making sure we have as many laughs per day as possible; and letting go of negative thinking.

I have learned to cherish each day and to eliminate the kinds of things that cause me stress and worry. Now each day when I get up in the morning I have to "face" a day full of reading, writing, hobbies and volunteering, and all are pursuits that are enjoyable and make my life peaceful and fun. What I need to do is build in more exercise!



Related Articles
Editor's Picks Articles
Top Ten Articles
Previous Features
Site Map





Content copyright © 2023 by Patricia Villani, MPA, PhD. All rights reserved.
This content was written by Patricia Villani, MPA, PhD. If you wish to use this content in any manner, you need written permission. Contact Patricia Villani, MPA, PhD for details.