Ska Brewing - Cans Cartoons and Wax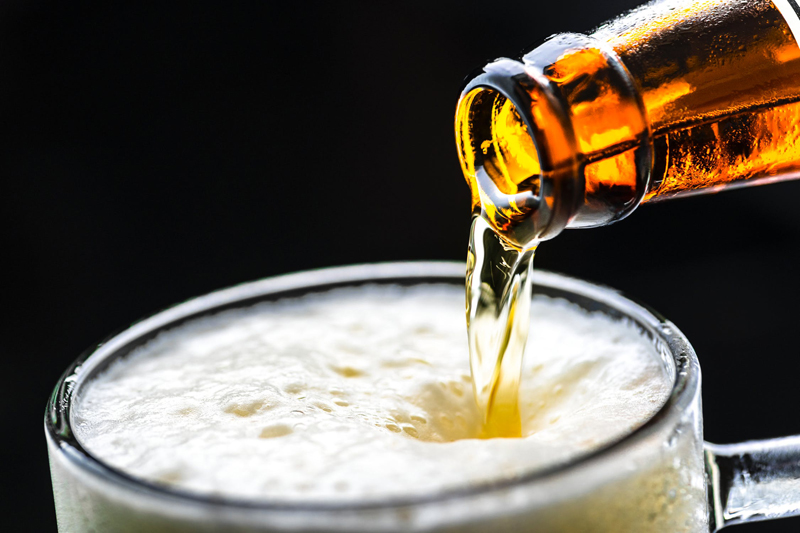 Nothing imbeds success deeper in one's mind than the black-and-white image of a checkered flag at the finish line. Combine that with Andy Warhol-style pop-art, a touch of evil, and Jamaican rhythms, and you've captured my attention. Only one more temptation – a portfolio of well-crafted, award-winning beer, could make the attraction more provocative. With the accuracy of a crossbow, Dave Thibodeau and Bill Graham hit all the marks when they founded Ska Brewing Company of Durango, Colorado in 1995. They brought in Matt Vincent as co-owner and VP of operations, and have grown a team of professionals who are hell-bent on making good beer. In August 2010, they celebrated fifteen years in the business of brewing.

Dave Welz (Ska's "other Dave," as he defines himself) contacted me, an East coast beer writer with a love for creative craft brewers, in February of 2010. He graciously sent me an informational package with a broad selection of Ska beers for my assessment: Three 22 oz. bottles of "Robust Reincarnations," each one sealed in wax to pique my curiosity; three cans of hand-crafted ales: True Blonde Ale; their award-winning Special ESB; and Modus Hoperandi India Pale Ale; and a bottle of Steel Toe Milk Stout.


As eye candy, the 22 oz. series demands immediate attention. Each is sealed with wax in a color that announces itself like the cap of a Trappist Ale. Decadent Imperial IPA is topped in decadent red, has 10% ABV, and was designed as a celebration of 10 years in business. Bittering units arise in a swath of resiny pine, drenched in grapefruit and tropical lemon, while tempered by the sweetness of caramel and fruit.

True Blonde Dubbel is a Belgian Strong Golden Ale, so don't be fooled into thinking it should be dark and fruity in the style of a typical "Dubbel." Sealed in yellow wax, it pours with a deep golden body and frothy white head. Made with Belgian candi-sugar, the aroma comes alive with the sweet fruitiness of banana, tropical fruit, green grapes and juicy pears. On the tongue, spices emerge clovey and nutmeg-ish, drenched in a satiating yeasty foundation.

Nefarious Ten Pin Porter cloaks its 8% ABV in luscious flavor, a Baltic beauty with roasty malts, treacle, bittersweet chocolate, coffee notes, and hints of sweet raisins, dried cherries, and a touch of anise.

As a woman, I wasn't sure I wanted to taste "Steel Toe" Stout. "A man's kind-of-beer," I thought to myself. "My brother would love it." But the aroma was a stunner! Deep chocolate flavors, similar to slightly roasted cocoa nibs, and French roasted coffee dominate the air. On the palate, moderate mocha espresso mixes with lactic notes which lay in the background.


As a fan of beer in cans, both for the environmental aspect and for the added UV protection afforded the beer, I applaud craft brewers who expand into this area of packaging. The fact that Ska "cans" their award winners shows their commitment to cater to all styles of beer drinkers. Modus Hoperandi shines with the assertive citrus and pine character of American hops and continues to satiate the hophead right into the finish. Special ESB Ale stands bathed in elegant amber highlights and awakens with toasted breadiness, slathered in caramel and upfront bitterness that makes for a high level of drinkability. Their True Blonde girl slips down the throat with a light, cracker-biscuit flavor, a honey sweetness and clean carbonation.

Three months after my initiation into the Ska portfolio, I again encountered Ska Brewing through Tom Werge and Andy Ehrnman, Ska's representatives in Washington, DC at Savor: An American Craft Beer & Food Experience. Werge and Ehrnman appeared as animated as any Super Heroes cartoon, pouring brews while describing every nuance. I again sampled Ska True Blonde Ale, gold and brilliant, crafted "with Wildflower honey from Durango," they told me. It had a fresh biscuit profile with a quenching character and light sweetness.

They presented Nefarious Ten Pin Imperial Porter, sealed with blue wax that drizzled down the sides of the bottle, drawing attention to an iniquitous label with the feel of the Haunted Castle at an amusement park. I was anxious to sample it again - to compare my original notes for consistency and overall impression. Similar to Ten Pin Porter, this 8% Imperial Porter is stepped-up a few notches from the original Ten Pin Porter. Gleaming walnut-black in my glass, it emitted aromas of molasses – no … more intense than molasses: "treacle" and coffee, with a touch of sweet cherry and 60 IBUs. Well done. Consistent. Satiating.


Ska Brewing has had a good year. This 100% wind powered brewery now has gained one of 50 spots as 2010 Companies to Watch in Colorado, a prestigious list compiled by the Colorado Office of Economic Development. In 2010, Ska Brewing advanced from the category of microbrewery to a newly acquired status as a "regional craft brewery," won a bronze at the Great American Beer Festival for ESB Special Ale and brought home a cache of Gold and Silver medals from the LA International Commercial Beer Competition and the Colorado State Fair. Then, Dave Thibodeau was named as a finalist for the 2010 Colorado CEO of the Year in the Colorado Business Magazine awards.

As icing on the cake, Ska Brewing was awarded Business of the Year on January 20, 2011 by the Durango Chamber of Commerce.

Not bad for a couple of kids who got into the biz because they liked beer and ska music.

Cheers!
Photos are (from top): Ska Reps Tom Werge and Andy Ehrnman; Nefarious Ten Pin Porter, sealed with wax; Ska line of canned beers; Decadent Imperial IPA label

You Should Also Read:
What is an American Craft Brewer ?
Beer in South America - Homebrewers of Argentina
Organic Beer - Going Green for the Earth


Related Articles
Editor's Picks Articles
Top Ten Articles
Previous Features
Site Map





Content copyright © 2023 by Carolyn Smagalski. All rights reserved.
This content was written by Carolyn Smagalski. If you wish to use this content in any manner, you need written permission. Contact Carolyn Smagalski for details.