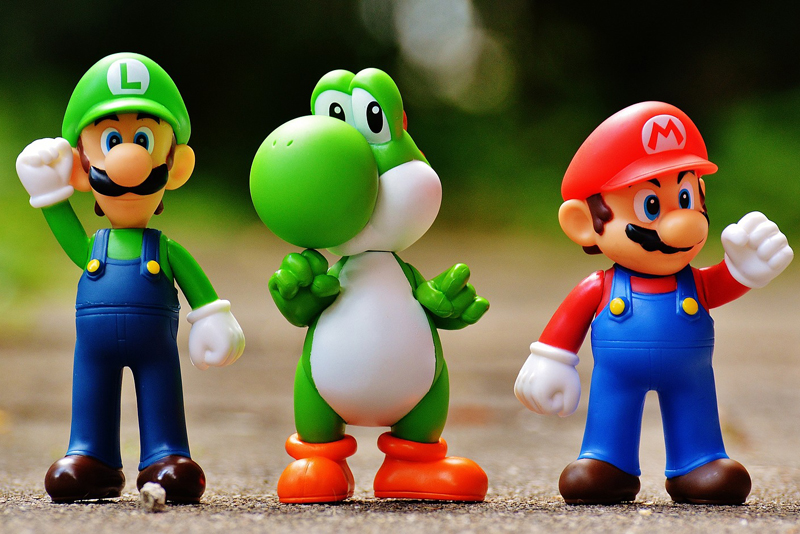 | | |
| --- | --- |
| | Yoshi's Island for the GBA, a.k.a. Super Mario Advance 3, is the latest in the line of Mario-Series Remakes, the first two being Super Mario Brothers 2 (Super Mario Advance) and Super Mario World (Super Mario Advance 2). If you have played these games before for their earlier systems, you will have a good idea what playing these games is like. In fact, you will have the whole idea, because this is a Remake! |
The game starts on a starry night. A stork, carrying two bundles, flies quickly through the clouds. Suddenly, something flies towards it at blinding speeds! It is Kamek, a Magikoopa (a Koopa who can use Magic), and he wants the Babies for some dark purpose. He thwacks into the Stork, and succeeds in grabbing one baby. The other baby drops onto the island below.
Meanwhile, Yoshi is taking a walk around the island, when a mysterious cloth bundle lands solidly on his back. The cloth opens, revealing a large-nosed baby wearing a Red hat with a large "M" on it. Yoshi decides to take him to his friends. Back at Kamek's Castle, Kamek realizes he only got one of the babies, one with a big nose, a Green hat, and an "L" on that hat. Yoshi must save the Green one, and bring him and his Brother to their parents.
Gameplay in this is similar to some other Yoshi-Featuring games, and some things are all its own. Players of Super Smash Brothers and Yoshi's Story will recognize many techniques, such as Flutter Jumps, Ground Pounds, and Egg Throws. However, you have to lug around Mario now, and instead of a health bar, when you are hit, you drop Mario. He floats around in a little bubble, and you must get him. There is a default Timer of ten seconds, which you can increase by getting little Star things. The time will recharge if used, but only up to ten. Time given by Stars cannot be regenerated unless you find other stars. After time runs out, the Bubble will burst, and Kamek's goons will capture Mario.
Sound and Graphics are both very good, with the crying of Mario when he is floating, the "Yoshi!" sounds made when Yoshi is happy, the various odd little sounds of the Shy Guys, and the cheerful music (my favorite being the echo-filled music of caves and underground areas). The Graphics look just as they would on a SNES. There is not much more you can say besides that. I mean, I could talk about how great the enemies look, or how the sparkle trails made by eggs look, but all you can really say is that it looks like a SNES game.
Also present with the game is the original Mario Brothers, the arcade game with Mario and Luigi running around a little arena bumping turtles and icicles. This game has been included with all three Super Mario Advance games, so it is not exclusively part of this game. It is good, but I wish they'd add some more features to it.
Overall, this is a great game. It is a BUNCH of fun, and it has Yoshi, too! Rating: 9/10.
Buy Yoshi's Island on Amazon!


Editor's Picks Articles
Top Ten Articles
Previous Features
Site Map





Content copyright © 2022 by James Shea. All rights reserved.
This content was written by James Shea. If you wish to use this content in any manner, you need written permission. Contact Lisa Shea for details.