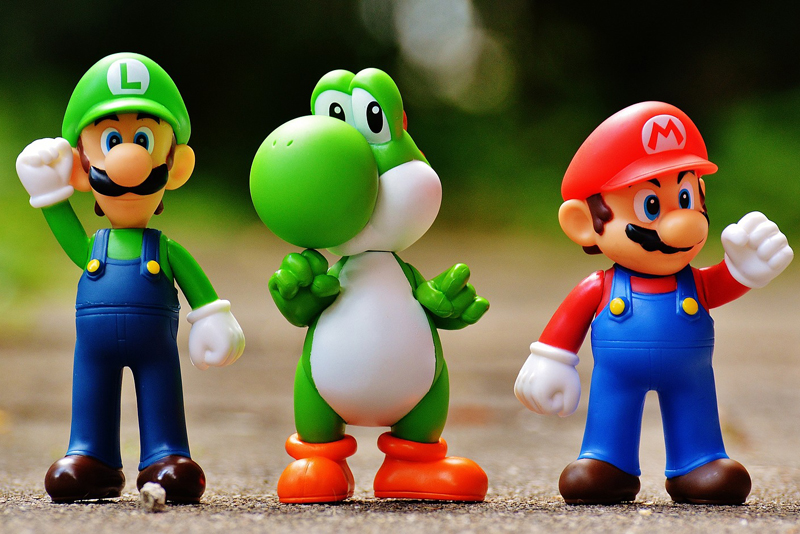 Wii Music takes the world of creating musical songs and brings it into the simple but fun world of the Wii. In some ways it's easier than the Guitar Hero / Rock Band games - in other ways it's more creative.

First, the basics. You can play a song with 1-4 people. You can play a few minigames with 1-4 people. Also, you can take their built in lessons.

I find the start-up of the game tedious. You have to go through a series of boring lessons when all you want to do is start playing. The game isn't complicated - wave the controls up and down to hit the drums, piano keys, or pretty much any instrument you play. I love the selection of instruments available, and that there are various stages to play on. The song selection is extremely limited though. You only have a few songs to start with and not that many more to unlock. Most are public domain songs, with a few Nintendo songs and a spare handful of "real" songs thrown in. With all the amazing music games out there, you'd think they could have FAR more songs in the set, whether they're old classics or new ones.

In most other games like Guitar Hero you are trying to match the notes. The song has ABBB, you have to try to play ABBB in the right rhythm. Here, it's a free for all. You hammer the notes as much or as little as you want, and they play "in key". This makes it amazingly fun for kids - but more frustrating for musicians. You can't add your own take. All you can do is play or not play a note. Maybe you can play it louder or softer - but that's about it.

Still, within the context of the game, this can be fun. You can layer tracks. So you can play a drum beat, and then add a piano track, and then add a trumpet track. You can create your own "versions" of songs, perfectly in tune, based on your instrument and rhythm choice. This can be fun - but again it's very limited. The song list is extremely short so all you're doing is playing with their minimal song set and creating new versions with their instruments.

For the mini-games, there are three. Play along with songs with handbells, which IS a hit-the-right note game a la Guitar Hero. There is Wii Conductor which we found very frustrating, where the orchestra goes faster or slower based on your hand movements. The orchestra isn't very responsive. Finally there is a fun music quiz that helps you learn about pitch, chords and scales. We enjoyed the challenge in this one.

Still, the game is not one we went back to after the initial playing. We have many other music games, some which let you create your actual own songs. This game only lets you mimic an extremely limited set of songs with the notes they make you play. I do appreciate the wide range of instruments available, but they really need a new version with MANY more songs and with more note-customization available before this becomes a true creative adventure.

Finally, on the drums, there's just no way waving at air and trying to foot-tap on a balance board can come near the Ion drum kit experience for Rock Band 2. They are extreme worlds apart. Anyone who wants to have lots of fun drumming should definitely be looking into the Ion / RB2 combination.

Still, great for young kids who want to bang away and always be guaranteed to be in tune! They won't "fail", they won't "be booed away" - they simply thrash the controllers and the music sounds lovely.

Rating: 4/5 stars if bought for young kids


Related Articles
Editor's Picks Articles
Top Ten Articles
Previous Features
Site Map





Content copyright © 2023 by Lisa Shea. All rights reserved.
This content was written by Lisa Shea. If you wish to use this content in any manner, you need written permission. Contact Lisa Shea for details.