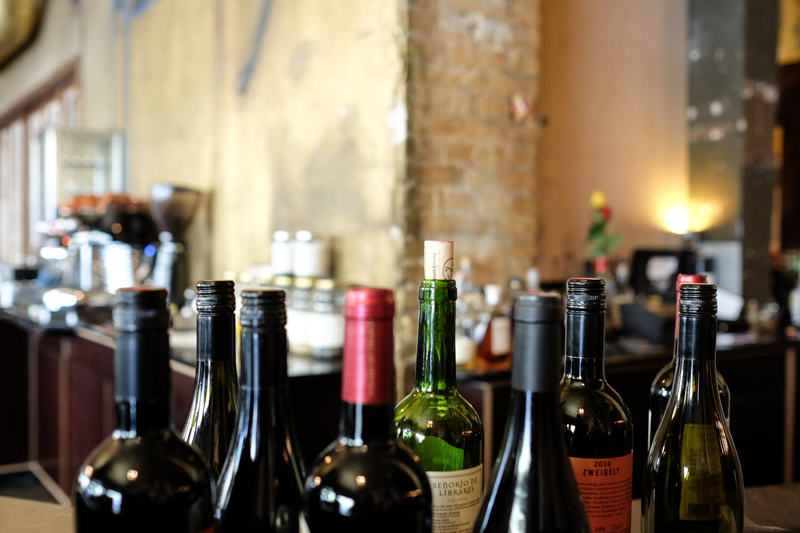 The first part in a series about the how-tos of wine tasting.
Few things are more indimidating than wine tasting. You may feel that you lack the knowledge and experience to properly taste wines. First thing that any wine taster should do is relax. This is a very personal experience. There are few absolutes in wine tasting. Few "right" or "wrong" perceptions. The ultimate evaluation of any wine is whether or not you like it.
There are six basic steps to tasting wine. Only a few have to do with your tounge.
Observing. Look at the wine.
Sniffing. Take a quick sniff for "off" odors.
Aerating. Rotate and swirl the wineglass in a circular motion in order to release the wine's aroma.
Smelling. A vatiation on the sniff, done after aeration, in which you concentrate on the wine's bouquet, smells, and aroma.
Tasting. Aerate the wine in your mouth and swallow.
Savoring. Concentrate on the wine's finish (the sensation and flavors left in your mouth after swallowing).
Observing
Sight is the sense most taken granted for novice wine drinkers. We are so used to looking at something we are not prepared to observe it. What do we observe when we see a glass of wine?
The visual impact of a wine is important. Is is clear, clean, brilliant? Is it cloudy? The former is usually an indication of good wine making, the latter that something has gone wrong.
The color of a young white wine (2 years old) will be pale yellow with light green highlights around the edges. By the time this wine is four years old it will have begun to shed it's green tints and become more yellow or golden. Is it brown or orange? It has probably turned and is best left undrunk.
You should also look to see if there are deposits that have accumulated at the bottom of the glass. In a red wine, sediment may indicate that a wine has not been overly filtered. Sediment in a white wine may look like small crystals. These are crystal tartrates. Their presence is both good and bad. It is good because the wine has not been overly processed. It is bad becaue they can be a sign that at some point the wine became too cold. The crystals are harmless and usually do not affect the wine significantly.
When you look at a wine it is important to take your time. Disregard everything you have seen in comercials and movies, 99.9% of that is wrong. Lighting is important, because you cannot observe the colors of a wine in a dark room. Bright sunlight is best. If using artificial light incandescent bulbs are best. There should be enough light to read by without straining.
You should cover the table with a white cloth. Set the glass on the table and fill to one-third full. Do not hold your glass up and look from underneath. The colors behind the glass will influence your impression of the wine's color. Look down at a slight angle into the wine glass. Note the subtle colors. Is it a ruby red? A plum red? Is it a pale straw gold color? Does it have hints of green?
Taking time to really look at your wine will enhance your pleasure. Next we sniff our wine: How to Taste Wine II
You Should Also Read:
How to Taste Wine II
How to Taste Wine III
How to Taste Wine IV


Editor's Picks Articles
Top Ten Articles
Previous Features
Site Map





Content copyright © 2023 by Paula S.W. Laurita. All rights reserved.
This content was written by Paula S.W. Laurita. If you wish to use this content in any manner, you need written permission. Contact Peter F May for details.