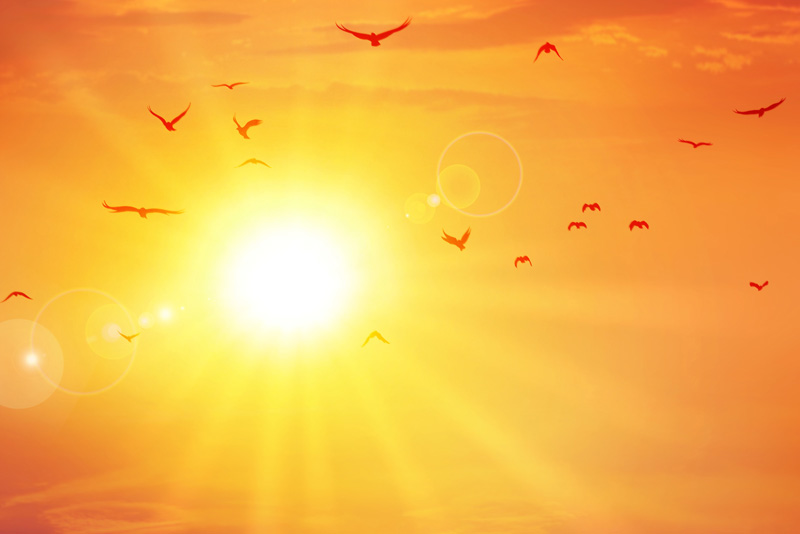 In these days after Easter, what are to think? We have celebrated the resurrection of our Lord Jesus and are confident that He lives. I can only imagine the joy of His disciples when they saw Him after His resurrection and then how they must have wondered when He left them to go to the Father.
Luke 24:50

Then Jesus led them to Bethany, and lifting His hands to heaven, He blessed them. While He was blessing them, He left them and was taken up to heaven.
The good news is, we know that He is coming back!
As Jesus prepared His disciples for His crucifixion, resurrection and return to His rightful place at the side of God the Father, He gave them these words of comfort.
John 14:1-3

"Don't be troubled. You trust God, now trust in me. There are many rooms in my Father's home and I am going to prepare a place for you. If this were not so, I would tell you plainly. When everything is ready, I will come and get you, so that you will always be with me where I am.
There is room in Heaven for all believers. Jesus prepared a place for us by His sacrifice on the cross as He paid the price for our sin, and now He is preparing a place for our residence in heaven. According to God's plan He will come back for His followers.
The concept may be hard to comprehend in our human understanding and hard to truly believe but a look into the Bible gives us a picture of what will take place when Jesus comes back.
1 John 3:2

we can't even imagine what we will be like when Christ returns. But we do know that when He comes we will be like Him, for we will see Him as He really is.
1 Corinthians 15:51

Let me tell you a wonderful secret God has revealed to us. Not all of us will die, but we will all be transformed. It will happen in a moment, in a twinkling of an eye, when the last trumpet is blown. For when the trumpet sounds, the Christians who have died will be raised with transformed bodies. And then we who are living will be transformed so that we will never die.
Those who have already died will be there too.
This miraculous event is explained further.
1 Thessalonians 4:14-17

For since we believe that Jesus died and was raised to life again, we also believe that when Jesus comes, God will bring back with Jesus all the Christians who have died.
I can tell you this directly from the Lord: We who are still living when the Lord returns will not rise to meet him ahead of those who are in their graves. For the Lord himself will come down from heaven with a commanding shout, with the call of the archangel, and with the trumpet call of God. First, all the Christians who have died will rise from their graves. Then, together with them, we who are still alive and remain on the earth will be caught up in the clouds to meet the Lord in the air and remain with him forever.
It may be that we will have been called home to heaven through death or we may still be alive when Jesus returns to personally take His own. In either case, we should be ready and joyfully expectant because all believers will witness His return.
As I consider these words, I can only echo
Revelation 22:20
Amen! Come, Lord Jesus!
You Should Also Read:
A Good Friday Thought
The Meaning of Lent
Born Again


Related Articles
Editor's Picks Articles
Top Ten Articles
Previous Features
Site Map



Follow @LynneChapman
Tweet





Content copyright © 2022 by Lynne Chapman. All rights reserved.
This content was written by Lynne Chapman. If you wish to use this content in any manner, you need written permission. Contact Lynne Chapman for details.