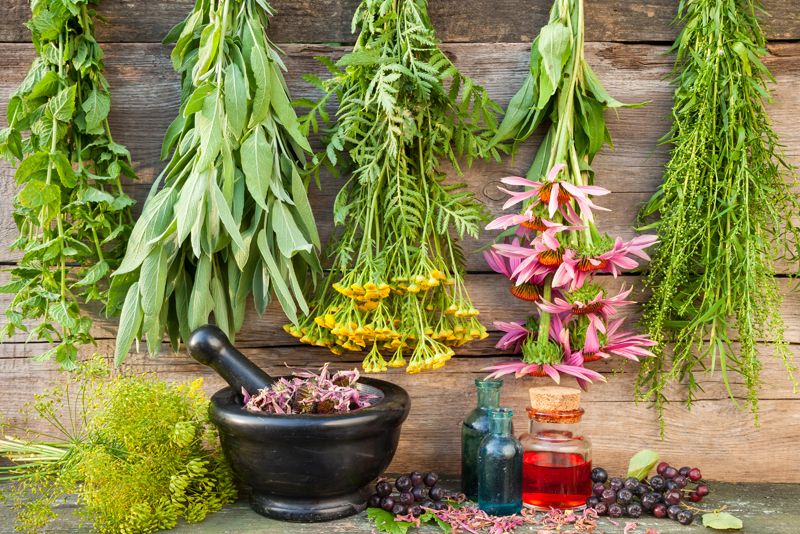 There is nothing that signifies summer than a picnic (of course bugs are free). This combined with good food, fresh herbs, the great outdoors and your favourite people; you have the making for a wonderful outing. All you need is a large picnic basket for all your goodies, plates and utensils (paper or real, your choice) a menu that includes fruit, pastries, cheese, bread and salads, plus a beverage to wash it all down.

A little bit of preparation and you can pack up your basket with a blanket and drive to a scenic spot and enjoy what summer is all about. For some great recipes, take a look at the following:

Iced Herb Gazpacho - Serves 4 to 6

This easy, chilled Spanish soup features fresh summer herbs such as basil, cilantro, parsley and garlic incorporated into a flavourful tomato base. For best results, be sure to make the day ahead or chill for at least a couple hours before serving.

6 large tomatoes
4 cloves fresh garlic, pressed
1/2 cucumber
1/2 teaspoon red pepper flakes
1/2 cup red wine vinegar
1/2 cup olive oil
2 scallions, chopped
3 sprigs basil leaves
3 sprigs cilantro leaves
3 sprigs parsley leaves
Salt and pepper

Purée the tomatoes, garlic, cucumber, red pepper flakes, vinegar and oil in a food-processor bowl then put in scallions and herbs - pulsing just until they're chopped. You want the vegetables and herbs to have some consistency, so don't turn it on full blast or you will have mush!

Yummy Egg Salad – Serves 4

4 large eggs, hard-boiled and finely chopped
1/2 cup finely chopped fresh herb (such as parsley, dill, tarragon, chervil or chives)
1 celery ribs, finely chopped
1/2 small red onion, finely chopped, soaked for five minutes in cold water, drained and rinsed
1/2 to taste salt & freshly ground black pepper
1/2 tablespoon white wine vinegar or 1/2 tablespoon sherry wine vinegar
1 tablespoon fresh lemon juice
1/4 cup plain low-fat yogurt or 1/4 cup buttermilk
1/2 tablespoon Hellmann's mayonnaise or 1/2 tablespoon Best Foods Mayonnaise
1/2 garlic clove, green shoot removed, minced
1/2 teaspoon Dijon mustard
1 tablespoon extra virgin olive oil
1 (3 ounce) bag baby arugula

Combine the chopped eggs, herbs, celery and red onion in a large bowl, and season to taste with salt and pepper. Whisk together the vinegar, lemon juice, yogurt, mayonnaise, mustard and olive oil and blend with the egg mixture. Serve on fresh sliced whole wheat or white bread with spinach instead of lettuce!

Chocolate-Peppermint Fudge - Serves 4 to 6

There is nothing like peppermint and chocolate, especially fresh mint.

3 cups chocolate chips
1/2 cup butter (1/2 stick)
One 14-ounce can sweetened condensed milk
1 cup walnuts, coarsely chopped
1/2 cup fresh peppermint leaves, chopped

In a double boiler or small slow cooker, melt chocolate, butter and condensed milk on the low setting, stirring until all chocolate is melted and smooth. Add in walnuts and peppermint leaves. Pour the mix into a 9-by-9-inch baking pan lined with aluminum foil or sprayed with my favourite – Bakers Joy. Place the pan in the refrigerator until hard, then remove and cut into squares. *Tip, run knife under hot water to ensure clean cuts.

So there you have it, soup, sandwich and dessert! Try adding herbs to your potato salad, and other dishes to make your summer season the most perfect yet! Most importantly, have fun and serve what you like eating!

Please always do your research and consult with your physician, naturopath, or health care provider before taking any home remedies or supplements or following any treatment suggested on this page. Only your health care provider, personal physician, or naturopath can provide you with advice on what is safe and effective for your unique needs or to diagnose your particular medical issue.


Related Articles
Editor's Picks Articles
Top Ten Articles
Previous Features
Site Map





Content copyright © 2023 by Bettina Thomas-Smith. All rights reserved.
This content was written by Bettina Thomas-Smith. If you wish to use this content in any manner, you need written permission. Contact Bettina Thomas-Smith for details.