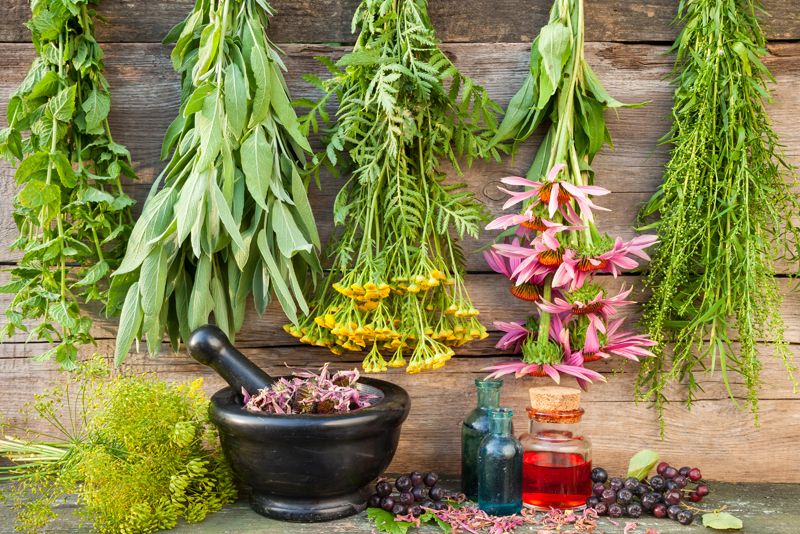 With spring around the corner you can turn every day meals to health boosting wonder meals. How do you do this? Just add herbs! These tasty plants are easy to grow in your garden or indoors, and can be as powerful as those prescription drugs (without the side effects).

Upset tummy? You can stop your misery with peppermint. It smells wonderful and by keeping fragrant peppermint on hand you will never have to put up with an upset stomach again. It has been shown that drinking just one cup of peppermint tea relaxes stomach and intestinal muscles as well as reduces inflammation, stops the progress of nausea, gas and indigestion. Also add peppermint to your ice tea and salads – it adds amazing flavour and antioxidants. Tips for a good cup of tea: remove leaves and crush in your hand, then toss in a pot with approximately 2 cups of water. Bring to a boil, simmer for five minutes and strain into a cup. Voila, peppermint tea!

Do you find that your memory isn't quite what it used to be? Rev up your memory with basil! Basil is a great source of vitamin A and K, calcium, iron and potassium and it also is full of flavonoids that sharpen your recall by defending and strengthening your brains memory cells. This amazing herb also contains Eugenol, which helps protect you from food poisoning by zapping bacteria such as salmonella and listeria. Basil also tastes great on pizza, in soup, sauces, salad dressings and sandwiches. I even put it in my meatloaf!

Feeling down? Why not try Rosemary. It was shown that compounds in Rosemary normalize chemicals responsible for making you feel blue and it has been shown that these compounds also stimulate parts of the brain responsible for recalling facts and locations. In a study it was shown that just sniffing the fragrant herb helped volunteers' ace memory tests. Try adding rosemary to your marinade when grilling as it will not only make your meet tastier but safer as marinades can reduce harmful cancer-causing compounds by as much as 80%. (the black stuff)

Stressed out? Why not include cilantro into your diet? Recent studies have shown this herb helps steers away tension as effectively as a low dose of Valium as it contains natural compounds that supercharge your brains own anti-anxiety chemicals - G A B A. Cilantro makes a perfect addition to guacamole, salsa, soup, and salad dressings made of lime juice, olive oil, garlic, and honey. Yum!

Having a hot flash? (Or whoosh as I like to call 'em) Then reach for Sage. In recent studies postmenopausal women who drank at least 4 cups of sage tea daily noticed their hot flashes dropped an amazing 50% in only four weeks and by eight weeks it had plunged 64%. It was even proven that women with relentless hot flashes have their symptoms eliminated altogether within two months. This is accredited to the oils in the leaves that help steady your heart rate and lower your internal temperature. Try adding sage to scrambled eggs vegetables even biscuits. For tea, steep 4 tablespoons of fresh leaves or 4 teaspoons dried in 2 cups of boiling water for 5 to 10 minutes then drain.

Basil, cilantro, sage and peppermint are so quick growing you can see results in your garden in as little as three weeks. They will also do equally as well indoors on a nice sunny ledge - perfect to have on hand right next to the kitchen!

Please always do your research and consult with your physician, naturopath, or health care provider before taking any home remedies or supplements or following any treatment suggested on this page. Only your health care provider, personal physician, or naturopath can provide you with advice on what is safe and effective for your unique needs or to diagnose your particular medical issue.





Related Articles
Editor's Picks Articles
Top Ten Articles
Previous Features
Site Map





Content copyright © 2023 by Bettina Thomas-Smith. All rights reserved.
This content was written by Bettina Thomas-Smith. If you wish to use this content in any manner, you need written permission. Contact Bettina Thomas-Smith for details.