Vocalist Tips For Staying On Pitch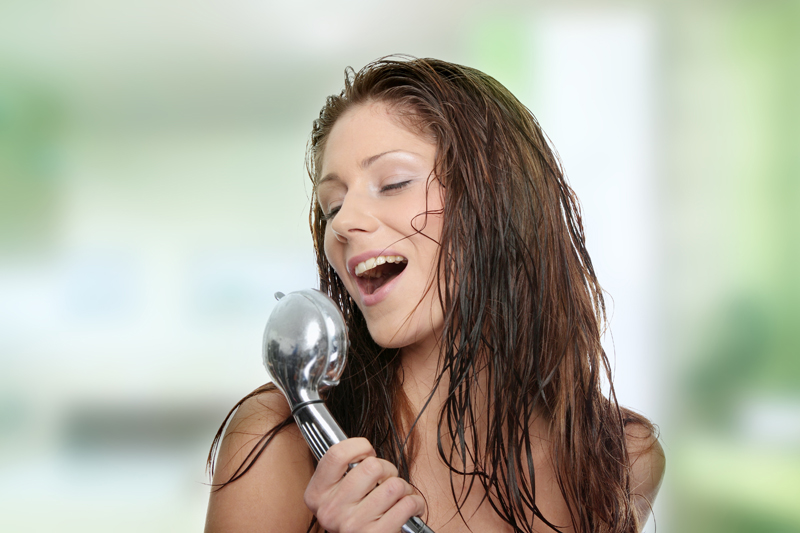 There are many circumstances that can cause a talented singer to go off pitch. Fortunately, there are many solutions!
1. If you are nervous or excited, it is easy to accidentally sing your notes too sharp. A jolt of adrenaline is good for "fight or flight" i.e. strong, fast action, but can make subtle precision challenging. If you have the shakes, or are very tense, do some strong energetic movement to use up the adrenaline, until you regain a nice balance.
Note: Having a few butterflies makes your performance a more intense high, so don't worry about it, enjoy it!
2. If you are fatigued, there can be a tendency to sing flat. I wish that being nervous AND fatigued would bring one to a happy medium, but alas, it is not so. Performing in that condition requires additional vigilance. So do your best to have enough rest and know your material and your show, so you can be comfortable and confident.
3. Practice your songs on pitches alone before you practice them with the words. You learn the pitch and the lyrics with different areas of the brain. If you start out practicing with the lyrics, you can accidentally memorize the melody with portions out of tune, and not realize it. Start by practicing every note on a phrase such as "nah" or "nay", and make sure every passing note is right on, and has great tone.
4. Practice gaining precision before adding stylizing. Once you have all the notes, their duration, and the places to breath well established, you can add stylizations used for emoting to the words.
5. Have your song lyrics printed, to read while practicing, and make a note of each place you intend to take a breath. Then you can memorize the lyrics and avoid running out of breath and sounding wobbly at the end of phrases. You can also make a note of each place you want to hold a note longer, add some vamping, etc.
6. Record your practice sessions and your performances, so you can listen to them afterwards and note any areas where your pitch needs improvement.
Note: Many times the reverberation and tonality in a video will not be nearly as nice as it was live.
7. Make sure all the instruments in your band are tuned up, and tuned to each other, before you start. They will also have to retune from time to time.
8. When performing in an amplified band, have a monitor speaker. Make sure you can hear yourself and the mix of instrumentation you need very well. This can be one of the most challenging things to achieve in a high volume, amplified band, because the mic is the first thing likely to cause feedback when you turn the volume up. Instrumentalists can usually get quite loud without causing feedback. So in order to get excellent vocals, the other band-members have to accommodate your needs. No one is going to sing well if they cannot hear well. This is your career. Be at your best.
9. If something in the band sounds out of tune and is throwing you off, listen to the bass line to get your reference pitch. It is usually playing the fundamental note of a chord, and stands out recognizably. The bass player also sets the meter for the band.
10. In a very loud situation, where it is nearly impossible to hear, sometimes you can listen to the waves between your voice and an accurately tuned instrument playing the same note, and adjust your pitch until the waves are gone (just like tuning a guitar by ear). This is easiest if you are the person playing the instrument.
11. If you are apprehensive about hitting a high note well, imagine effortlessly gliding down to it. If you are uncertain about hitting a low note well, imagine effortlessly gliding up to it.
12. A serious artist should invest in voice lessons with an excellent teacher, especially when starting out. I also recommend having lessons with several teachers over a course of time, to expand your knowledge and exposure to differing approaches to singing.
13. Visualization before the show - it is very wonderfully effective to imagine the success, the beauty of the sound, the happy, rapt audience, and all the good, well deserved appreciation you will be receiving. It is also immensely beneficial to cultivate a happy, roll-with-it attitude, knowing that if anything appears to go awry, you can turn it to your advantage, with a sense of humor and being in the moment.
14. Visualization during the show – this is profoundly beautiful, and can be like a meditation. Your brain and body are amazingly responsive. I have found that if I imagine each phrase completely just before I sing it, I will sing it just as I imagined. This is a lightning fast process. When you are in the groove, it is zesty fun, like riding a wave, or taking your horse over a jump. It improves with practice. Enjoy the baby steps!
Like all artistic expression, being a consummate singer is a never-ending process of learning, maintaining and improving, and is a gift for both the artist and the audience.
Photo of Sabira Woolley by Danny Infinite. Used by permission.
If you would like to listen to or purchase music by Sabira Woolley, here is her
Music Shop
.
You Should Also Read:
Vocalist Tips For Live Performances
Your Ears - Supremely Designed Music Gear
Must Have Items For Gigging Musicians


Related Articles
Editor's Picks Articles
Top Ten Articles
Previous Features
Site Map





Content copyright © 2023 by Sabira Woolley. All rights reserved.
This content was written by Sabira Woolley. If you wish to use this content in any manner, you need written permission. Contact Sabira Woolley for details.