Native American Dreamcatcher, Dreamcatchers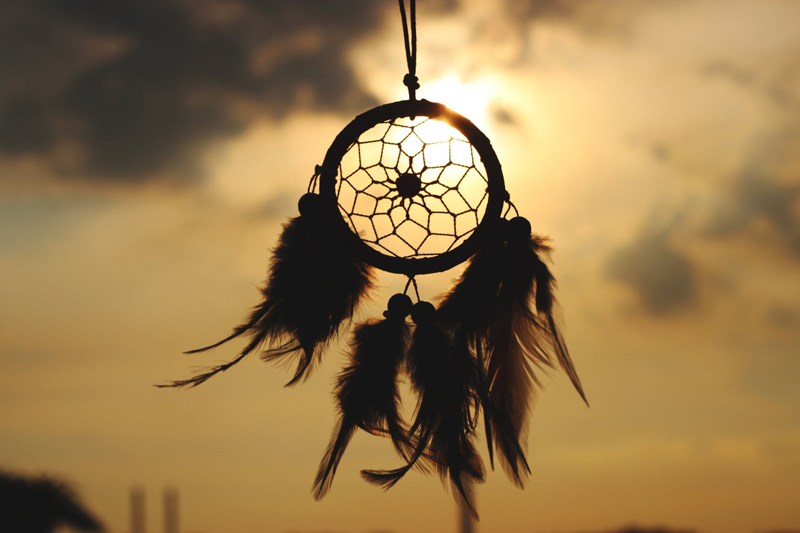 Dreamcatchers are beautifully crafted objects. Here is some information about their history, usage, construction and where to find your own.
History
It is important to note the origin of the dreamcatcher as many people are mistaken about this fact. Dreamcatchers originated with the Native American Ojibwa (Chippewa) tribe - not with the Sioux as many people believe. In fact, it was not until the 1960's and 70's that the dreamcatcher in its current form was adopted by other tribes. Since that time, however, dreamcatchers have become synonymous with Native Americans and First Nation peoples. Some Native American or First Nation people see this as a positive development, viewing the dreamcatcher as a symbol uniting various different tribes. Others see the adoption of the dreamcatcher by the general public as "cultural appropriation" - adoption of a part of a culture without giving it the proper respect.
Usage
The metaphysical theory behind dreamcatchers is that they act as dream filters. Bad dreams or nightmares are caught in the catcher's web-like design while pleasant dreams flow down through the hanging feathers and into the dreamer's psyche. Dreamcatchers were originally hung over the sleeping area of children, not adults. In fact, dreamcatchers were not designed to last forever. Typically made of willow wood, the wood would eventually dry out and the sinew forming the web would disintegrate. This disintegration was also symbolic - it symbolized the dissolution of childhood into adulthood.
Construction
Dreamcatchers are constructed by forming a hoop from wood, (typically willow) weaving a web-like design into the hoop, and then decorating the hoop with dangling beads or feathers. While some dreamcatchers are very simple designs, other are more intricate. Some designs have a double web, some have other symbols woven into the web, some may have animal images in the center of the hoop. Some dream catchers are marvelously ornate with exquisite arrangements of beads and feathers. Dreamcatchers are sometimes fashioned into pieces of jewelry such as earrings or pendants.
Where to Find One
Authentic dreamcatchers constructed by Native American or First People artists can be readily found throughout the Southwest. Be careful when ordering them online, however. Many dreamcatchers found online are cheap imitations of a symbol that should be treated with wonder and respect, oftentimes created in foreign sweatshops and then marketed as 'authentic'. The link below not only has more information on the dreamcatcher itself but has a list of Native American or First People artists who create these gorgeous talismans.
Dreamcatchers can be a beautifully holistic way to connect with one's dream life. One of the best ways to do this can be through creating your own! Here is an article that will guide you through the process:
Making Your own Dream Catcher
As always, sleep well and dream out loud!
*~Aisling Ireland~* is an ordained Spiritual Counselor providing dream interpretation and Tarot readings. To make an appointment check out her website at:
web.mac.com/aisling.ireland
You Should Also Read:
Dream Catchers


Related Articles
Editor's Picks Articles
Top Ten Articles
Previous Features
Site Map





Content copyright © 2021 by Aisling Ireland. All rights reserved.
This content was written by Aisling Ireland. If you wish to use this content in any manner, you need written permission. Contact Lori Chidori Phillips for details.