Basic Poses for Beginning Practice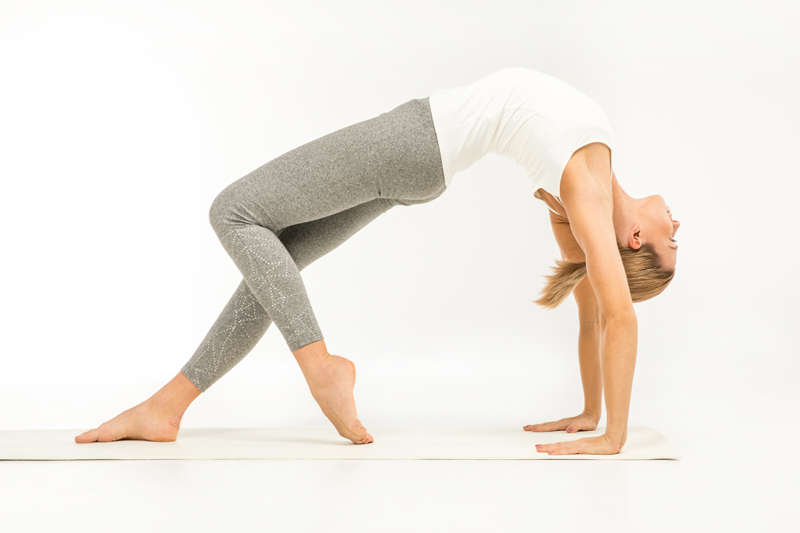 Most beginning yoga practitioners rely on videos or classes to learn the different poses. This strategy has its advantages, as the sequences have presumably been put together by trained teachers. It's certainly possible to learn yoga this way, but it's also helpful to work on individual poses on their own. Focusing on the combination of breath and alignment will help the newcomer to feel more comfortable in a class. In addition, paying attention to basic poses is also a way to build a daily practice. On days when a full class is too much, the following poses will help to keep the momentum going and continue to work with yogic principles.

Mountain Pose is the basic standing pose, but because of its apparent simplicity, many assume that any stance will suffice. Spending time standing in Tadasana and practicing equal breathing can be a meditation in and of itself. Come into the pose and take a moment to inhale and exhale before bringing the hands to the heart area in prayer position. Close the eyes and focus on the breath while maintaining good alignment. Notice how different the body feels in this position than in a "normal" standing position. Then come out of the pose mindfully by releasing the hands.

Downward Facing Dog Pose, or Adho Mukha Svanasana, is so central to any yoga class that it's always a good idea to practice. Try moving into the pose with bent knees and slowly pedaling out the feet – the colloquial term for this is 'walking your dog.' Then take some time to check alignment, starting with the hands and moving up the body to the shoulders and back down to the feet. Note whether or not the arms and legs are locked at the elbow and knee joints, and work on adding a very small bend to protect those areas of the body. See where the heels lower to with straight legs – they will probably start out very far from the ground and slowly move downwards.

A short and simple vinyasa can also be the center of a short practice. Try starting in tabletop position. Then move through Cat (Marjaryasana) and Cow (Bidalasana) poses, inhaling in Cow and exhaling in Cat. If more movement is desired, come through Cat Pose into Child's Pose, or Balasana, for an inhale and exhale before moving back through tabletop into Cow. Do this slowly, again focusing on the integration of movement and breath. When the number of repetitions feels complete, finish in Child's Pose, taking a moment to reflect on how the movement has changed the way the body and mind feel. Then take a moment to mindfully end the practice, possibly by moving into a comfortable seated position and bringing hands to heart.

Other poses that are worth practicing on their own are Trikonasana, or Triangle Pose, and Warrior, or Virabhadrasana I and II poses. (Be sure to practice these last two separately, as moving from one to the other quickly can be dangerous for the hip joints.) If movement practice is not an option, it's always a good idea to take a few minutes to meditate or focus on the breath.

Daily practice is challenging for most yogi/nis, but it makes a tremendous difference in one's ongoing yoga journey. It helps to remember that even a few minutes on non-class days can help. Do what is possible on any given day, and remember that it's a yoga practice, not a yoga perfect. Above all, connect with gratitude for the ongoing ability to unite body and mind.

You Should Also Read:
Tadasana, or Mountain Pose
Adho Mukha Svanasana, or Downward Facing Dog Pose


Related Articles
Editor's Picks Articles
Top Ten Articles
Previous Features
Site Map





Content copyright © 2022 by Korie Beth Brown. All rights reserved.
This content was written by Korie Beth Brown. If you wish to use this content in any manner, you need written permission. Contact Korie Beth Brown for details.