Civil Rights, Prejudice and Disabilities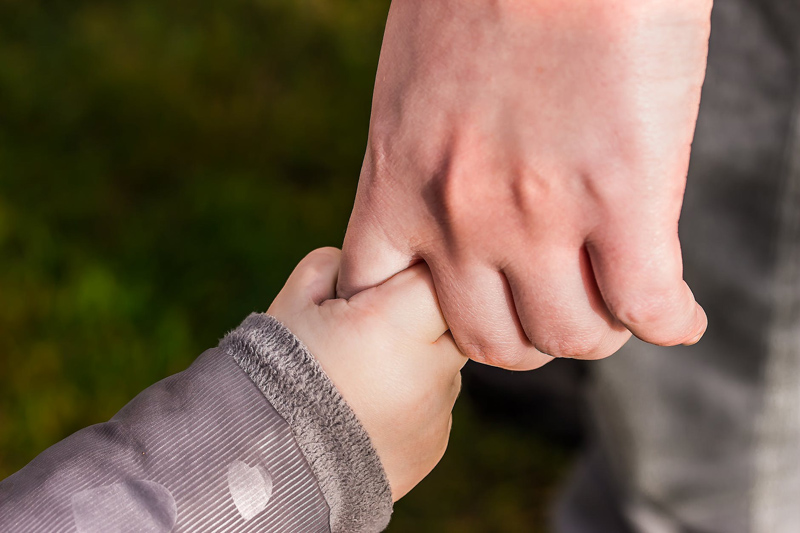 When my was a new baby I took him to a holiday party at his early intervention center in Maryland. I was told volunteers would take the babies into another room to change their diapers so moms could stay and talk. Because I did not know the routine, I took him into the changing room myself.
A couple of the babies were fussing and one of the volunteers said "I know they are not supposed to feel pain or discomfort, but it almost seems to me these babies are extra-sensitive."
I said something like 'all babies deserve to be treated tenderly, ours no less than others; maybe moreso for the ones who don't let us know they are hurting.'
Someone else remarked, 'especially around the mothers.' Although it was not said in a mean way, it was obvious that there was a staff-volunteer/parent divide and they did not know I was on the other side of it. It seemed to me that there might have been a non-parent/parent division among those volunteers, too. Even teens and adults who obviously love children and have cared for other people's babies in their own families would find it difficult to imagine how we feel about our own sons and daughters. A diagnosis at birth or when developmental delays have been observed might be distracting, but very often adds an extra layer of fierceness into the relationship.
I remember thinking as I walked back to the party that I hoped this would be the last time anyone mistook me for staff. I had already spoken up a week or two earlier about the advice I was given that parents should develop some emotional distance from their children so they could be better 'team' members and collaborators. My emotional distance from babies remains in the negative numbers. This is how it has to be for parents. I never did like the inference that children with disabilities are more like lab experiments to observe than real babies to raise; this must have been my first practical experience of that assumption.
I don't know where my prickly parts were in that changing room. Maybe they were lucky that I was naturally gentled down because I was taking care of my own little rascal's diaper, and keeping an eye out for one of his famous diaper-changing pranks. I must have assumed that other family members were changing their babies. Of course I could have just had stage fright, being among people who I assumed knew a great deal about my own baby that I did not know. A diagnosis can loom larger away from home. I feel I should have known better from the start.
I find there are more subtle trigger phrases that make me think that a medical professional or other expert is not relating to my son as much as a person as his disability. His pediatrician had once said, 'These babies usually don't roll over so young!' This was at his first well baby check-up, and rolling over was not to be repeated for long months. However, when my son 'baptized' the doctor half a minute later with an impressive stream, the doc announced to no one in particular, "I guess I had better not say 'these babies' around him anymore! That pediatrician was a fast learner, and an excellent doctor. My son was his first patient with Down syndrome, but not the first baby who had taught him something he had not learned in medical school.
I have been thinking of Maryland often. That is where Ethan Saylor lived, the man with Down syndrome who died in a movie theater after refusing to leave his seat. It has been more difficult to leave my own son alone for five minutes now when we go out, and especially to the movies.
Theater staff, including off-duty policemen working security, obviously had some outdated ideas about people with developmental disabilities that allowed them to over-react and behave just the opposite of how they might have with the proper training, or a little grace. I am sure that everyone involved will live with regret for the rest of their lives, but a family lost a very dear person because someone decided that Robert Saylor could not remain in his seat after the movie ended. I wish everyone involved had practiced a little tenderness and common sense.
People with Down syndrome are as likely to have a difference of opinion with theater workers and authority figures as their mainstream peers, and may be more sensitive about strangers insisting that they change plans, especially if a trusted caregiver has agreed with a course of action. Any person can get caught up in the moment and forget 'safety training' or how to alert security or law enforcement personnel that they need time to process directions or a situation. I support safety education for individuals with developmental disabilities, but the responsibility cannot be shouldered by the most vulnerable person in the confrontation.
Many years ago individuals with Down syndrome may have been raised in settings where complete strangers could make decisions for them on the spur of the moment, but we raise our sons and daughters with the knowledge that they have the right to speak up and refuse to do what they are told by strangers. Obviously, their mainstream peers and authority figures in our communities need to be aware that individuals with Down syndrome have civil rights as well as a diagnosis.
Browse at your public library, local bookstore, or online retailer for books like
No Pity : People with Disabilities Forging a New Civil Rights Movement
or
Disability Hate Crimes
.
Please Stop Telling Me That All Lives Matter
https://www.huffingtonpost.com/julia-craven/please-stop-telling-me-th_b_6223072.html
Arapahoe County launches Down syndrome training, ID card program
https://www.9news.com/news/local/article/378454/346/Arapahoe-County-launches-Down-Syndrome-Training
Report: MD Commission for the Effective Community Inclusion of Individuals with Intellectual & Developmental Disabilities (PDF)
https://ow.ly/2ad2QG
Eliana Tardio: Sindrome de Down
Hoy EthanSaylor cumpliría 27 años. La educación podría haber evitado su partida
https://buff.ly/19V2zMa
Mental Wellness in Adults with Down Syndrome
A Guide to Emotional and Behavioral Strengths and Challenges
Excerpt - THE GROOVE AND FLEXIBILITY
https://www.woodbinehouse.com/
Man's death ruled a homicide
Man's death ruled a homicide
Medical emergency as deputies attempted to force him from theater
https://www.fredericknewspost.com/sections/news/display.htm?storyID=146956#
Unexplained Injury in Ethan Saylor's Autopsy
https://your4state.com/fulltext/?nxd_id=306392
Maryland panel created in wake of Down syndrome man's death begins work
https://ow.ly/qoiTi
You Should Also Read:
Safety, Risk and Childhood Disability
Solidarity for Civil Rights and Human Rights
Interviewing Caregivers for Your Child or Teen


Related Articles
Editor's Picks Articles
Top Ten Articles
Previous Features
Site Map



Follow @DownSynAdvocacy
Tweet





Content copyright © 2021 by Pamela Wilson. All rights reserved.
This content was written by Pamela Wilson. If you wish to use this content in any manner, you need written permission. Contact Pamela Wilson for details.