Cord Used for Knotting Between Beads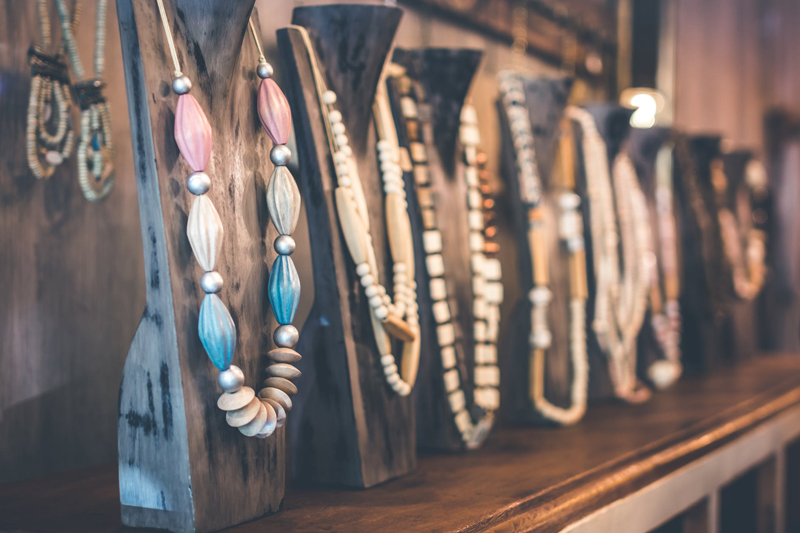 In last week's article, I demonstrated the basic method for knotting between beads using a knotting awl and tweezers. Here are some examples of the types of cord you can try knotting with, along with my notes about each one.
Stringing Materials for Knotting
The most popular stringing material for knotting between beads is cord. There are many different varieties of cord, including leather and suede, braided cotton, linen, nylon, twine, and (of course) silk.
| | |
| --- | --- |
| | Silk is probably the easiest material to knot, once you get comfortable with the technique. Because it is so soft, it results in a very minimal amount of "twisting" - or curving - of the strand. The example shows size 6 Griffon natural silk cord knotted between tiny Hill Tribe Silver round beads. Keep in mind that silk can stretch out (creating undesirable spaces between knots and beads), so pull it gently to pre-stretch it before you get started. |
| | Uncoated braided cotton cord is also relatively soft, and it's available in larger diameters than silk cord. In this example, I used 3mm cotton cord with oversized India glass beads. |
| | Braided nylon beading cord is rugged and easy to knot. However, because it is not as soft as silk or cotton, it tends to result in a wavy, twisted looking strand. In this photo, I used C-Lon Cord with a mix of trade beads, Japanese seed beads, and Hill Tribe Silver. |
| | Waxed linen cord is - because of the wax - stiffer than silk and most braided cotton, and so it's a little trickier to knot. Not surprisingly, it often has a waxy appearance that gives it a casual, rustic look. Only use it for knotting when that's the look you're going for. |
| | The most popular type of twine cord for beading is made from hemp. You can knot with the more rustic-looking, "natural hemp" or the smoother, more-refined "jeweler's hemp." Both are more difficult to work with than other cords because they are rough rather than smooth, and the knots do not always slide into position easily. You may find it helpful to lubricate hemp with a thread conditioner (like Thread Heaven) before knotting. In the example, I used jeweler's hemp treated with Thread Heaven to knot between Czech fire polished glass beads. |
| | Leather cord is another of the more difficult cords to knot because of its relative inflexibility and typical thickness. In the example, I used very thin (1mm) black leather cord and bamboo beads with large drill holes. Notice that the stiffness of the leather creates some twisting of the strand. |
| | Ribbon can be used to knot between larger, lightweight beads with large holes, like these kukui nut beads. Use a big-eye needle to string the beads and knot the ribbon the same way you would knot cord. |
To learn how to finish the ends of your knotted jewelry and for my easy method for making a "tin cup" knotted necklace, see my book Teach Yourself Visually: Jewelry Making & Beading.
Click here to browse eBay for reasonable prices on a wide variety of beading cord, including lots of sizes and colors of silk cord.
Click here for information about Griffin silk cord sizes and colors.
---
Chris Franchetti Michaels is a writer and jewelry artisan specializing in beaded designs, wire work, and metal fabrication. She is the author of the books Teach Yourself Visually: Jewelry Making and Beading, Beading Quick Tips, and Wire Jewelry Quick Tips. Visit her website BeadJewelry.net for more jewelry-making help and inspiration.
You Should Also Read:
Knotting Between Beads
Pearl Jewelry Project Book Review
Cord and Beading Thread Dispensers


Related Articles
Editor's Picks Articles
Top Ten Articles
Previous Features
Site Map





Content copyright © 2021 by Chris Franchetti Michaels. All rights reserved.
This content was written by Chris Franchetti Michaels. If you wish to use this content in any manner, you need written permission. Contact Susan Mendenhall for details.