Zucchini and Fennel Saute Recipe
Fresh zucchini is a wonderful vegetable rich in Vitamin C and Potassium. Zucchini or courgettes as they are known in other parts of the world, especially Europe, require very little cooking in order to preserve their nutritional value. Fennel has almost the same nutrients but can withstand a little more heat on the stove than zucchini, which needs to cook a little longer in order for it not to be chewy.
The best way to eat any veggie is in its natural state. So, by adding raw, shredded zucchini to salads or cutting it into sticks for a crudité platter with a dip, are only two ways to add this veggie to your diet. Cooking zucchini however, should be very brief - otherwise, it will turn into a soggy mess and lose much of its nutritional value.
Therefore, adding raw zucchini to soups and stews for example, need to be incorporated during the last 5 minutes of cooking in order to preserve their goodness. Another quick way is to sauté and steam, as in this recipe – and there is only one pan, so no extra clean up. This is a delicious and easy side to prepare with the anise/licorice flavor of the thinly sliced fennel bringing the zucchini to life.
This recipe is vegan and vegetarian-friendly!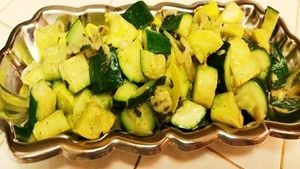 Ingredients
2 tbsp. Olive Oil, approx.
3 cloves fresh garlic, crushed
2 medium zucchini
1 yellow squash
1 small fennel bulb
Fresh Italian parsley
Kosher salt
Ground black pepper
Grated parmesan (optional)
Method
1. First, prepare the vegetables. Cut the zucchini and yellow squash in half lengthways, and then slice either into half-moons (1/2" thick) or into quarters. Set aside. If you have a mandolin (they are a blessing,) slicing the fennel very thin will be a breeze. Otherwise, with a very sharp knife, slice the fennel as thin as you can (white bulb part only,) but not paper thin.
2. Heat the olive oil in a large skillet over a medium heat. Add the fennel and cook for 3 minutes until it is starting to turn tender with a fork, then add the garlic, zucchini, and sauté for a further 3 minutes, stirring often. Add the parsley and cover. Steam the squash until it can be pierced with a fork, approximately 2 minutes. Do not overcook the zucchini. If it starts to turn opaque, remove it from the stove. Season the skillet with the salt and pepper to taste and sprinkle with parmesan cheese or pass around the table.
Serves 6
You Should Also Read:
Visit my American Regional Site for updated regional comfort recipes
My ebook has 45 recipes and pictures which I'm giving away for .99 cents
Visit my Holiday and Seasonal Cooking site


Related Articles
Editor's Picks Articles
Top Ten Articles
Previous Features
Site Map





Content copyright © 2022 by Allyson Elizabeth D´Angelo. All rights reserved.
This content was written by Allyson Elizabeth D´Angelo. If you wish to use this content in any manner, you need written permission. Contact Allyson Elizabeth D´Angelo for details.