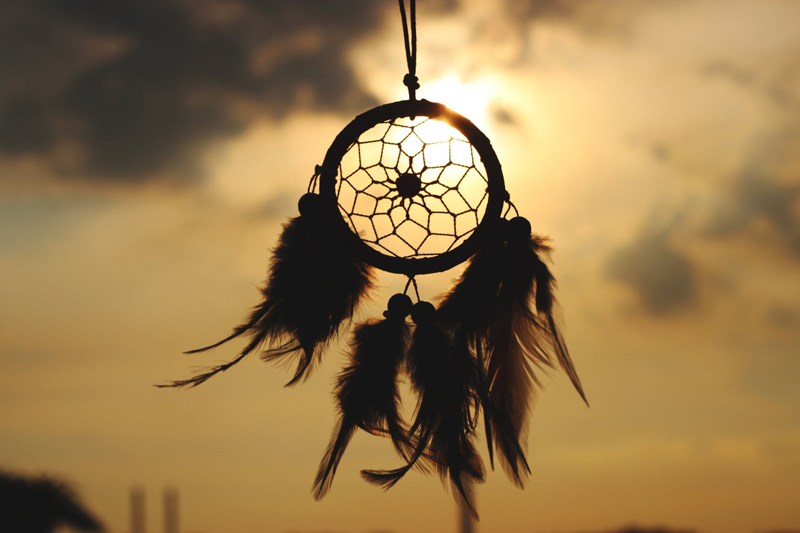 We all dream. Some of us remember our dreams, some of us forget, some of us believe we never dream. We may religiously record our night adventures, occasionally share dreams that stay with us when we wake or actively explore our dreams through personal work on dreams or involvement in a dream sharing group.

There is no right or wrong about remembering, recording and working with dreams. What is important is what dreams mean to you and how you interact with them. Do you want to work with your dreams on a daily basis? Do you want to capture dreams that you know have meaning for you, your life, your community or cultures other than your own? Do you want to help your children deal with the stuff of nightmares that keeps them from sleep?

Below are a few suggestions which may help you with dream recall and recording – if you already remember your dreams you may have techniques which are not mentioned here. I would welcome your feedback.

Dream Art. Do you ever wake with images, landscapes, people or symbols which intrigue you or have meaning to you? Try drawing them, painting them, sketching them; the pictures will often be clearer if you can record them shortly after waking.

Dream Journal. Record the dreams you remember regularly in a form that appeals to you. Do you prefer to draw, paint, record, share or speak your dreams? Do you want to use different recording methods at different times? Check out online dream journaling resources. Consider investing in a journal with or without lines for recording your dreams. Date what you record – it is easy to forget when a dream occurred, yet meanings may manifest days, months or even years beyond your initial journal entry. I have often found it helpful to title my dreams – drawing out a key word/words to capture the essence of the dream helps focus your learning and development in dreamwork.

Dream Sharing. Talk to those close to you about sharing dreams on waking. Is your partner open to exploring dreams? Children may offer dreams without prompting. If you are interested in exploring dreams regularly you may want to consider joining or setting up a dream group. If you do set up a dream group ensure you have clear guidelines, for instance not interrupting someone when they are reading or recounting their dream.

Dreams offer us riches that cost us nothing but time, attention and commitment – welcome to your dream journey.



Related Articles
Editor's Picks Articles
Top Ten Articles
Previous Features
Site Map





Content copyright © 2022 by Asha Sahni. All rights reserved.
This content was written by Asha Sahni. If you wish to use this content in any manner, you need written permission. Contact Lori Chidori Phillips for details.