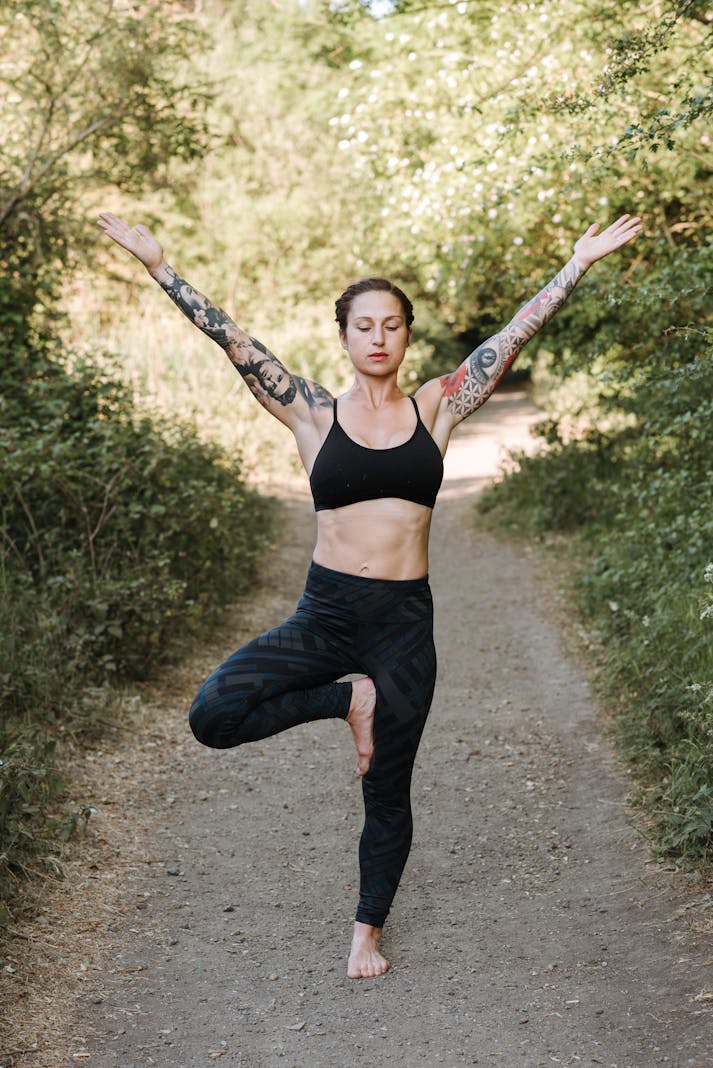 On days filled with heavy traffic, a to-do list longer than the time available for it, and that nagging chime in one's head that says "Not Good Enough" on repeat, it's easy to envy the trees around us. Whether they live in a neighborhood park, on a forested slope, or within a circle of concrete on a suburban street, they manage to flourish amidst the chaos of modern life. Thankfully, yoga offers a pose that can assist with this off-kilter feeling. Whether we consider ourselves saplings or mature trees, we can only benefit from emulating a tree's poise and ability to shift in the wind without becoming uprooted.

Vrksasana, or Tree Pose, is both an extension and a balance posture, and it requires us to hold all of our weight on one leg at a time. Because we will be stretching the sides of our bodies, I like to practice Trikonasana, or Triangle Pose, as a prep for Vrksasana, and to group the posture with other open-hip standing poses. (When practicing a group of balance poses, be sure to organize them so that open hip poses are worked together, usually followed by closed hip poses. For more information on this, read "Yoga Sequences and the Hip Joint," linked below.)

The wall makes an excellent prop for this pose. Standing in Mountain Pose or Tadasana next to the wall, and then shift your weight to your straight right leg. Come to the toe of your leg leg before bending it at the knee and turning the hip out. Optimally, the bent leg will be parallel to the wall and perpendicular to the rest of your body, but in our imperfect world, this alignment may only occur over the course of time – don't push this and avoid injury.

From here, drag the foot over to meet your right leg. Then lift the left foot up so that it rests on the calf or thigh of the opposite leg. Straighten your spine as your bring your hands up into prayer position. They may stay here, or they may flutter up towards the ceiling as your tree grows branches.

Breathe into the position, noting a line of energy that travels up the standing leg through the top of your head. Another line of energy traverses from the perpendicular knee through the thigh, bisecting the other leg. Pull the shoulders into their sockets, and focus the eyes on one spot to help with balance. Then come out of the position and repeat on the other leg.

It's advisable to spend time practicing at the wall. When moving away, balance becomes the most obvious issue, and it's helpful to have worked out one's alignment separately. I like to practice in both places, as the pose then becomes a beautiful metaphor for accepting support and then learning to balance on one's own.

You Should Also Read:
Yoga Sequences and the Hip Joint
Yoga and Balance


Related Articles
Editor's Picks Articles
Top Ten Articles
Previous Features
Site Map





Content copyright © 2022 by Korie Beth Brown. All rights reserved.
This content was written by Korie Beth Brown. If you wish to use this content in any manner, you need written permission. Contact Korie Beth Brown for details.