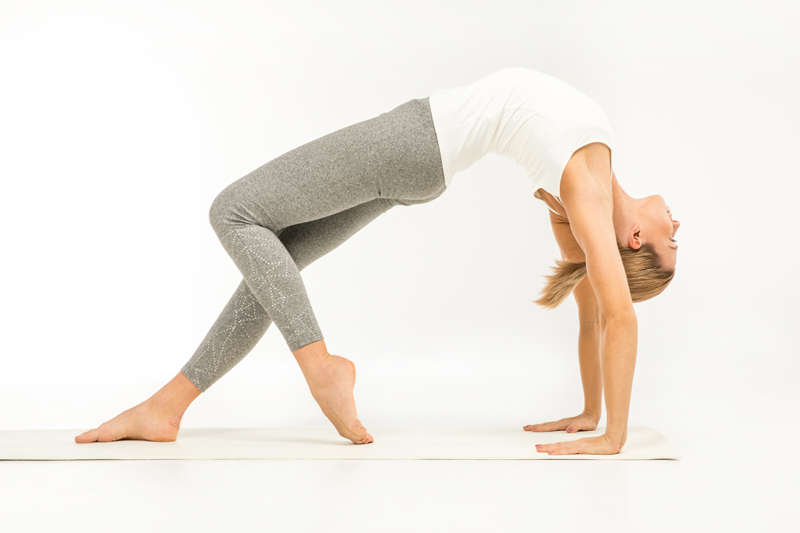 Many of us often find ourselves feeling 'airy-fairy', with our heads in the clouds and little or no connection to the earth. Those of us who hail from traumatic childhoods are very good at 'leaving our bodies' or feeling unconnected from the neck down. A regular yoga practice is a superb way to connect to our physical essence; we can strengthen ourselves even more by working with the energies of Muladhara, the root chakra. Feelings of stress and anxiety are often tied to this center, and a practice focusing on these energies is a good way to counteract that 'flight or fight' syndrome that, left unchecked, can raise our cortisol levels and cause all kinds of health issues.

Any kind of physical movement will help to bring ourselves back to our bodies. It's doubly nice to be able to give ourselves a slow practice that allows for physical connection to the earth. The following is a practice that can be used as the opening for longer asana, or as a quick pick-me-up on its own.

1. Start in Tadasana or Mountain Pose, taking the time to work with your posture.

2. Uttanasana, or Standing Forward Bend. Your stomach should be on your thighs, so go ahead and bend those knees! When you are ready, inhale and move into Ardha Uttanasana, or Half Standing Forward Bend. Then exhale and move back to Uttanasana. Repeat once or twice, allowing your lower back and legs to loosen up of their own accord.

3. A few Sun Salutations or Surya Namaskar, either half or full, will get your blood moving and work most or nearly all of the muscles in your body. If you're pressed for time and unable to move to floor work for any reason, you can sit in a chair and proceed to mantra work. If you have a mat or floor space available, move onto your back and take the next two poses.

4. Rolling Bridge, or Setu Bandha Sarvangasana. With each inhale, raise the arms and hips, ending with the elbows parallel to the ears. With each exhale, lower the arms and hips, rolling the spine out onto the mat. Repeat five or six times, more if you feel the need.

5. Apasana or Wind-Relieving Pose. Bring your knees to your chest, using your thighs to press your back down onto the mat.

If time permits, you can extend this practice by adding other asanas associated with Muladhara Chakra between the Sun Salutations and the reclining poses. Try any of the Standing Poses, or Vrksasana, also known as Tree Pose. You can follow these with Malasana, or Garland Pose, and then with Agnistambhasana, or Fire Log Pose. Then move into Rolling Bridge. Moving back into Apasana. Add any supine twists necessary before spending a few moments in Savasana.

If you're able to spend time in meditation, move slowly to Tailor Pose or Sukhasana. Close your eyes and take a few moments to visualize Muladhara Chakra as a wheel right above the cleft of your rear end, bathed in red light. If you like to chant, the seed sound for this chakra is LAM; if you're more visually inclined, you might focus your gaze on the yantra or traditional illustration for this energy center; conversely, you can also imagine a lotus flower with four parts, the petals representing Mind, Intellect, Consciousness, and Ego.



Related Articles
Editor's Picks Articles
Top Ten Articles
Previous Features
Site Map





Content copyright © 2022 by Korie Beth Brown. All rights reserved.
This content was written by Korie Beth Brown. If you wish to use this content in any manner, you need written permission. Contact Korie Beth Brown for details.