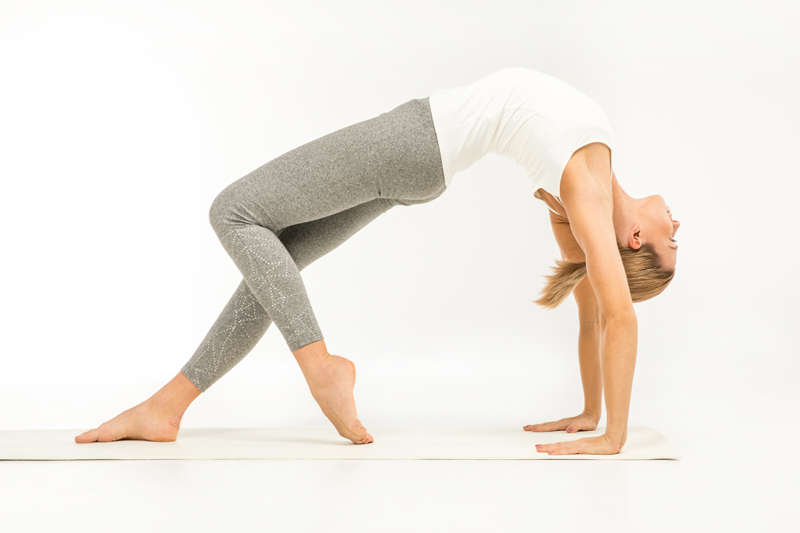 In 2019, the January/February edition of Yoga Journal was printed with two different covers, one that featured upcoming teacher Jessamyn Stanley, the other a woman by the name of Maty Ezraty. Many people took offense on Stanley's behalf; was Stanley being slighted on account of her weight? Or because she is African-American? Yoga Journal was quick to respond with an explanation that heretofore the magazine would have two covers for each edition. In today's divided world, the timing of this editorial move was certainly poor. However, to pair Stanley with Maty Ezraty can only be considered a mark of extreme respect. Even those who don't recognize Ezraty's name have certainly been affected by her career as a yoga teacher and entrepreneur.

After studying dance in her youth, Maty Ezraty discovered yoga and began practicing at the age of nineteen. Two years later, in 1985, she enrolled in a teacher training program. Her career would take off very quickly, moving from class teacher to director of the Center for Yoga in Los Angeles and then to the co-owner of a then-new studio called Yoga Works in 1987. Along with co-owners Alan Finger and Chuck Miller, Ezraty would be responsible for popularizing a new form of yoga.

Her love for tradition is what, paradoxically enough, allowed her to combine two respected yoga styles into a blend now imitated in studios across the world. After meeting Sri K. Pattabhi Jois in Los Angeles, Ezraty went to Mysore, India, to study with him. She became one of the first women in the world to move past the better-known first two Ashtanga series,' and to learn the third and fourth (there are six in total). She followed this study up with an investigation of Iyengar yoga, studying with Donna Holleman and becoming conversant in the teaching of precise alignment. Eventually, her own teaching melded the two approaches, blending this exactitude with the practice of vinyasa, or connecting of individual poses with a form of Sun Salutations.

Ezraty taught Yoga Teacher Training with Yoga Works for sixteen years, instructing such luminaries as Seane Corne, Rod Stryker, and Kathryn Budig. A look at the evolving careers of these students serves as an illustration of Ezraty's dislike of fundamentalist views of yoga; she has stated her belief that there is no one right way to practice.

A lifelong student, Ezraty has studied Vipassana meditation with eminent teacher Joseph Kornfield, travelling from her home in Hawaii to both Spirit Rock Meditation Center in California and to the Insight Meditation Society in Massachusetts. She's written for Yoga Journal on a number of occasions, serving as the "Asana" columnist in both 2001 and 2009. After selling Yoga Works in 2004, she began to teach classes and intensives all over the world, becoming a fixture on the conference circuit.

In keeping with her belief in blending inclusivity and tradition, Ezraty is outspoken about the commodification of yoga currently prevalent in the western world. She believes that yoga is more than just a series of poses, and encourages her students to study pranayama and meditation in addition to maintaining a physical practice. She also cautions against the widespread idea of yoga as a fast track to the perfect body. She believes in the importance of rooting our physical practice in the philosophical traditions of yogic belief, and has noted that asana can lead to injury if not practiced with caution and respect.

As an elder statesman, the teachings of Maty Ezraty have shaped the state of yoga in the West, and it's important to admit her contributions in the field. She certainly has earned her place on the cover of a national yoga magazine, and has been influential in the development of yoga classes, yoga teacher trainings, and the future of the discipline. My admiration for such luminaries as Jessamyn Stanley is immense, but particularly because it's rooted in my yoga journey, which has been irrevocably changed by Maty Ezraty's work.



Related Articles
Editor's Picks Articles
Top Ten Articles
Previous Features
Site Map





Content copyright © 2023 by Korie Beth Brown. All rights reserved.
This content was written by Korie Beth Brown. If you wish to use this content in any manner, you need written permission. Contact Korie Beth Brown for details.