Half Sun Salutation Sequence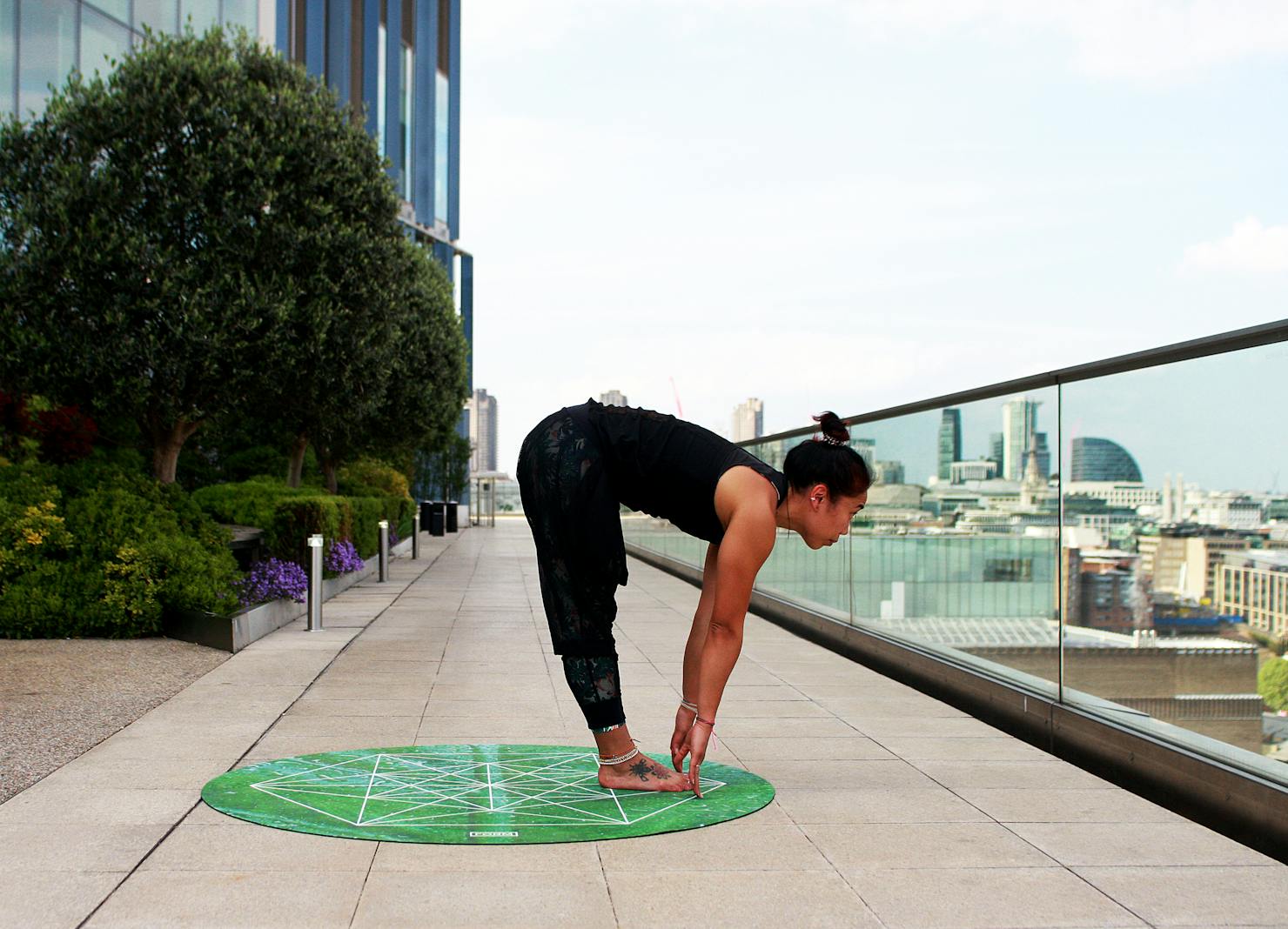 Remember your Half Surya Namaskar whenever you need a quick energizer!

Sitting on a trans oceanic flight will stiffen one right up. So will a long hike, for that matter. Of course, some work days will do it all by themselves. There are many reasons why one needs a quick movement break. While a full Sun Salutation would feel terrific, it is not always practical. One solution? A series of Half Sun Salutations, with variations, that can be practiced while wearing shoes and street clothing. This works in the little bay next to the rear restrooms on a plane, or in the middle of a wilderness trail. For that matter, I have done a few at work to clear my head. Try it for yourself.

Come to Mountain Pose, and take a moment to observe your posture. Search for signs of stress in your lower back, shoulders, and neck. I often need to roll my shoulders up, back, and down to mentally release the weight on my shoulders. I also need to scoop my tailbone under to throw off all that has ridden on my back. Of course, I am not the only one who somaticizes stress, although others may carry it in different places. Do you need to unlock your knees, loosen those fists, or unclench your jaw? Do so. Then bring your attention to your breathe. Inhale. Exhale. Allow your feet to ground down.

On an inhale, elongate your neck without raising your shoulders. On the exhale, stretch it gently to one side. Hold for a breath. Inhale to a straight neck, exhale to the other side. Repeat if you like. Bring the neck straight on a final inhale. Exhale and prepare to raise your arms overhead on the next inhale.

Exhale as you dive forward. Inhale halfway up. Straighten your arms and back. Keep your knees bent this first time and exhale your torso back down, placing your belly on your thighs. From here, inhale and exhale, allowing gravity to help your spine elongate. After giving your back time to lengthen, try straightening one leg at a time. Remember to match each movement with a breath.

Bend your knees, inhale, and come all the way up, bringing your palms together above your head. Interlace your fingers, turn your palms toward the ceiling or sky, and stretch your shoulders. It is nice to add a bend at the waist on each side, again in tandem with the breath. Then return to standing straight with your fingers pointing skywards. Inhale, and exhale your hands to prayer position. You have completed one Half Sun Salutation, with variations. Take as many more as needed!




Related Articles
Editor's Picks Articles
Top Ten Articles
Previous Features
Site Map





Content copyright © 2022 by Korie Beth Brown. All rights reserved.
This content was written by Korie Beth Brown. If you wish to use this content in any manner, you need written permission. Contact Korie Beth Brown for details.