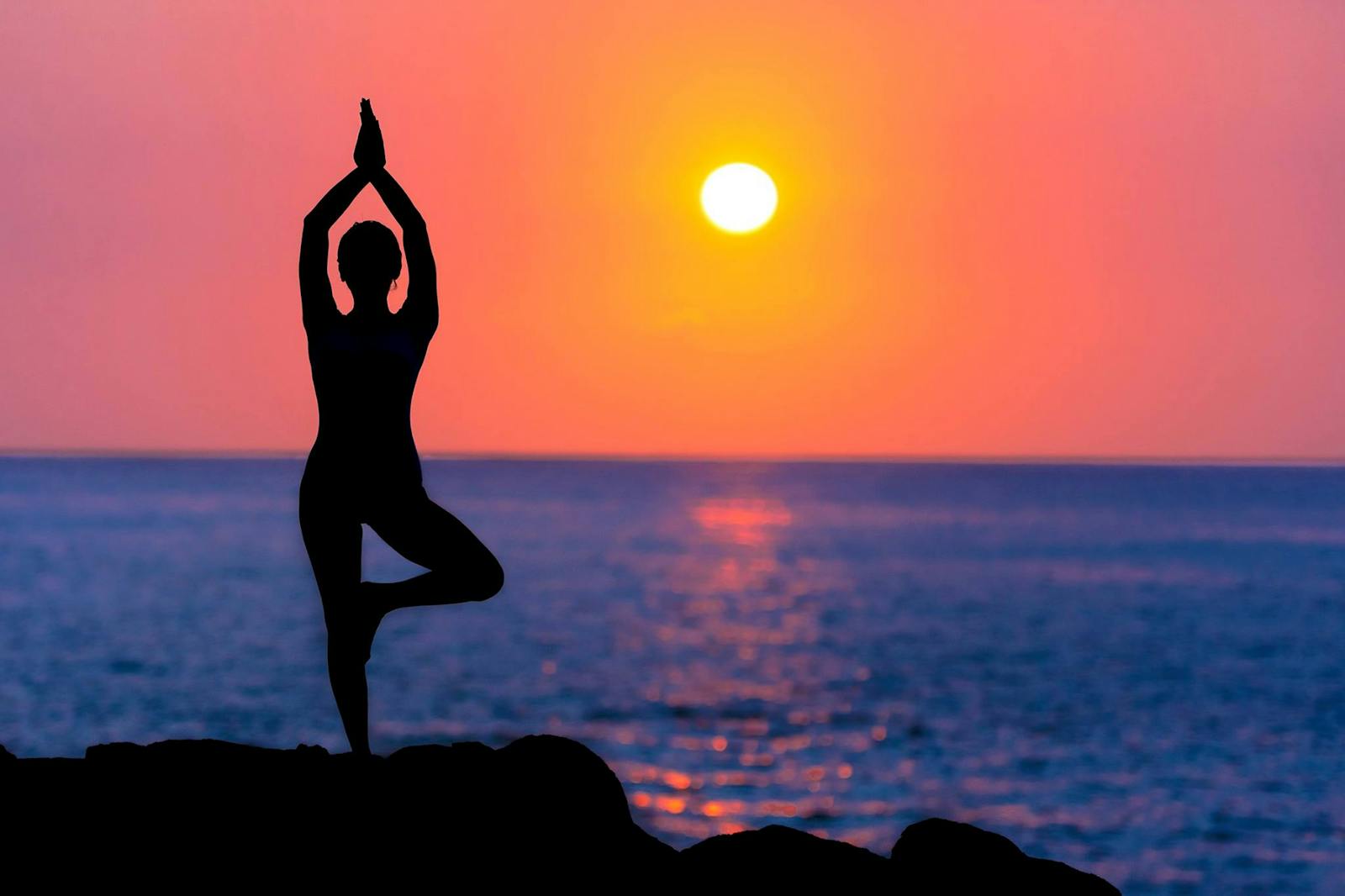 Outside of class, how do you practice? Do you separate weight training from yoga? The two can co-exist beautifully together, especially if you work out at a gym that includes functional fitness training items. The Bosu, which looks like a platform stuck on half a ball, is a wonderful tool which strengthens the core and adds a different twist to balance exercises. Practicing asana on a Bosu is a wonderful way to add strength training to your routine, with or without hand weights. Because most gyms require you to wear exercise shoes, you will find the experience to be different from practicing on a mat. Do not be put off by this – it is simply a different way to approach asana.

Simply standing on a Bosu is a great way to start. Position it with the platform on top, by a wall or some other support. Then put a hand out to help you maintain your balance as you step on with both feet. Come into Tadasana or Mountain Pose, using the wall as necessary. Straighten yourself. See if you can hold the pose with the same integrity as you do on the ground. See if you can remove your hand from your support and bring your palms to Anjali Mudra, or Prayer Position. See how long you can hold the pose on the Bosu. Are you sweating yet?

The same principle applies to any balancing asana. From Tadasana, move into Vrksasana, or Tree Pose, on each side. Again, something hand distance away so that you can right yourself when (not if) you lose your balance. You may find that your raised foot position is lower at first, but do not let that upset you. Move in and out as deliberately as you do on a yoga mat. Natarajasana, or Lord of the Dance Pose, is another interesting challenge on a Bosu, as is Utthita Hasta Padangusthasana, or Standing Hand to Big Toe Pose.

You might also try working on your balance by practicing the open hip and closed hip poses with one foot on the Bosu platform. Suddenly, Warrior II is no longer a resting place! Start with the front foot, using the back on for stability. When you have practiced on both sides, try it again with the back foot on the Bosu.

When you practice at the gym outside of a class, you are in a different kind of environment than you find in a studio class. This can be off putting; it can also be a great way to extend your meditation practice beyond what is comfortable. Do you worry that people are staring at you? Perhaps this points to a samskara that you need to address. Do you have trouble concentrating when people are clanking down their weights? How can you accept those noises and still focus on your breath? Do you find that you move more quickly at the gym than you do in a yoga class? Is this true for the rest of your life? These are all great inquiries for a spiritual practice.

Asana on a Bosu will strengthen your muscles, whether physical or spiritual. It will also enlarge your sense of what yoga is and how it works in your life. Whether you are in a studio class, finishing a workout at the gym, or taking five minutes in the morning to move in and out of Half Sun Salutations, you are connecting your breath to movement and seeing the world in a new way. Enjoy yourself, and use what works for you.



Related Articles
Editor's Picks Articles
Top Ten Articles
Previous Features
Site Map





Content copyright © 2022 by Korie Beth Brown. All rights reserved.
This content was written by Korie Beth Brown. If you wish to use this content in any manner, you need written permission. Contact Korie Beth Brown for details.