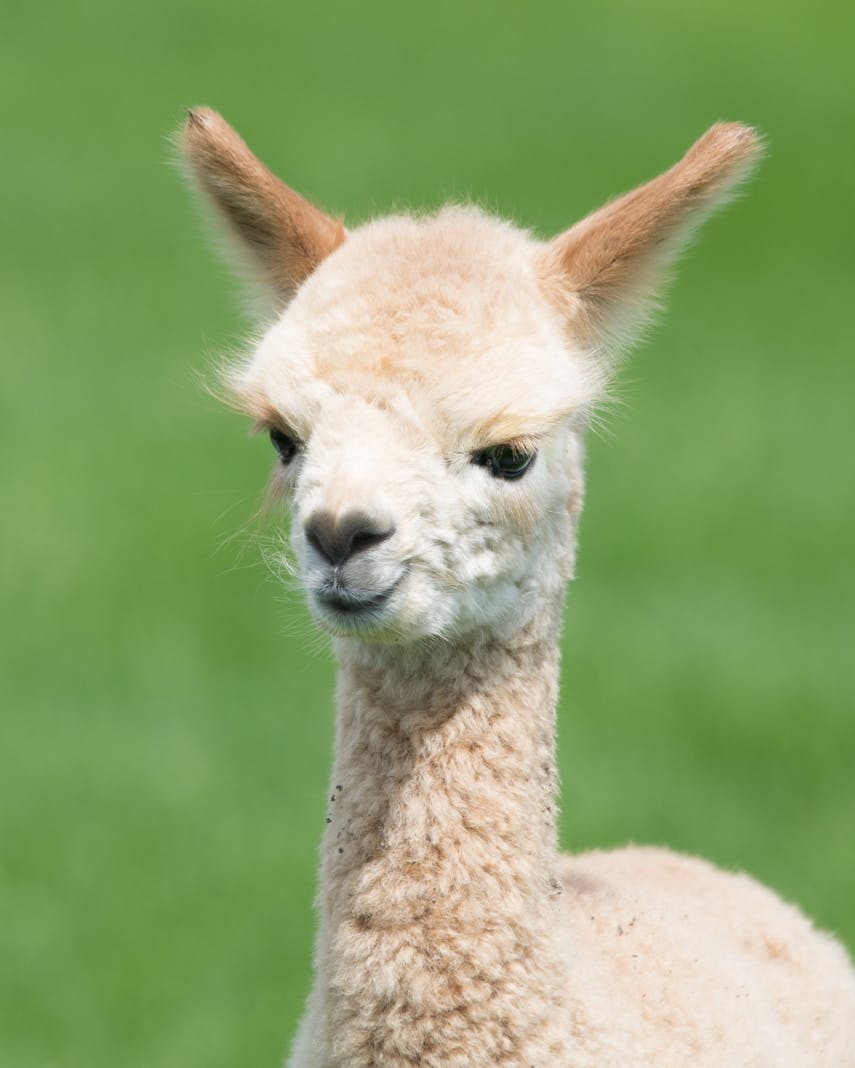 Everyone has a favorite luxury fiber. Some love the status of cashmere; others prefer the retro look of mohair. Still others, such as myself, rest firmly in the alpaca camp. There is nothing that any other cold-weather fiber does that alpaca cannot do better, and knitting with this fiber is like a fantasy come true. Wondering why? Read on.

Alpaca is an animal fiber, made from the hairs of its eponymous animal, which is native to South America and closely related to the vicuna. The fiber is harvested, combed, and spun in ways very similar to that of wool. The majority of alpaca yarn is made from Huacaya alpacas, which is springy, crimpy, and feels soft against the skin. Suri alpaca, considered the more luxurious of the two, is even softer. Because the animals do not secrete lanolin, the fiber is hypoallergenic; because of the way in which the hairs develop, garments made with alpaca are warmer than those made with wool.

The majority of yarn companies blend alpaca with other fibers to create yarn that showcases the best of all possible worlds; usually, this means that the knitter can enjoy alpaca at a reasonable price. Berroco's Ultra Alpaca is composed of fifty percent alpaca and another fifty percent wool. It comes in three different yarn weights: bulky, worsted, and fingering. Worsted weight sells for around thirteen dollars a hank; at two hundred and fifteen yards each, an average sized vest would end up costing roughly eighty dollars. Rowan's Alpaca Classic combines the eponymous fiber with cotton, resulting in a breathable garment suitable for those who get easily overheated; at around eight dollars for one hundred and thirty-one yards. It is priced similarly, at roughly eight dollars per skein (note that the yardage is halved.)

One hundred percent alpaca yarns are not easy to find, but they are out there for those willing to pay the price. Cascade offers DK weight Pure Alpaca for around twenty dollars; each skein has two hundred and fifteen yards. KnitPicks, the champion of luxury yarns at a lower price, offers its Simply Alpaca Aran, which comes in hanks of two hundred and fifteen yards of worsted weight at a bargain price of thirteen dollars. Note, however, that the color choices are limited to a neutral palate. Andean Treasure, priced at eight dollars for roughly one hundred yards of sport weight, has a similarly small choice of colors.

Of course, these are only a few of the myriad yarn lines that offer alpaca. Go to your Local Yarn Store and ask to be pointed to the area with pure fiber and with blends. Take a moment to pet the yarn and imagine what a shawl or sweater would feel like on a cold windy day. Find a pattern that's appropriate for the yarn, and knit yourself up a classic sweater. Your finished project will be softer than cashmere, warmer than wool, and feel great against your skin. Is it any wonder that more and more people are discovering this precious fiber?

You Should Also Read:
Silk and SIlk Blend Yarn
Linen Yarn
Wool for Every Latitude


Related Articles
Editor's Picks Articles
Top Ten Articles
Previous Features
Site Map





Content copyright © 2022 by Korie Beth Brown, Ph.D.. All rights reserved.
This content was written by Korie Beth Brown, Ph.D.. If you wish to use this content in any manner, you need written permission. Contact Korie Beth Brown, Ph.D. for details.