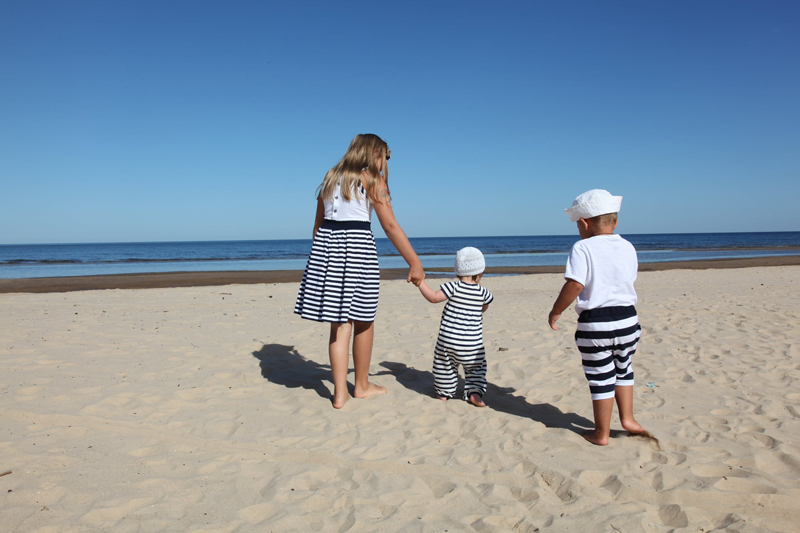 Packing for your first family camping trip can be a bit overwhelming. Here, I'm providing the list we use when our family of five goes camping. You can use it as a jumping off point for your own list, just save it to your computer, customize it, and print it out.

Shelter

Tent- If you'll be using one.
Stakes, poles, mallet for pounding stakes
Sand stakes (if you're camping near the water)
Doormat: For wiping off muddy feet before entering the tent.
Ground cloth: To put under the tent to protect the bottom.
2 tarps: You can never have too many tarps. You can use them to protect the floor of your tent or create an awning over a doorway or picnic table.
Broom/dustpan: For keeping your tent clean.

For Sleeping

Sleeping bags, sleeping pads or airbeds
Pillows & extra pillowcases
Sheets: for light warmth on a hot night, or they can double as a picnic blanket.
Extra blankets/comforters: For cold nights.
Air mattress patch kit

Utility

Lantern w/ fuel or batteries: Take your pick or bring both kinds. (If you choose a fuel lantern, a chain to hang it from a tree is a nice extra).
Extra lantern bulbs, flashlight bulbs, lantern mantles etc.
Flashlights: Bring smaller sizes for the kids.
Battery-operated radio: Good for checking the weather.
Hatchet/folding shovel/folding saw/maul/bow saw: You may or may not need these.
Bungee cords
Duct tape
Lantern funnel
Swiss army knife
Compass
Adjustable wrench & pliers
Knot tying card
Nylon repair tape
Scissors
Rope/twine
Sportsman's goop
Seam sealer
3/8" grommet kit

Kitchen Stuff

Camp Stove & fuel
Cooler & ice
Thermos
Tablecloth & clips
Can opener/bottle opener/corkscrew/scissors
Spatula /vegetable peeler/cheese grater/serving utensils
Utensils-forks/knives/spoons: Look for heavy duty plastic ones in the camping section of department stores.
Plates/bowls/cups & mugs: We usually bring plastic and wash them, you could also bring paper.
Aluminum Foil
Trash bags (big & small)
Nylon or copper scrubber: For scouring pots, these work better than steel wool.
Paper towels
Pot holders
Pie iron: Fun for dessert
Tea kettle: Makes it easier to boil and pour water for hot chocolate, tea, and coffee.
Pots w/ lids: Pack at least two.
Frying Pan: Get a cast iron one if you can, it'll be worth it
Funnel
Big stainless steel bowl: For mixing, serving, washing, you name it.
Cutting boards: For both meats and vegetables.
BBQ fork/spatula/tongs: If you'll be cooking over the fire, bring the right tools.
Sharp knife
Antibacterial dish soap/biodegradable soap
2 dish pans: One for washing, one for rinsing.
Dish towels & dish cloths

For the Campfire

Matches or other flame starters
Fire starters: Buy them or just stuff empty paper towel rolls with newspaper.
Heavy gloves
Wood: If you can spare the car space to pack your own, you'll save money.

Keeping clean

Nail brush
Toilet paper
Bath towels & washcloths
Shower totes
Small mirror
Solar shower: If your campground doesn't have a shower, these are great.
Biodegradable soap/shampoo
Baby needs: A portable potty chair, inflatable bathtub, hook on high chair, diapers, wipes, whatever else you can't be without.
Toiletries
Clothesline & clothespins

First aid/Safety

Bear spray/snake bite kit: Depending on where you're traveling.
Cell phone
Water filter
Bugspray & citronella candles
Calamine lotion
Lip balm
Rubbing alcohol
Sunscreen
Instant cold pack
Hand sanitizer
Whistles
Eye wash
Eyeglass repair kit
Safety pins
Emergency blanket
Hydrocortisone
Maxi pads/gauze pads: Good for large wounds.
Tweezers
Butterfly closures/bandages/tape & non-adhesive bandages
Antibiotic ointment & wipes
Moleskin
Tylenol/infant Tylenol
Q-tips
Safety pins
Lifejackets


Entertainment/Toys

Reading material
Ball
Games/cards
Toys
Glow sticks
Frisbee/kites/other sports equipment
Pen & paper/markers/crayons/stickers/other craft supplies
Musical instruments
Camping chairs

Nature

Binoculars/small telescope/water nets
Fishing gear
Bug jars. Buy or make your own out of a peanut butter jar (punch holes in the lid).
Nature guides
Hiking packs
Hiking boots




You Should Also Read:
Choosing a Family Camping Destination
Choosing a Family Tent
Camping With a Baby


Related Articles
Editor's Picks Articles
Top Ten Articles
Previous Features
Site Map





Content copyright © 2021 by Kimberly Misra. All rights reserved.
This content was written by Kimberly Misra. If you wish to use this content in any manner, you need written permission. Contact Tiffiny Spire for details.