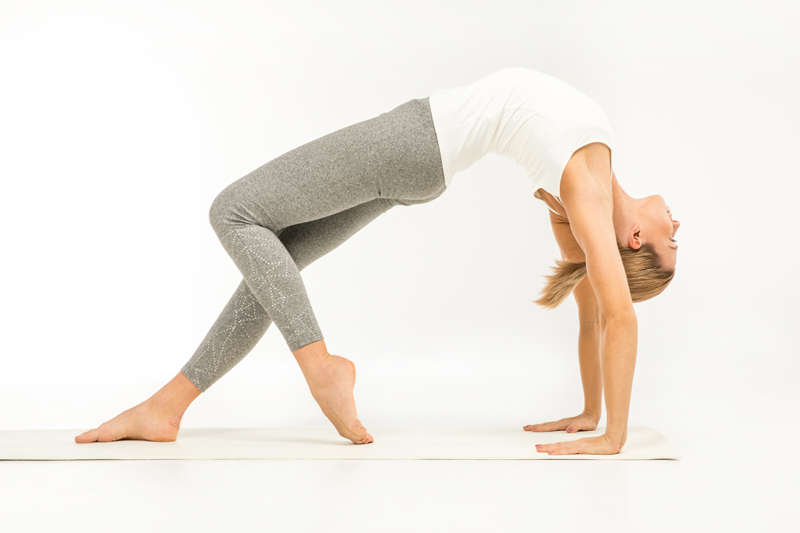 Janu Sirsansana, or Head to Knee Forward Bend, seems made for the bendy set. It's easy to feel "not good enough" watching someone lay his or her head on their thigh while clasping their feet, and to push or strain trying to imitate. This is exactly why so many of us get injured. Janu Sirsansana should be practiced slowly with intention, and, as with all poses, in coordination with the breath. Props are very helpful, and will allow your body to stretch out further than it would if you strained to get into the position. Have a block or a blanket and a strap at the ready.

From a seated position, straighten one leg. For clarity, let's assume it's the right one. Bend the left knee and position the foot so that it touches the right inner thigh. Some people are more flexible here than others; if your left knee is floating higher than your legs, rest it on a block or blanket. This is allow it to relax, and help the muscles to stretch further. Then turn your torso to the straight leg. Note that there is a small twist in the torso here; this is one reason why this pose should not be rushed.

Straighten the right leg, and flex the foot. You may feel a stretch without any other movement! Take the strap and put it around the ball of the flexed foot. Straighten your back. Then inhale, pulling the back straighter, and exhale, bending forward at the hip – not at the mid-back. Depending on your level of flexibility, this may mean leaning forward a quarter of an inch and pulling the strap very gently to feel the stretch in your hip and thigh. Inhale and straighten the back again; exhale and fold forward, again keeping the back straight. If you don't have a strap, place your hands where they fall; this may be on your thighs, calves, ankles, or foot.

Take a few breaths in this position, remembering to straighten the back on the inhale and bend forward on the exhale. You may not move much at all at this point, finding that your 'movements' while breathing are more along the line of checking your alignment rather than moving further into the pose. This is just fine. Your next task is to check your breathing and the state of your mind. You will stay here for a few breaths before coming out of the pose slowly and mindfully, shaking out your right leg, and switching to the other side to perform the same maneuvers.

Janu Sirsasana can be thought of as a lesson in humility. Because so many of us are stiff in the leg and hip areas, we will come face-to-face with the need for both acceptance and persistence. We are where we are, and we may be here for a frustratingly long amount of time. There may be days where we are less flexible than we were the last time we practiced; this is also normal. Our breathing may reflect our self-criticism and our impatience to look like a 'real' yogi/ni. Then, when we realize how we are thinking, we may chide ourselves for not being more 'evolved' and still fighting with doubt and self-hatred. Of course, all of these feelings are normal and will pass if we allow them to. They are simply reminders to work on self-acceptance and self-love.



Related Articles
Editor's Picks Articles
Top Ten Articles
Previous Features
Site Map





Content copyright © 2022 by Korie Beth Brown. All rights reserved.
This content was written by Korie Beth Brown. If you wish to use this content in any manner, you need written permission. Contact Korie Beth Brown for details.