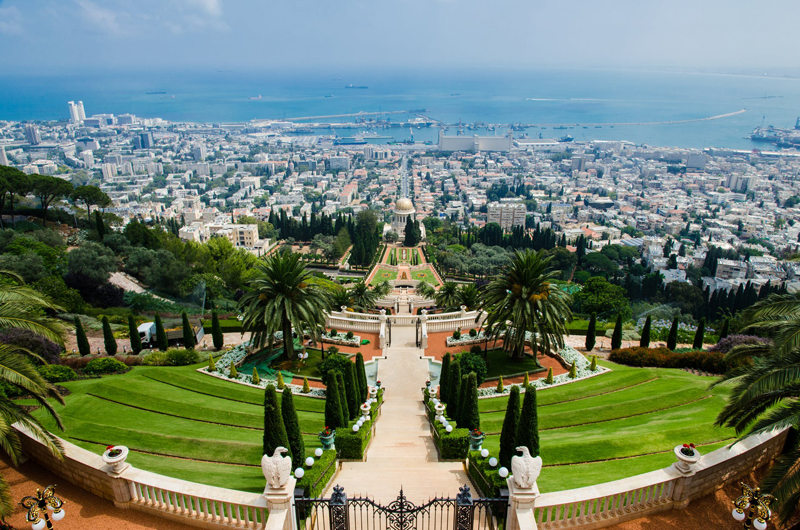 Across North America, members of the Bahá'í Faith will hold gatherings to mark the centenary of an historic journey. 'Abdu'l-Bahá, eldest son of Bahá'u'lláh and appointed head of the Bahá'í Faith after his father's passing, came to the New World in 1912-13 to strengthen the fledgling Bahá'í community and to spread His Father's teachings. In a grueling 239-days, he traveled coast to coast and visited fifty cities. He gave about four hundred talks, sometimes as many as four a day, to over ninety thousand people in all.
'Abdu'l-Bahá arrived in New York City on 11 April 1912, having declined an offer of passage on the RMS Titanic, instructing the donor to give that money to charity. Instead, he had travelled on a more modest ship, the S.S. Cedric, thus setting the example of moderation he would keep to for the rest of his trip. For thousands of miles on trains across the continent, he regularly refused more luxurious accommodation in favor of coach seats, allowing the difference to be given to the needy.
The purpose of these travels was both to spread the teachings of His Father and to show the believers by example how to live according to them. For instance, he insisted that meetings be open to all races, even going so far as to place a black man to his right at table when addressing a dinner meeting in a posh--and segregated--neighborhood of Washington, D.C.
His visit and talks were the subjects of hundreds of newspaper articles. The headlines included: "Persian Teacher to Preach Peace", "Racialism Wrong, Says Eastern Sage, Strife and War Caused by Religious and National Prejudices", and "Apostle of Peace Meets Socialists, Abdul Baha's Novel Scheme for Distribution of Surplus Wealth."
By the time he left, the Bahá'ís in North America had a much clearer understanding of their faith, as well as a vision of the glorious future promised by Bahá'u'lláh. As there were few books on the Faith published in English at that time, many questions went unanswered before 'Abdu'l-Bahá's visit made it clear that he was the source of answers, having been appointed by his father as the only interpreter of His body of work. For many years after, letters would fly, and answers would be carefully retyped and distributed. This is how the nascent faith in the New World developed.
Consequently, this centenary has a special place in the hearts of North American believers. Commemorative events planned nationally include: (see link below for specifics)
Chicago, Illinois:
Saturday evening, April 28, 2012, large public event downtown. The following day, Sunday, April 29, two special devotional programs will be held at the Bahá'í House of Worship in Wilmette, commemorating the laying of the cornerstone of that structure (completed in 1953).
Washington, D.C.:
Saturday, May 12, 2012, a program focusing on Race Unity.
New York metropolitan area:
Saturday, June 16, 2012, a program on the Covenant.
San Francisco, California:
Sunday, September 9, 2012, on the theme of peace.
In addition, many local events are planned across the US. The National Spiritual Assembly of the Bahá'ís of the United States, in providing guidance for planning, made it clear that these were not to be conferences or seminars, but simple reverent commemorations of historical events for which Bahá'ís are profoundly grateful. For information and inspiration "…we need only pick up one of the many books that recount the history of those times or His innumerable public and private talks.
However, what will ultimately endure is what each of us, in our own life and service, draws from His example and teachings."
For more on the centenary:
Commemorating the Centennary of 'Abdu'l-Bahá's visit to America 1912
To read some of the transcribed talks 'Abdu'l-Bahá gave and where they were given:
The Promulgation of Universal Peace
You Should Also Read:
'Abdu'l-Bahá the Perfect Example
Paris Talks Book Review
What Bahá'ís Think is Happening in the World


Related Articles
Editor's Picks Articles
Top Ten Articles
Previous Features
Site Map





Content copyright © 2018 by Cheryll Schuette. All rights reserved.
This content was written by Cheryll Schuette. If you wish to use this content in any manner, you need written permission. Contact Cheryll Schuette for details.