Half Pigeon Pose (Ardha Kapotanasana)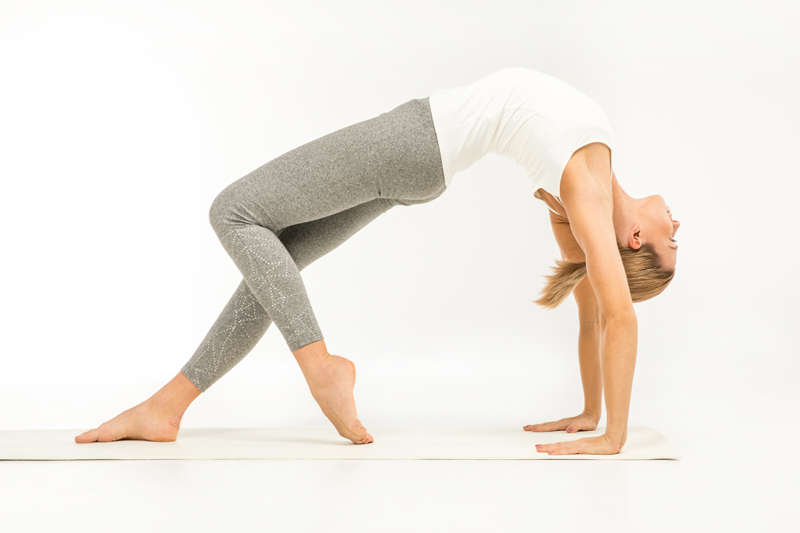 Ah, technology. Connection, entertainment – and hours spent hunched over a computer or cell phone. This means a stiff back as well as legs and butt muscles confined to one position for long hours. Pigeon Pose provides a nice balance and stretch, but it must be done slowly and thoughtfully to avoid injury. Once in your repertoire, this pose will help you to stay flexible, even after the rigors of immobility.

Most of us shouldn't move directly into Ardha Kapotanasana without preparation, but the supine variation is a great place to start. Lie on your back, and make the number four with your legs by crossing one over the other. Reach up with your torso and catch the bottom leg with your hands. If you can't reach both hands around your leg, try holding at the knee. Pull slowly to provide the stretch. Get into the habit of conscious breathing while you perform this maneuver on each leg, and keep both feet flexed to protect the knee joints.

If you want to try the full pose, please don't be shy about using props. You will need a blanket as well as two blocks. The props will ensure that you are performing the pose with your hips square, which is the correct alignment. If you don't have access to the props, you may be better off sticking with the supine position!

It's easiest to move into Ardo Kapotanasana from Down Dog, or Ardo Mukha Svanasana, From here, lift your leg high in the air; you might want to open the hip for a moment or two. (Do I need to remind you to breathe mindfully?) Square your hips back to closed, and bring the lifted leg forward, bent at the knee. You will drop it to the floor with the knee bent. In a perfect world, the foreleg is parallel to your hips, but since this isn't a perfect world, the angle of your leg will probably be less than ninety degrees (and possibly to a significant degree.) Take an inhale and exhale as you – slowly and mindfully! - drop the torso onto the leg, keeping your hips parallel and facing forward. If you can't lower yourself without moving your hips, use a blanket to support the side with the bent leg. While the ideal is to bring your torso down all the way, you may need to prop your elbows up on blocks.

Hold the stretch, concentrating on releasing the muscles and deepening your breathing. When you are through, bring your body off the leg and shake it out, possibly moving into Balasana or Child's Pose before practicing Half Pigeon on the other side of the body.

You Should Also Read:
Importance of Yoga Props
Why Use a Block?


Related Articles
Editor's Picks Articles
Top Ten Articles
Previous Features
Site Map





Content copyright © 2022 by Korie Beth Brown. All rights reserved.
This content was written by Korie Beth Brown. If you wish to use this content in any manner, you need written permission. Contact Korie Beth Brown for details.