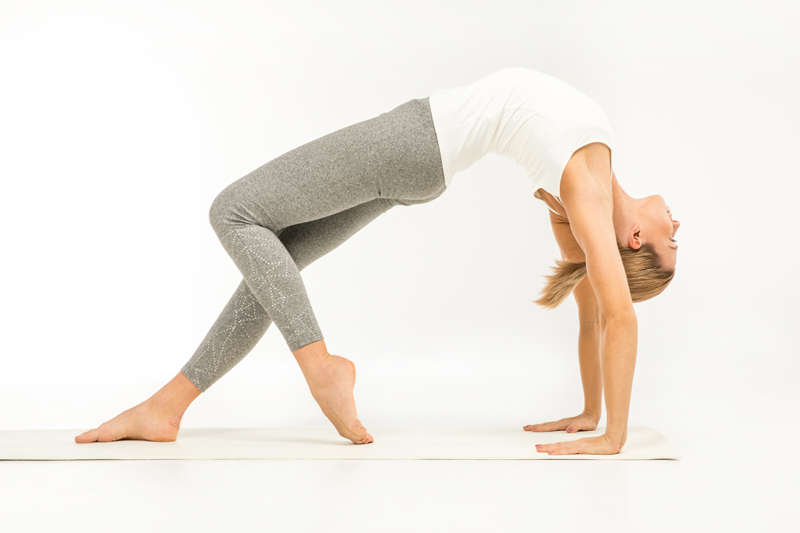 In Surya Namaskar, we are often instructed to "step or jump back into Chaturanga Dandasana." In vinyasa classes, we are told to "take a vinyasa" between poses. Good summaries, yes, but not very descriptive. From Uttanasana, or Standing Forward Bend, or from the pose we've just finished, we plant our hands on the ground, and then…….? The basic movement involves stepping back into Plank Pose, and then dropping the knees, the chest, and the chin before sliding forward into Bhujangasana, or Cobra Pose. The "advanced" movement involves jumping back into Chaturanga Dandasana, or Four Limbed Staff Pose, and then flowing into Urdhva Mukha Svanasana, or Up Dog. How often do we stop to practice these transitional movements? How often do we give thought to which form we are doing, and why?

The first question we should ask ourselves is this one: are we able to practice Chaturanga competently at this time? To answer this question, we think about arm strength. For example, can we perform a full 'boy' push-up, or, better yet, a series of them? Can we do this while holding our elbows in close to the body? Can we hold the top of a push up and s-l-o-w-l-y move down? Can we do this in reverse? These are all good movements for your home practice. There are times when Chaturanga is simply too demanding, perhaps because we're out of shape but also perhaps because we're recovering from an illness or returning to our yoga class after a vacation. It's important to be honest with ourselves about where we are, and our reactions to this kind of honesty can lead us into some deep spiritual inquiries. If there is embarrassment associated with not being able to do the full jump-back, Chaturanga, and Up Dog sequence, why is that? Why do we insist on our yoga practice being a 'yoga perfect' every time we come to the mat?

Not only is the "basic" sequence perfectly acceptable, there are times when it should be preferred. It's not as simplistic as it sounds, and it offers great benefits to the body. From Plank, we drop our knees, and then our chest, and then our chins. Note that this doesn't say "knees, belly, and boobs." These movements use core strength to do properly, and practicing them correctly helps to build up the strength needed to eventually master Chaturanga. Let's slow down and practice doing this correctly.

From here, sliding into Bhujangasana shouldn't be thought of as "Up Dog Lite." Cobra Pose helps to open the heart and strengthen the back muscles if done correctly. We should focus on pulling the chest through to face the opposite wall. When we push the body up, the pose should be held with the back rather than with the hands and arms. Try lifting the hands off the mat once in a "baby Cobra", and see which muscles are working. Start with "baby Cobras" and work up to the full position.

Even something as quick as the transitions during a vinyasa can help us to better understand and our bodies. If we sensitively work with them rather than forcing them into positions before they are ready, we display spiritual maturity and a willingness to let the transformative power of yoga unfold for us. Take the time to think through the choices.



Related Articles
Editor's Picks Articles
Top Ten Articles
Previous Features
Site Map





Content copyright © 2022 by Korie Beth Brown. All rights reserved.
This content was written by Korie Beth Brown. If you wish to use this content in any manner, you need written permission. Contact Korie Beth Brown for details.