Chilly Dogs - Staying Safe & Warm in Winter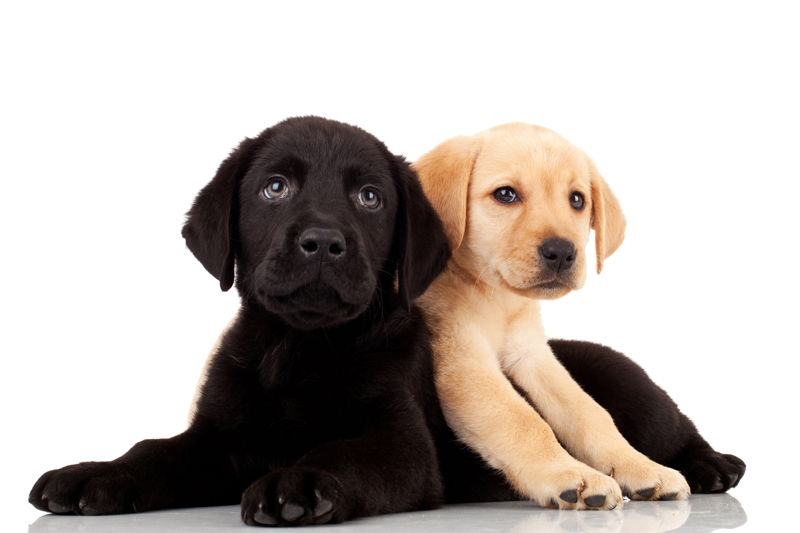 In average winter temperatures most dogs enjoy going outside. They need their walks or outdoor exercise to release some of their energy. Many dogs absolutely love to run and play in snow. Huskies and other Artic breeds have coats designed for winter. Some sporting and herding breeds also have dense undercoats to keep them warm and dry.
Other dogs need extra protection from the cold. Unless they have their own cozy fur coats, dogs living in winter climates need outerwear for warmth and comfort on cold windy days. Dogs who shivered on moderately cold fall days will need a warm sweater or coat and lots of encouragement to go outside in harsh winter weather. Some dogs love wearing coats and being dressed. For others, it's something they'll learn to tolerate.
Dressing to Stay Warm

A basic dog coat covers the back and sides and has a wrap-around belt to hold it in place. Some coats have an extra flap to cover the chest and upper abdomen.
Heavyweight bulky-knit sweaters provide lots of warmth and also cover the belly for a soft, comfortable fit without no straps or belts to adjust, no buttons, and nothing to buckle or fasten.
Dogs with little or no hair on their bellies need a jacket or sweater that covers and warms their entire mid-section. Bassets, doxies and other long-low breeds, also need this extra coverage to protect their bellies from contact with ice and snow.
In homes where thermostats are set lower than about 70º, extra sensitive dogs like Chihuahuas and other small dogs and dogs with little hair... like Italian Greyhounds and Chinese Crested Hairless... will also be more comfortable wearing doggy sweaters or sweatsuits indoors.

Dog coats and jackets are usually made from fabrics like polar fleece or wool blends. Many have quilted linings. Warm hooded coats, trench coats, leather sherpas, heavy parkas and other classic coats and stylish jackets, warm sweaters and sweatsuits for dogs of all sizes are available in pet shops online.

| | |
| --- | --- |
| | Wind & Rain Gear is 100% wind and waterproof. This style features a toggled drawstring at the waist and Velcro closure cuffs for a perfect fit. The detachable hood provides full coverage. |
| | |
| --- | --- |
| | Outerwear for active dogs is designed to remain securely in place during vigorous activities, but still allow a full range of motion. It reduces the loss of core body heat to protect them from wind, rain, and snow. |
Pet centers and online pet stores that sell pet apparel have size charts for the brands they sell with instructions for measuring. Measure carefully... Getting the right size will make it more comfortable, increasing the chance that a dog will get more use out of it. A good fit has plenty freedom of movement for walking, running, and playing. When buying apparel for a dog less than 18 months old, allow extra room for growth.
| | |
| --- | --- |
| Doggie boots are not just a novelty for pampered pets. Even paws covered in heavy fur get cold when they get wet, and exposure to ice, snow and salt can hurt even the toughest paws. Well-made boots can keep a dog's paws warm and dry in rain, ice, and snow and protect them from the harmful effects of salt and de-icers. Click on the picture for more information about cold weather paw care & protective footwear. | |

Arctic Blasts & Winter Storms
Some dogs need the protection of their coats and sweaters on all but the most balmy winter day. Others stay warm with their built-in fur coat but may need a sweater for an extra layer of insulation on brisk winter mornings. BUT.... During those occasional frigid blasts when temperatures take a dramatic plunge to the teens or single digits for a few days, limit dogs time outdoors to just long enough to relieve themselves. Prolonged exposure to cold can be life-threatening. Don't let a dog outside for more than a few minutes.

Layer coats and sweaters on tiny toy breeds, puppies, elderly dogs, dogs that are ill or recovering from an illness, and dogs of any size with very short hair or a very short hair cut. Put a sweater under your dog's coat or jacket for extra warmth. Use boots if a dog is used to wearing them.

In deep snow, a few inches for a Chihuahua, always shovel a path for your dog's potty area. Allow only a few minutes outdoors during wet or snowy winter weather.

Even at temperatures that are normally tolerable, being wet can cause rapid chilling. Even Arctic breeds and other dogs with heavy undercoats are vulnerable to hypothermia if they get wet down to their skin. Very young dogs and very old dogs are at greatest risk. If your pet has been out in a winter storm, dry him with towels that have been warmed in a dryer, then wrap him in warm blankets. For more information about hypothermia, see the links below this article.

A severe wind chill increases the chances for frostbite. The tips of thin ears, tips of tails and toes are especially vulnerable. "Frost bitten" body tissue actually freezes. It may look pale and feel cold. Unless measures are quickly taken to warm a frost bitten area, that tissue will die. Apply moist, comfortably warm towels. Handle with care...Do not massage the affected area or let the dog scratch or chew around it. After it thaws, the skin will be red, swollen, and possibly blistered. If your dog has frostbitten areas or possible hypothermia contact your veterinarian immediately.

In dangerously low temperatures, all pets should be brought inside. The Humane Society of the United States and many other humane organizations strongly advise against keeping dogs outside any time of the year, especially in winter. If bringing an "outside dog" in your house is absolutely not possible, move it into a garage or basement. If the garage is unheated, buy a crate and except for the opening, cover it with blankets or some kind of insulation.

If, for whatever reason a dog must live outside -
Do not use metal water dishes. A dog's tongue can stick to the frozen metal. When it's cold enough to for water to freeze, give lukewarm water at least twice a day or get a self-heated water dish. Feed a good quality dog food and increase the daily amount. Staying warm burns alot of calories.

A dog should NEVER live outside, chained to a dog house. Every "outside" dog's house should open into a chain link or heavy wire kennel. A dog house must be sturdy & leak-free. It should have a raised floor, have just enough room for a dog to be to comfortable and be able to turn around, but small enough to stay warm from the dog's body heat. The opening should be covered with a rug or other heavy flap to block the wind. It should open away from the wind. Line the floor with pieces of carpet or blankets and fill the house with straw for bedding. Remove any wet bedding daily. Change bedding frequently.

Depending on where you live, there may now be laws that either prohibit chaining a dog outside or set a limit to the number of hours per day that a dog may be chained. For more information see Living As Prisoners ... Longing to be Pets.



Household Poisons... An Indoor Winter Hazard
If your pets will spend any time in the garage or basement, remember to move all toxic substances out of their reach.

Make sure your car's radiator does not leak. Antifreeze is one of the most dangerous winter hazards. Most commercial antifreeze contains a sweet tasting, but highly toxic chemical called ethylene glycol. Consuming as little as one teaspoon of antifreeze can be deadly to a small dog. If a cat walks through a puddle of antifreeze, then licks it's paws, that can be fatal. If you think a pet has eaten anti-freeze, seek immediate veterinary care. Treatment within two to four hours can sometimes save a pet who has ingested antifreeze.

Carbon monoxide poisoning is another danger for pets in a garage during the winter. If you have a pet in your garage, do not start your car to let it warm up inside the garage.

For more information on household poisons see Household Poisons Help Sheet



Do you know what a Three Dog Night is? It's a COLD night! It's the kind of night when you need 3 of us to keep you warm!!! We're always happy to do that for people we love.
The phrase "Three Dog Night" came from Australian Aborigines. Sometimes, on really cold nights, they needed three Dingo dogs to keep from freezing. They called that kind of night a Three Dog Night. When the rock group "Three Dog Night" started out and needed a name, one of the band member's girlfriends suggested that name after she read a magazine article about the Australian Aborigines, who on cold nights, would sleep beside their dogs for warmth. The very coldest weather was called a "Three Dog Night".
Please bring all your dogs in the house and stay warm together!
Give your dog a hug!    Keep warm, and have fun together this winter!
---
Find a great selection of warm apparel and other winter gear at...
---
You Should Also Read:
Winter Paw Care for Dogs
Winter Clothing for Dogs
A Dog Lover's Guide to the Internet


Related Articles
Editor's Picks Articles
Top Ten Articles
Previous Features
Site Map





Content copyright © 2021 by Sandy Moyer. All rights reserved.
This content was written by Sandy Moyer. If you wish to use this content in any manner, you need written permission. Contact Bettina Thomas-Smith for details.