Quotes About Beer & Drink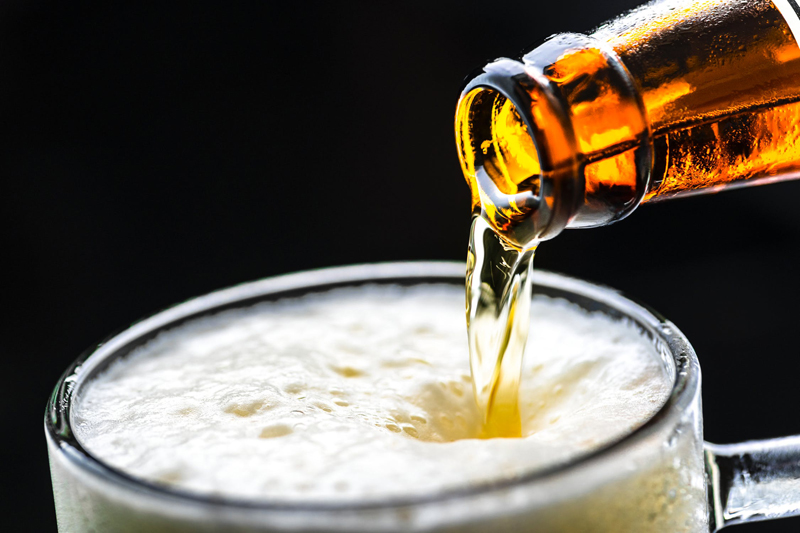 Everyone seems to love a beer quote. Beerwriters select their favorites for hook-boxes in journals; magazine editors use them as attention-getters. Often, these quotes have not been thoroughly researched for the exact source, and some may have been attributed without proper foundation. They may be taken out of context, and in so doing, lose some of their sarcastic edge, wit, or irony. Abraham Lincoln, for example, is famous for the quote:
"I am a firm believer in the people. If given the truth, they can be depended upon to meet any national crisis. The great point is to bring them the real facts, and beer." (For a more complete discussion of this quote, see "Lincoln Facts – and Beer" )

One favorite of the beer community is attributed to Benjamin Franklin:
"Deus nobis cerevisiam dedit quia nos felices esse vult," best translated as "God gave us beer because he wants us to be happy," but you may see the more refined translation, "Beer is living proof that God loves us and wants us to be happy."
The quick-witted Franklin entertained the masses with these phrases of jest, often penned in Poor Richard's Almanac under one of the many alias names he used while writing. Phrases about beer and drinking peppered his writings in abundance:

"There can't be good living where there is not good drinking,"


"He that drinks fast, pays slow."


"Drink does not drown Care, but waters it, and makes it grow faster."
He was a man who enjoyed his friendships as much as he enjoyed his beer, and believed drink was meant to be shared: "He that drinks his Cyder alone, let him catch his horse alone."

Without further delay, enjoy these popular quotes about beer and drink:

"Drink to me." - Dying words of Pablo Picasso



"The Puritanical nonsense of excluding children and therefore to some extent women from pubs has turned these places into mere boozing shops instead of the family gathering places that they ought to be." - George Orwell (1903-1950)



"It is disgusting to note the increase in the quantity of coffee used by my subjects and the amount of money that goes out of the country in consequence. Everybody is using coffee. If possible, this must be prevented. My people must drink beer." - Frederick the Great



"It was as natural as eating and, to me, as necessary. I would not have thought of eating a meal without drinking a beer." - Ernest Hemingway



"The sum of the matter is, the people drink because they wish to drink." - Rudolph Brand



"A quart of ale is a dish for a king." - William Shakespeare 'A Winter's Tale'



"From man's sweat and God's love, beer came into the world." - Saint Arnold of Metz, The Patron Saint of Brewers



"There's nothing wrong with sobriety in moderation." - John Ciardi (1916-1986)



"I thought for a change I would give up drinking, and it was a great mistake, and, although I reduced the size of my nose and improved my beauty, my stomach suffered." – Winslow Homer



"Prohibition makes you want to cry into your beer and denies you the beer to cry into." - Don Marquis



"The sway of alcohol over mankind is unquestionably due to its power to stimulate the mystical faculties of human nature." – William James



"For art to exist, for any sort of aesthetic activity or perception to exist, a certain physiological precondition is indispensable: intoxication." - Friedrich Nietzsche



"Of course one should not drink much, but often." - Henri de Toulouse-Lautrec



"For we could not now take time for further search (to land our ship), our victuals being much spent, especially our beer." - Log of "The Mayflower"



"Wine is but single broth, ale is meat, drink, and cloth." - 16th century English proverb



"Beer that is not drunk had missed its vocation." - Meyer Breslau - 1880



"Keep your libraries, your penal institutions, your insane-asylums... give me beer. You think man needs rule, he needs beer. The world does not need morals, it needs beer...The souls of men have been fed with indigestibles, but the soul could make use of beer." - Henry Miller



"In my opinion, most of the great men of the past were only there for the beer." - Alan John Percivale Taylor, British historian (1906-1990)



"Nothing quenches the thirst like a Wheat Beer, or sharpens the appetite like an India Pale Ale. Nothing goes as well with seafood as a Dry Porter or Stout, or accompanies chocolate like an Imperial Stout. Nothing soothes like a Barley Wine. These are just a few of the specialty styles of beer." - Michael Jackson, the Beer Hunter (1942-2007)



"Whoever makes a poor beer is transferred to the dung-hill." – Edict in the City of Danzig, 11th Century



"Give me a woman who truly loves beer, and I will conquer the world." - Kaiser Wilhelm II (1859-1941)



"Marriage is based on the theory that when a man discovers a particular brand of beer exactly to his taste he should at once throw up his job and go to work in a brewery." - H. L. Mencken



"The selling of bad beer is a crime against Christian love." – Law Record - the City of Augsburg, 13th Century



"Fermentation may have been a greater discovery than fire." - David Rains Wallace



"A pleasant apertif, as well as a good chaser for a short quick whiskey, as well again for a fine supper drink, is beer." - M. F. K. Fisher, American Author (1908-1992)



"It is my design to die in the brew-house; let ale be placed to my mouth when I am expiring, that when the choirs of angels come, they may say, 'Be God propitious to this drinker.'" - Saint Columbanus, A.D. 612



"We brewers don't make beer, we just get all the ingredients together and the beer makes itself." - Fritz Maytag, President Anchor Brewing



"You can only drink 30 or 40 glasses of beer a day, no matter how rich you are." - Colonel Adolphus Busch



"God made yeast, as well as dough, and he loves fermentation just as dearly as he loves vegetation. " - Ralph Waldo Emerson



"There may be a few good men who don't drink, but they've got to prove it." - Colonel Lincoln Karmany, USMC



"Life begins at 60 - 1.060, that is." - Denny Conn



"I'd rather have a bottle in front of me, than a frontal lobotomy." – Dorothy Parker



"Of doctors and medicines we have in plenty more than enough...what you may, for the Love of God, send is some large quantity of beer." - Dispatch from the Colony in New South Wales (1854)



"At social parties no gentleman ever thought of leaving the table sober; the host would have considered it a slight on his hospitality." - F.W. Hackwood, etiquette in 18th Century, England



"No soldier can fight unless he is properly fed on beef and beer." - John Churchill, First Duke of Marlborough



"Give my people plenty of beer, good beer and cheap beer, and you will have no revolution." - Queen Victoria



"Beer drinking doesn't do half the harm as love-making." – Anonymous



"I would give all my fame for a pot of ale, and safety." - Shakespeare, King Henry V



"Do not cease to drink beer, to eat, to intoxicate thyself, to make love, and to celebrate the good days." - Ancient Egyptian Creed



"Make sure that the beer - four pints a week - goes to the troops under fire before any of the parties in the rear get a drop." - Winston Churchill to his Secretary of War (1944)



"He is not deserving the name of Englishman who speaketh against ale, that is, good ale." - George Borrow (1803-1881)



"I'll have another beer. I'm not driving." - Father Theodore, Trappist Monk



"You're all wanking sissies if you even think about using a grain mill, teeth, or ball-peen hammer. A real brewer uses 17 vestal virgins stomping on the grain in a large wooden vat. And yeast is for losers. True brewers just dip one end of their dog into the wort to get things going." - Drew Avis



"Whiskey and Beer are a man's worst enemies... but the man that runs away from his enemies is a coward!" - Zeca Pagodinho, Brazilian Songwriter



"Beer - Because one doesn't solve the world's problems over white wine." – Anonymous



"Fermentation and civilization are inseparable." - John Ciardi (1916-1986)



"Of beer, an enthusiast said that it could never be bad, but that some brands might be better than others." - A. A. Milne



"The roots and herbs beaten and put into new ale or beer and daily drunk, cleareth, strengthen and quicken the sight of the eyes." - Nicholas Culpeper



"Beer is a wholesome liquor....it abounds with nourishment." - Benjamin Rush, PhD, American physician



"No poems can live long or please that are written by water-drinkers." - Horace 65-8 B.C.



"Praise not the day until evening has come; a sword until it is tried; ice until it has been crossed; beer until it has been drunk" - Viking proverb



"We are here to drink beer...and live our lives so well that Death will tremble to take us." - Charles Bukowski



"A fine beer may be judged with just one sip, but it's better to be thoroughly sure." - Old Czech Proverb



"Beer, if drank with moderation, softens the temper, cheers the spirit and promotes health." - Thomas Jefferson



"Let no man thirst for good beer." - Sam Adams



"I recommend...bread, meat, vegetables and beer." – Sophocles - Philosophy for a balanced diet



"The Church is near, but the road is icy. The bar is far away, but I will walk carefully." - Russian proverb



"What event is more awfully important to an English colony than the erection of its first brewhouse? " - Reverend Sidney Smith



"This is grain, which any fool can eat, but for which the Lord intended a more divine means of consumption... Beer!" - Friar Tuck in 'Robin Hood, Prince of Thieves'



"We old folks have to find our cushions and pillows in our tankards. Strong beer is the milk of the old." - Martin Luther (1483-1546)



"It is better to think of church in the ale-house than to think of the ale-house in church." - Martin Luther (1483-1546)



"Beer will always have a definite role in the diet of an individual and can be considered a cog in the wheel of nutritional foods." - Bruce Carlton



"I believe this would be a good time for a beer." - Franklin Delano Roosevelt at the signing of the 21st Amendment



"There is only one game at the heart of America and that is baseball, and only one beverage to be found sloshing at the depths of our national soul and that is beer." - Peter Richmond
A few little poetic verses about beer:
"Malt does more than Milton can
To justify God's ways to Man." - A. E. Housman



"Fill with mingled cream and amber, I will drain that glass again.
Such hilarious visions clamber through the chambers of my brain.
Quaintest thoughts, queerest fancies, come to life and fade away.
What care I how time advances? I am drinking ale today." - Edgar Allan Poe



"If all be true that I doe thinke,
There are five reasons why men sholde drinke,
Good friends, good beer, or being dry,
Lest we be like to be so, bye and bye,
Or any other reason why." – Anonymous



"Whiskey's too rough,
Champagne costs too much,
Vodka puts my mouth in gear.
I hope this refrain,
Will help me explain,
As a matter of fact,
I like beer." - Tom T. Hall


Cheers!
You Should Also Read:
Beer Trivia for Beer Enthusiasts - Lightning Round
Beer Trivia - Old Beer Facts
Beer Slang - A Beer Fox Guide


Related Articles
Editor's Picks Articles
Top Ten Articles
Previous Features
Site Map





Content copyright © 2022 by Carolyn Smagalski. All rights reserved.
This content was written by Carolyn Smagalski. If you wish to use this content in any manner, you need written permission. Contact Carolyn Smagalski for details.