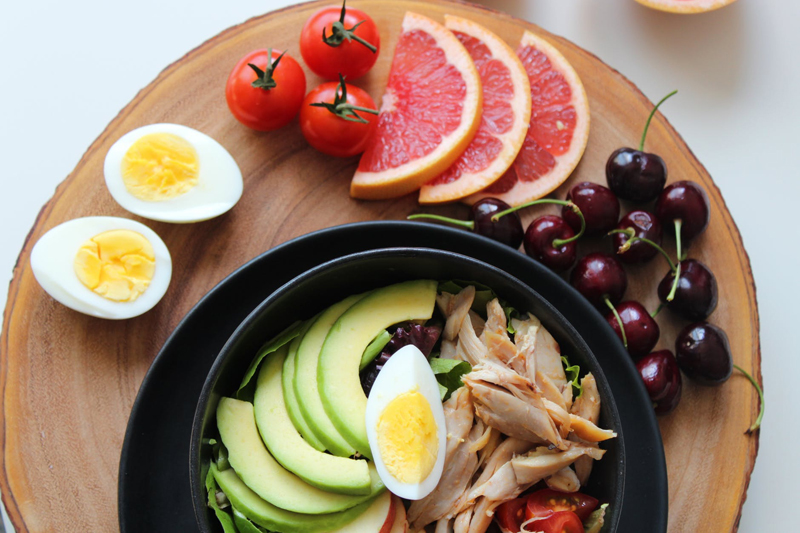 Your skin most definitely shows the effects of what you eat. If you consume a healthy diet, your skin will glow and show off that health! Eating a healthy diet is the top way in which you can get beautiful skin.
First, drink a ton of water. You might think water makes you look bloaty - but actually you bloat if your body thinks there isn't enough water around and it has to save it up. If you drink a lot of water, your body will feel comfortable in releasing it easily and not store it up. Having soft, moist skin is probably the #1 best thing you can do for your body.
Avoid smoking. Smoking is incredibly destructive to your skin. Also, avoid long tanning sessions. The leathery effect of sun exposure makes your skin wrinkle and sag.
Lots of creams promise to inject vitamins through your skin layer, but really the skin is designed to keep things OUT and that includes most vitamins. The outer layers of your skin are dead and vitamins won't help them :) What helps best is when your alive skin cells get doses of vitamin from the inside - i.e. through the foods you eat. So sure, use creams to keep that outer dead layer looking clean and moist. But far MORE important is to eat foods that have the vitamins your live skin cells - beneath - need to be firm and healthy.
Vitamin A
Vitamin A is retinol and beta-carotene. Lack of vitamin A can lead to dry, rough skin. When eating vitamin A, be sure to have vitamin E with it, as A needs that fat in order to be used properly by your body. Top foods include collard greens, carrots, eggs and spinach.
Vitamin C
Most forms of vitamin C are not absorbed by the skin, and even L-Ascorbic Acid - the type which absorbs in small doses - oxidizes quickly. Eat red pepper, green pepper, broccoli and kale.
Vitamin C Information
Vitamin D
Vitamin D comes from sunlight - and people who don't get enough sunlight often suffer from illness because of that. They even suggest those people sit in front of sun lamps! Few foods contain Vitamin D - salmon and tuna are two.
Vitamin E
Well known anti-oxidant and thought to help with scar healing - but other studies show it should only be taken in moderation. There are 8 different forms of Vitamin E - the synthetic form (which has a D,L in its name) is only half as powerful as the natural version. It is an incredibly important vitamin for your body health and should therefore be taken in proper doses daily, in vitamins, vs using tiny amounts in creams. Try sunflower oil, tomatoes, carrots, walnut oil and asparagus.
Studies I've read about say that spreading vitamin E on the outer layer of the skin does not equate to the benefits of vitamin E that you have taken orally.
Niacin
Niacin actually might be reasonably helpful coming in a lotion or mask - it helps to open up the blood vessels. This helps them deliver more nutrients to the skin cells. So you would want to take your normal vitamins through your mouth, then use a niacin lotion or mask to help your blood vessels open up and deliver those vitamins properly to the cells. Niacin comes from most meats - chicken, beef, eggs etc.
Lisa Shea's Library of Low Carb Books


Related Articles
Editor's Picks Articles
Top Ten Articles
Previous Features
Site Map



Follow @LisaLowCarb
Tweet





Content copyright © 2023 by Lisa Shea. All rights reserved.
This content was written by Lisa Shea. If you wish to use this content in any manner, you need written permission. Contact Lisa Shea for details.