Guest Author - Rebecca GrafRead an account from the 1800's of General George Washington meeting with Betsy Ross to design the flag of the new country. This is an actual book from the late 1800's with links to articles that dig in more depth to the people and the scenarios. Learn more about our nation's flag.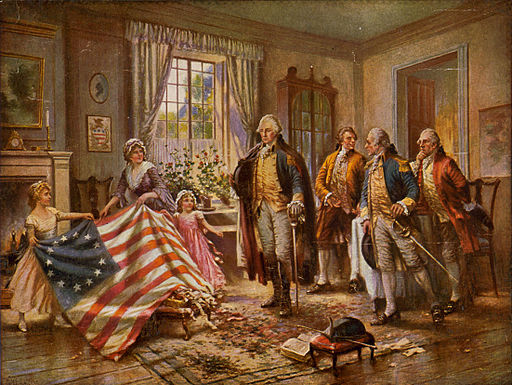 At this time the number and kinds of flags that were in use on land and sea, were only limited to the ingenuity of the state and military officials. This was very embarrassing. On May 20, 1776, Washington was requested to appear before Congress on important secret military business. Major-General Putnam, according to Washington's letters, was left in command at New York during his absence in the latter part of May, 1776, that Washington, accompanied by Colonel George Ross, a member of his staff, and by the Honorable Robert Morris, the great financier of the revolution, called upon Mrs. Betsy Ross, a niece of Colonel Ross. She was a young and beautiful widow, only twenty-four years of age, and known to be expert at needle work. They called to engage her services in preparing our first starry flag. She lived in a little house in Arch street, Philadelphia, which stands today unchanged, with the exception of one large window, which has been placed in the front. It was here, in this house, that Washington unfolded a paper on which bad been rudely sketched a plan of a flag of thirteen stripes, with a blue field dotted with thirteen stars. They talked over the plan of this flag in detail, and Mrs. Ross noticed that the stars which were sketched were six-pointed, and suggested that they should have five points. Washington admitted that she was correct, but he preferred a star that would not be an exact copy of that on his coat of arms, and he also thought that a six-pointed star would be easier to cut. Mrs. Ross liked the five-pointed star, and to show that they were easily cut she deftly folded a piece of paper and with one clip of her scissors unfolded a perfect star with five points. (See illustration showing the way Betsy Ross folded the paper having the five-pointed star which has ever since graced our country's banner. A, first fold of a square piece of paper; B, second; C, third, and D, fourth fold. The dotted line is the clip of the scissors.)
There is no record that Congress took any action on the national colors at this session — but this first flag was made by Betsy Ross at this time and in this way, and we find in Washington's letter of May 28, 1776, to General Putnam at New York, positive instructions "to the several colonels to hurry to get their colors done." In the orderly book, May 31, 1776, are these words: "General Washington has written to General Putnam desiring him in the most pressing terms, to give positive orders to all the colonels to have colors immediately completed for their respective regiments." The proof is positive that the committee approved the finished flag of Betsy Ross, and she was instructed to procure all the bunting possible in Philadelphia and make flags for the use of congress, Colonel Ross furnishing the money.