Guest Author - Susan Alison
Tammy Moody
Susan: Do you remember your first creative activity?
Tammy: My first real creative activity when I was a kid was copying the cartoons in the daily newspapers. I tried so hard to draw exactly what I saw and when I finally got a few matches, that was it - I was hooked! I began to look around me and tried to draw everything I could see.
Susan: As a child were you encouraged to be creative at home?
Tammy: My Mom and sisters were very creative people. They made lots of crafts and I was amazed by the wonderful things they created. Sometimes they'd let me join in. I remember making marble Santa Claus people and sewing dolls at a very young age.
Susan: Was your creativity encouraged in school?
Tammy: Yes. I had some really great teachers who always encouraged me to draw, paint and engage in craft. We always made pretty immaculate craft projects for holidays to bring home and share with our families. Then when I went into the seventh grade, I had a fantastic art teacher who fostered my talent until I graduated high school. I remember my Senior year in high school - she created a special class just for me to be an independant study. Others also encouraged me: my Home Economics teacher had me making up scrapbooks for the FHA with my drawings in them; the music department had me creating backdrop scenes for their plays; I created murals for the high school dances and proms and I'd do portraits of my classmates' loved ones when they passed away.
Susan: When did you first realize you wanted be an artist and who are a couple of your favorite artists?
Tammy: I was 8 years old when I knew I wanted to be an artist. That was when I figured out I could draw things and make them look exactly as they did in real life. Some of my favorite artists are the impressionist painters. Monet's my favorite because I love his subject matter.
Susan: Did you have formal art training?
Tammy: I had no formal training at all and just tried to make things look right. By the time I was twelve I was drawing idols, heros and characters and selling them to my classmates to make spending money.
Plain announcement card: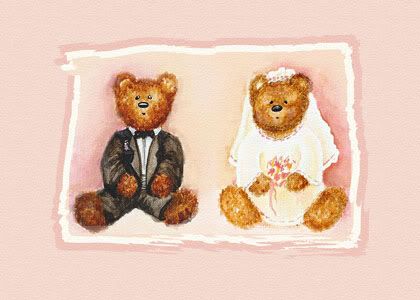 Susan: How many hours a week do you spend on your art and how long do you typically spend on one piece?
Tammy: I spend about 80 hours or more a week on different art projects. Many of those hours, now, are spent creating art on my computer. When I'm working on a large painting, I can spend from several days to several weeks on one piece. If I'm creating a smaller piece of art, I may only spend a few hours on it.
Susan: Do you ever need to boost your creativity? If so, how do you do that?
Tammy: I'm a nature lover so when I'm feeling stale I go outdoors and look for inspiration. I always come in feeling refreshed and open to new ideas. I also like magazines which teach techniques; my art groups help to inspire me, too.
Susan: Do you see the end result in your mind or does the process of creating lead to unexpected results?
Tammy: Sometimes I have a finished product in my mind's eye and sometimes I experiment with different colors and techniques to find the ones I like the best.
Susan: What is your favorite medium?
Tammy: I like prisma colored pencils and acrylic paints. Recently though, I've enjoyed Photoshop a great deal.
Susan: What is your favorite subject matter?
Tammy: Nature or people.
Susan: What attracted you to Greeting Card Universe?
Tammy: I received an email inviting me to be an artist on GCU because they had seen my art on the web. So I thought I'd give it a try. Little did I know I would like it so much that I would spend countless hours creating so many different card designs.
Dance Recital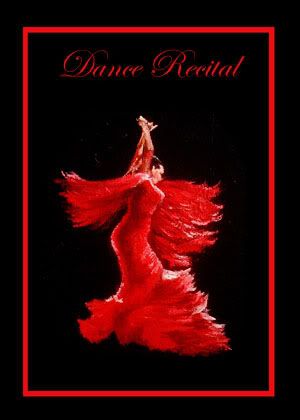 Tammy was such a great interviewee that I ended up with a lot of material which I would like to share with BellaOnline Creativity Site readers so there will be another article specifically on whether Tammy's creativity has been discouraged or scorned at all as an adult and how she dealt with that. There will also be Tammy's views on protecting one's creativity time.
click here to see Tammy's shop on GCU
and click here to see my just-getting-started shop on GCU
Creatively yours
Susan