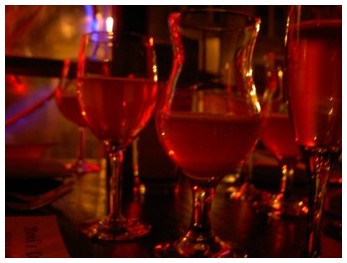 Beer Hunter Michael Jackson often spoke to me about Steve Hindy, one of the co-founders of Brooklyn Brewery in New York. From my own journalistic perspective, Steve had a scintillating past. In his early professional life, he was self-motivated to learn Arabic. Along with his education at Cornell, this skill put him at the head-of-the-line to be chosen as a Foreign Correspondent for the Associated Press. In the Middle East, he lived with danger, covering such news-worthy headline-grabbers as the Iran-Iraq War, the hostage crisis in Iran, the Israeli invasion of Lebanon, and the assassination of Anwar Sadat … good preparation for life as a brewery owner in New York, he would later assert.

After a six year stint in Lebanon, Iran and Cairo, he returned to New York with his wife and young family, and landed a job as assistant Foreign Editor at Newsday. They settled in Brooklyn, where Steve befriended a young banker named Tom Potter. With Potter, he went on to establish The Brooklyn Brewery in 1987. It was to become one of the finest breweries in America, leading with their flagship brand, Brooklyn Lager, and building a portfolio that would charm enthusiasts of the high-end craft beer market.

In 1987, Bill Moeller, fourth generation German-American Brewer, had been head Brewmaster at Henry F. Ortlieb Brewing Company and the Christian Schmidt and Sons Brewery in Philadelphia. Moeller had a wealth of experience in the art of brewing. He had retired from Schmidt's in 1985, and was eager to serve as consultant to Brooklyn Brewery. Working tirelessly with Tom and Steve to develop the first recipes for Brooklyn Brewery, Moeller oversaw their early brewing operations at the F.X. Matt Brewing Company in upstate New York.

In 1994, Garrett Oliver joined the Brooklyn Brewery team, and brought his passionate attitude for brewing to the spotlight. Not only was he a world-class brewer, but he was also an articulate speaker, adept writer and captivating presenter "on a mission from God," as he often began his talks about living yeast, fragrant hops and toasted malts. Oliver and Hindy became the face of The Brooklyn Brewery, and either could be found hosting beer dinners, seminars, or center stage at national or local events.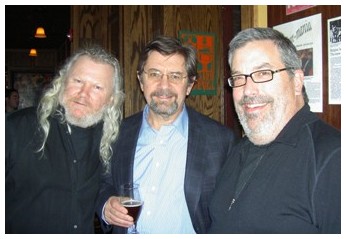 On January 25, 2011, Steve Hindy was in Philadelphia to present a Brooklyn Beer Dinner at Monk's Belgian Café and Beer Emporium at 16th and Spruce Streets. Steve has the same relaxed, charismatic attitude I imagined he showed as a 12-year-old in Middleport, Ohio – the year he won the "Most Popular Boy" contest from The Athens Messenger, earning 412,600 votes, and capturing the Grand Prize of a 2-week trip to Brazil as a Messenger newsboy.

Steve regaled us with edgy stories about his life as a Foreign Correspondent: fleeing rockets in Beirut, his abduction in south Lebanon, and his disbelief as Anwar Sadat was gunned down only feet from where he sat. After returning to Brooklyn, his passion for a simple homebrewing hobby led him into business with his good friend Tom Potter, and The Brooklyn Brewery was born. He acknowledged that one of his earliest investors, Charlie Hamm of Independence Community Bank, had enthusiastically said, "If you guys work very hard and stick with this idea, then in 10 years, you will be an overnight success."

"He was close to being right," said Hindy, "but it was more like 15 years."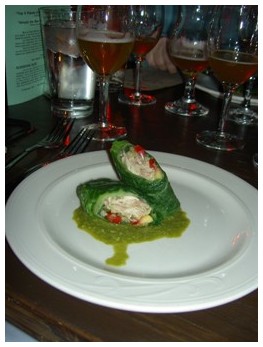 We began Monk's elegant Brooklyn Beer Dinner with a trio of Brooklyn Beers and gourmet amuse pairings: 2006 Local 1, served with Scallop Ceviche; 2010 Local 1, served with a Braised Short Rib with Asian Slaw; and Wild 1, served with a Salmon Cake with Orange Soy Gastrique. The presentation of all three beers at once gave us the rare opportunity to taste the similarities and differences, highlighting the nuances between them all. Fruity notes of apples and pears emerged from the 2006 Local 1, providing a delicious marriage with the scallop ceviche. The 2010 Local 1 was smoother, rich and complex, with fruit and floral layers playing in the mouth. Wild was alcoholic, bourbon-like, and an adept partner with the Salmon Cake.

Our second course was Brooklyn Sorachi Ace, married with a Chicken Confit Spring Roll with Sesame Lime Sauce. Sorachi Ace is a hop that imparts a delicate floral and lemony profile to the beer. It is golden and unfiltered, and was first served as an Alex's Lemonade Stand fund-and-awareness raiser.

Our next course showcased Brooklyn Local 2, paired with Gnocci and Sweetbreads in exotic Mushroom Sauce. Local 2 is deep red, dripping with flavors of raisins, plums, caramel, coriander, cinnamon, anise and licorice. It brought out the delicacy of the sweetbreads in the truffle base. I was sitting with George Hummel and Nancy Rigberg of Home Sweet Homebrew, a center city homebrew supply shop at 2008 Sansom Street in Philadelphia. Nancy commented on the Local 2: "It's too elegant and too refined for the 'I need to be hit over the head beer geek.' It's understated, like a well-tailored suit … it fits so well." Nancy's description itself was an elegant fit.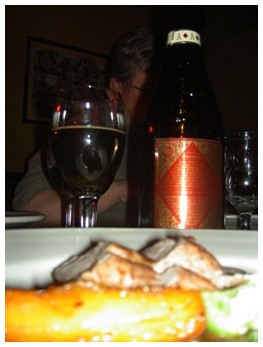 With our main entrée - Pork Loin Mole, candied Sweet Potatoes, and Tomatillo Sauce - Hindy presented 2003 Brooklyn Black Chocolate Stout. Crafted in the winter of 2003-04, it exhibited the aromas of bittersweet chocolate, candied cherries and almond pits, with an alcoholic dryness that painted the teeth. With the pork and mole sauce, it was satiating and chic.

We were next presented with 2001 Brooklyn Monster Barleywine, coupled with Bayley Hazen Blue Raw Cow Milk Cheese from Vermont and Fleur D'Aunis Cow Milk Cheese from France, with a dried Apricot Compote. The Barleywine was coppery and brilliant, with flavors of burnt brown sugar, figs, black currants, and shadows of alcohol that were tempered by the bread and cheese intermezzo.

In the final course, 2009 Brooklyn Black Ops was presented with its ebony body and oily slick, tan head. Rich aromas of boozy roasted coffee rose into my nose. This 11% ABV beer was aged in barrels of Woodford Reserve and fermented with champagne yeast to maximize the total breakdown of sugars and capitalize on the sweet bourbon flavors reminiscent of central Kentucky. The label reads:

"Brooklyn Black Ops does not exist. However, if it did exist, it would be a robust stout concocted by the Brooklyn brewing team under cover of secrecy and hidden from everyone else at the brewery. Supposedly, 'Black Ops' was aged for four months in bourbon barrels, bottled flat, and re-fermented with Champagne yeast, creating big chocolate and coffee flavors with a rich underpinning of vanilla-like oak notes. They say there are only 1,000 cases. We have no idea what they're talking about."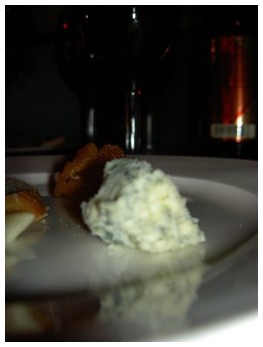 Nice sense of humor. Bread Pudding with a Hard Whiskey Sauce was topped with Black Ops/Cocao Whipped Cream. With the rich drinkability of Black Ops, the Bread Pudding sang a duet of Kahlua-like decadence.

Adding to this elegant evening, Tom Peters gave plaudits to the book, Beer School: Bottling Success at the Brooklyn Brewery, authored by Steve Hindy and Tom Potter and published by John Wiley & Sons, NJ © 2005. Hindy talked briefly about his contribution to the book; then graciously signed copies for a line-up of enthusiastic beer fans.

I purchased my own copy and devoured it in days. This is one of the most succinct business books on the market, and covers the complex issues inherent in starting and maintaining a successful business. Both Hindy and Potter are generous with the bare facts, presenting amicable opportunity side-by-side with the tougher aspects of business relationships, without apology. This is not just a book about building a successful brewery, although anyone launching such a venture would be wise to study it thoroughly.

Rather, it explores such complex subjects as business finance, advertising, marketing, building a new facility, expanding to other markets, hiring and firing, lawyers and controllers, and the personal impact of the business venture on the community and the individual – all in a practical format that includes specific examples, without getting too technical. It examines businesses that have failed, along with those that served as role models or competition. Chapters begin with either the voice of Steve Hindy or of Tom Potter, with a "weigh in" by the other partner for closure to each, giving the book balance through the eyes of both professionals. Any entrepreneur with imagination and a dream would be well-advised to heed the sound counsel in Beer School. At $16.95, it is an investment that will deliver returns far beyond the face value.


For more information: Beer School: Bottling Success at the Brooklyn Brewery



Cheers!

Photos are (from top): 2006 Local 1, 2010 Local 1 and Wild; Fergus Carey, Steve Hindy and Tom Peters; Chicken Confit course; Pork Loin Mole; Cheese course