Monk's Café - Tom Peters & Fergus Carey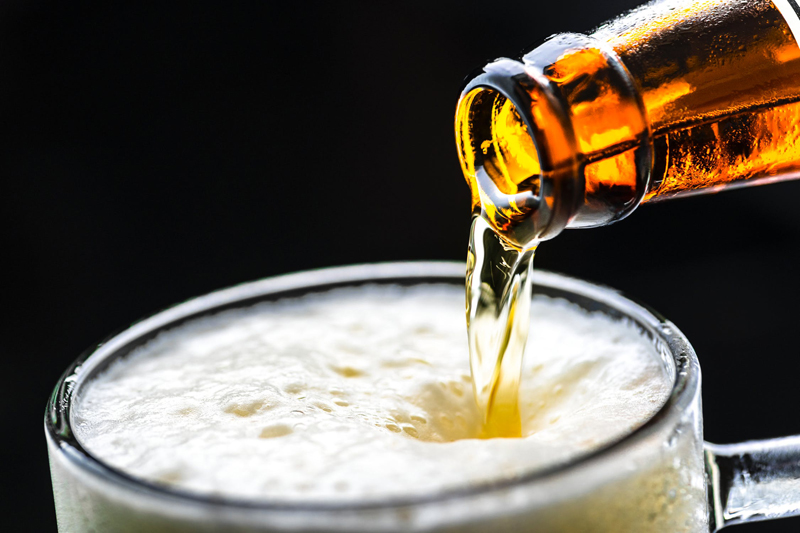 Inside the Hallowed Walls of Monks Café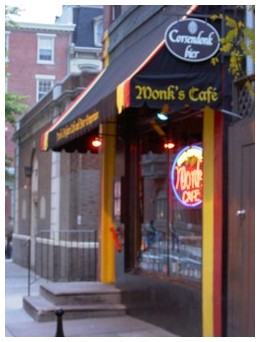 As you enter the hallway that leads to the entrance of Monk's Café and Belgian Beer Emporium in Philadelphia, you get a vague feeling that this could have been a speakeasy during Prohibition. You almost expect a little peephole to open in the door, while you whisper the secret password, "I never drink … wine."

You enter, listening for the sound of Gregorian chant, but are captivated, instead, by the voices of chattering beer lovers, melting into a buzzing resonance of interwoven buoyancy. Your eyes weave along fabric-covered walls, an eclectic merging of soft focus behind the deep walnut starkness of the monastic pews and tables that give rest to the weary. Paintings with Breugel-esque figures, maps of Belgium, and logos from the most esteemed Belgian breweries in the world grace the walls of the front bar and dining area. Snake through to the back bar, where a rich tapestry hangs as a backdrop on a side wall, while the gothic bar, reminiscent of those found in Belgium, beckons you to sup.

Monks Café, owned by Tom Peters and Fergus Carey, is an experience unto itself, a magical re-creation of Belgium merged with Philly style – 250 seductive bottled beers, 20 beers on tap, 15 bourbons, 15 premium tequilas, a menu of mussels and pommes frites to sate the gourmand's tongue, and entrees such as Duck Ragout with currents, Lapin a la Gueuze, Salmon Framboise, and Seitan Meatballs.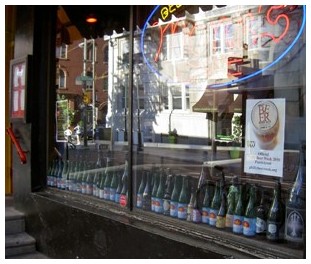 Monks publishes the most readable bible in the country: The Monk's Beer Bible, complete with a section that explains beer, its ingredients, and how to enjoy the beer-experience. This is such a coveted item that Peters and Carey have made this 20-page book available for purchase, much to the delight of their patrons.

The charismatic Tom Peters exudes warmth as he talks of his origins as a bartender at Café Nole on South Street in 1984. Already a proponent of "good beer," he wanted to introduce his clientele to Chimay Grand Reserve, and all the other "wonders" of the beer world. "If it doesn't sell, I'll buy it," Peters told his manager. Much to his delight, he sold all 12 bottles by the end of the night. He brought in other great beers: Saison Dupont – one he considered as a benchmark beer; "Seventeen kegs of Kwak from Belgium, the first pouring of Kwak in the United States," recalled Beer Hunter Michael Jackson; and beers like Rodenbach, Orval, and Cantillon.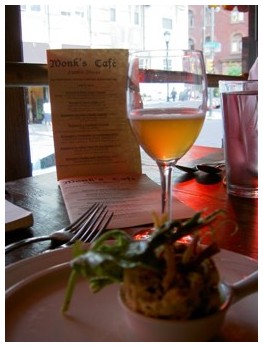 He moved on to the Copa Too, which was located at 263 S. 15th Street, the current site of Jose Pistolas. James Fernandez, who worked with Peters at the Copa, recalled his colorful past: "I cut my gums on Belgian beer with Tom. He is a great teacher and a great drinker."

Tom's first beer dinner was at Copa Too. He served paella using chicken, paired with Sam Adams beer. It was a disaster … lack of planning, one might say. "There was an hour between the salad and the main course," Tom laughs, "and the chicken was more like chicken tartare." More experienced restaurateurs in Philadelphia may have thought him a fool, but he went on to present 15 or 20 beer dinners there, before opening Monks Café at 16th and Spruce Streets.

Over the years, Monks has presented the most memorable beer dinners in the city – dinners that often sell-out within an hour after being announced. Peters and Carey introduce the biggest names in the beer business, pairing rare or exceptional beers with succulent, savory fare.

Some of their most notable guests: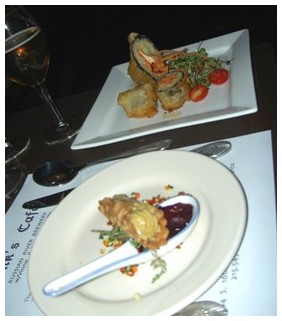 • Michael Jackson, the Beer Hunter (1942-2007) – presenting beer with all the digressions and tales of his travels around the world;

• Monk's All-Lambic Beer Dinner with Frank Boon, Jean Van Roy and Armand Debelder with beerbistro Executive Chef Brian Morin, co-author of The beerbistro Cookbook, presiding over the kitchen;

• "That's a Wrap" Russian River Beer Dinner featuring Vinnie and Natalie Cirluzo and beerbistro Executive Chef Brian Morin;

• Sam Calagione of Dogfish Head Craft Brewery in Milton, Delaware, presented his off-centered ales for off-centered people;

• Holiday Beer Dinners, with the most seductive selection of holiday beers and rare jeraboams of rich, Belgian selections;

• Jim Koch of Boston Beer presenting Sam Adams beers, including a special tasting of Millennium at 21% ABV;

• Lost Abbey Beer Dinner with Tomme Arthur of San Marcos, California;

• Left Hand and Terrapin Beer Dinner with Chris Lennert of Left Hand Brewing, Longmont, Colorado, and Dustin Watts of Terrapin Beer Company of Athens, Georgia;

• Yvan DeBaets of Belgium, introducing Taras Boulba and his many fine imports, with Dan Shelton of Shelton Brothers, while Chef Adam Glickman orchestrated the dinner;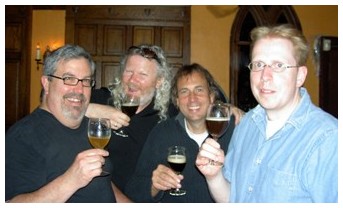 • Stephen Beaumont, beer author from Toronto, presenting The Most Expensive Beers in the World;

• Shaun O'Sullivan of 21st Amendment Brewing Company in San Francisco, California and Beer Cook Lucy Saunders of Milwaukee, Wisconsin presented Canned Craft Beer and food pairings, with a side-dish of Lucy's Book "Grilling with Beer";

• Palm Beer Dinner with Jan Toye and his son Mattias of Palm Brewery in Belgium;

• Brooklyn Beer Dinners with Garrett Oliver and, most recently, with Steve Hindy of Brooklyn Brewing in Brooklyn, New York;


• The Brett Pack Dinner featuring Sam Calagione, Adam Avery, Tomme Arthur, Rob Tod, and a life-size cardboard image of Vinnie Cirluzo, with sumptuous fare prepared by a collaboration of Chef Adam Glickman and Chef Brian Morin of Toronto, Ontario.

Tom Peters, also one of the Founding Fathers of Philly Beer Week, has received some of the most prestigious honors in the world. In September 2004, he was inducted as a Knight of Honor in Le Chevalerie du Fourquet des Brasseurs, the Knighthood of the Brewers' Mashstaff, a 400-year-old Guild in Brussels, Belgium.

He has been honored as Ambassaduer Orval since 2008, while Monk's Café has been repeatedly named for such honors as Top 10 Places in the World to Have A Beer Before You Die (All About Beer Magazine, 2008); Best Beer Selection (Citysearch, Philadelphia Style Magazine, Celebrator, City Paper Reader's Choice, and Philadelphia Magazine), and has received numerous Excellent Ratings in the Zagat Guidebook of Philadelphia Restaurants.

Tom Peters and Fergus Carey deserve the honors they have amassed throughout the years at Monk's Café and Belgian Beer Emporium. If you are planning some time in Philadelphia, either for vacation or business, pencil in some time for beer and food at Monk's … perhaps a Monk's beer dinner is in your crystal ball, but call ahead for reservations. One final word of warning: Monk's can get packed. If you don't like crowds, choose to dine early on a Tuesday or Wednesday.

Cheers!

Photos are (from top): Monks Cafe Exterior; Monks Cafe at 16th and Spruce Streets, Philadelphia, PA, USA; Crab Gueuze Sweet Pea Panna Cotta with Gueuze Creme Fraiche, All Lambic Beer Dinner; Consecration Cannoli and Crusty Lobster Roll, Russian River Beer Dinner; Tom Peters, Fergus Carey, Dan Shelton with Yvan DeBaets of Brasserie de la Senne; White Asparagus Salad with Quail Egg, All-Lambic Beer Dinner
 
Suitable for a beer dinner at the pub:
Jack Daniels Embroidered Longsleeve Button Up Shirt-lg


Professional's Bottle Opener:
New, Heavy-Duty Flat Bottle Opener, Bartender Bar Bottle Opener, Speed Bottle Opener, Stainless Steel, Set of 2
You Should Also Read:
Monks Beer Dinner Cantillon - LaSenne - beerbistro
Beer for Sophisticated Restaurateurs
Captain Lawrence at the Belgian Cafe


Related Articles
Editor's Picks Articles
Top Ten Articles
Previous Features
Site Map





Content copyright © 2018 by Carolyn Smagalski. All rights reserved.
This content was written by Carolyn Smagalski. If you wish to use this content in any manner, you need written permission. Contact Carolyn Smagalski for details.