Ideas with Fresh Cut Herbs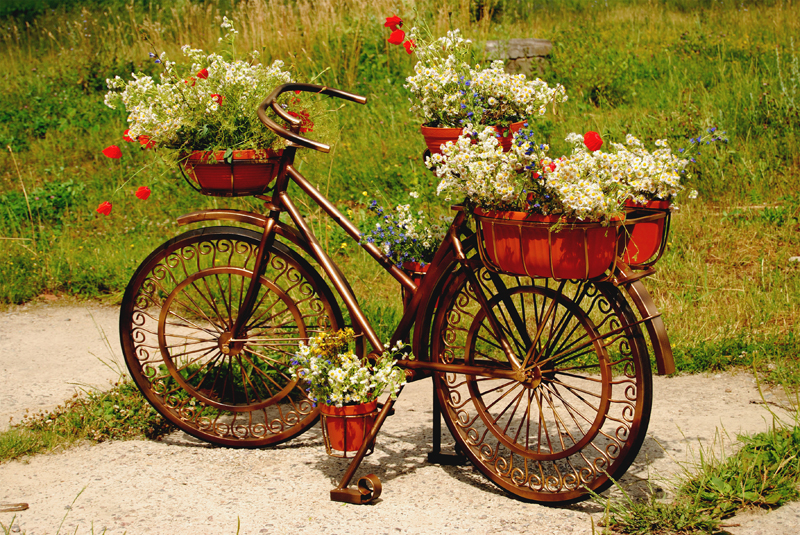 There is no need to envy those television cooks and chefs that make it look so easy to flavour food with just the right extras or being able to serve pizza with pizzaz. Here's how to put the finishing touches of professional chefs to your dishes! And from your own harvested home-grown herbs they'll taste so much sweeter!

You will need bunches of cut herbs from your garden. Place these herbs separately in glasses or see-through jars of water where using different shapes and heights and colours will do nicely – raid your butler's pantry; or maybe you would prefer a uniform look of all the same shape glasses or containers, either look may suit you, choose one. What is a butler's pantry? Well as I use the term it's a non-food storage space for glass and plateware, vases, boxes, utensils, napery, tableware and candlesticks plus all the odd bits that make running your home and easy-tidy-got-it place to go to! Lots of etcetera to add here, my friend calls it her clutter-cupboard but keeps it very tidy, "It's where I find things," she says. But back to our topic for now.

When can you do this? Always and all year round where your choice of herbs will depend on the season – just vary them at will and there will always be room for your favourites. The cut herbs will need indirect sunshine or good light but don't let them touch the hot glass of the window sill if your kitchen or food preparation space gets full sun during the day.

Still waiting for yours to grow? Well then go and buy some from your greengrocer, organic produce or farmers market. Even supermarkets may have them in a form you can use here (but not the ones in small packets with bits and pieces and no stems) Those you use to go straight into the cooking pot, or cutting them up and freezing them in ice block trays will ensure a hoard of fresh herbs for all sorts of reasons anytime.

Those with woody stems like sage, rosemary, thyme, oregano and marjoram will last longest on the window sill given that they get the right amount of sunshine they need; parsley, tarragon, chives and basil are the next longest lasting and quickest to go will be mint and dill. It doesn't really matter what herbs you choose, just make sure the ones you do cut are good clean specimens and as they wear (much the same as a vase of flowers might) just keep cleaning them up.

To make your window sill (etc) cut garden herbs last longer, change the water daily and tidy up any soggy broken stems and decaying leaves and don't be sad when you have to renew your fresh cut herb windowsill at the end of the week or so, there is and are more growing in your containers outside.

Of course you will be adding them to your food as it goes out of the kitchen and into hungry mouths, but at the same time your kitchen area, dining space and other rooms will be filled with the scent and smells of the earth, fresh scents to remind you of the outside and that all your efforts of caring for your containers is worth it after all.

Next you could use and extend this idea and always have a full herb arrangement in the 'littlest room' which is much better than using CFC chemically-based sprays. And why not hang a fresh herb muslin bag over the bathroom taps as you draw a bath. Great for an instant home spa, believe it; rosemary and lavender work especially well here.

Another idea you could use is to put a vase of fresh herbs in the guest room or in your study/home office where, because you happen to have the right light, you could also have a Rosemary or Lavender topiary. Swap them around weekly so that when the one is inside, the other can be outside in the direct sunshine and then vice versa. Fragrance on tap, nature's gift! Grow them in pretty pots and keep them watered and fed and trimmed as part of your daily to do stuff. And you know, when you slip up and miss a couple of days they will be kind to you by reminding you gently that they need attention.

These herb arrangements will serve you very well; look great; give you a fresh scent and fresh inspiration daily when and if you need to do office or household chores that not your favourites. Of course you could do the same with other herbs and plants, anything with pliable and woody stems will do – try sage, or thyme that also twine well and look cute too. But if you are into Feng Shui, no ivy inside please!

Lastly… if you have fresh flowers in the house, delivered from your friendly florist or picked from your neighbour's garden (!) and many of you may have this as a regular event, always add fresh herbs to the arrangements. This is an idea I got from a flower delivery service that used to provide weekly arrangements for an office I worked in. These ideas represent simple thinking but do we do it? And if not why not? Too busy? Now there's a pity.

What do you want your container garden to do?

................................................................................

CASUAL VISITOR … and just browsing? Why not sign up to the Container Garden newsletter? It won't matter what space or how many pots you have or even how much time you have to spend in your container garden; what will matter is that you get our reminders and good advice and ideas all in one interesting article.


You Should Also Read:
Herbs in Action - MINT
Herbs in Action - NASTURTIUM
Herbs in Ation - LAVENDER


Related Articles
Editor's Picks Articles
Top Ten Articles
Previous Features
Site Map





Content copyright © 2022 by Lestie Mulholland. All rights reserved.
This content was written by Lestie Mulholland. If you wish to use this content in any manner, you need written permission. Contact Lestie Mulholland for details.