Guest Author - Rebecca Graf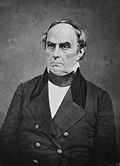 Being able to speak in public is not something everyone can do. And there are few of those that do whose legacy of their oratory skills live for generations after their death. One that stands out for all time is Daniel Webster.
Unfortunately most Americans do not know who Daniel Webster was. They might figure out that he was the early years of the country's young life, and in that aspect they would be right. Others would guess that he created our dictionary. Not quite so right on that score. It was actually his cousin, Noah Webster, who was the brains behind the dictionary. Daniel Webster was the man with the silver tongue that swayed judges, juries, and the American people during the early 1800's and helped shape America into what it is today.
Webster was born in 1782 in New Hampshire to a farmer and his wife. He was one of nine children. When the time came to choose a career, Webster chose law. His reputation in his home state won him a seat in Congress in 1813. This was mainly due to his speech protesting the War of 1812 on the stance that it would hurt the New England shipping trade. The war did happen and the shipping trade felt the impact. His passionate stance for his home, won the hearts of the rest of New Hampshire.
He eventually moved to Boston where he became known for several Supreme Court cases. His reputation spread and many yearned to hear him speak even if they did not agree with his stance. He was not shy in his opinions and delivered eloquently.
Webster also served as Secretary of State where he helped shape the north eastern United States. He played a major role in the Webster-Ashburton Treaty (as the name implies) which finalized the border between Maine and New Brunswick that is still in place today.
He used his gift to speak against civil war as the rumbles of unrest began over slavery and states' rights. He teamed up with many others contemporaries to preserve the Union. Unfortunately, his tongue failed him in that area since it was less than a decade after his death that the first shot was fired in the American Civil War.
In 1852 after running for the presidency three times, Webster fell off his horse and suffered a severe head injury. His death was ruled a result of a cerebral hemorrhage.
Daniel Webster's speeches are ones that should be read and studied by Americans. They need to be appreciated and not forgotten. Webster used his gift to help America. He wanted it to succeed and prosper and spoke eloquently to achieve that. Thank you, Mr. Webster for not have the fear to speak out.