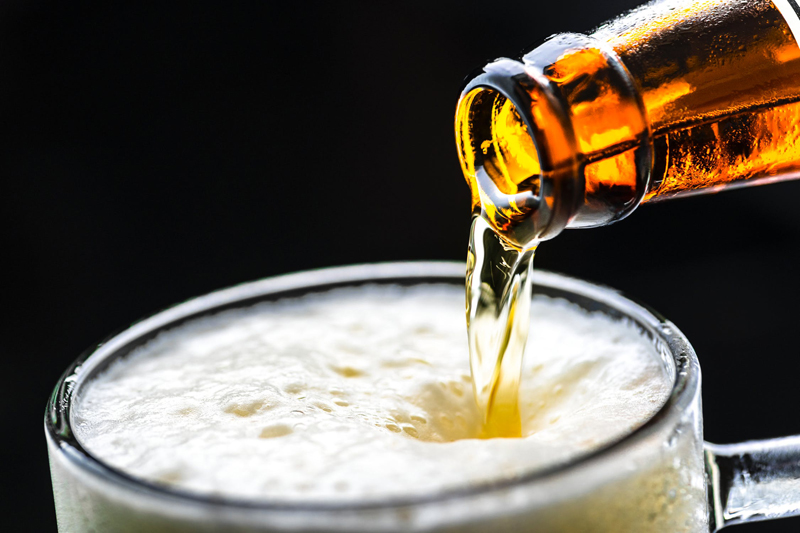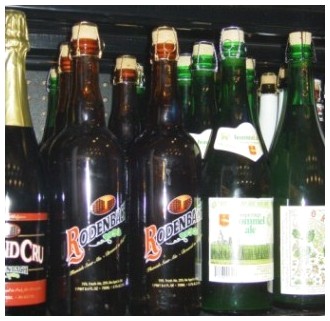 Beer tips by the Dozen is a simple, 12-point reference that keeps beer-centric information within easy reach. If you have quiestions about keg sizes, beer glassware, tasting beer, or what temperatures are just right for beer, you will find it here.
Beer Tip #1
When serving your favorite Gourmet Beer, pour the beer slowly to maximize a creamy froth. Leave a portion of beer in the bottle so the glass can then be topped up after serving. Serve glass and bottle as a dynamic duo. For designer beers that are refermented in the bottle, you will see the yeast deposit in the base of the bottle. This is a sign of quality. Do not disturb the yeast – rather, leave it in the bottom, and present the bottle with the glass.

Beer Tip #2

Recommended Serving Temperatures for Beer:
Dark ales, porters, stouts - 55-60°F
Belgian ales, strong ales - 50-55°F
Pale ales, amber ales, dark lagers - 50-55°F
Wheat beers and pale lagers - 45-52°F
Fruit beers, lambics, framboise - 40-50°F

BeerTip #3

Seasonal Ales are abundant at any time of year. There are so many flavors for each season: Spring brings Bock beer or Fruit Lambics; Summer settles on quenchers such as blondes and Belgian Wits; Fall satiates with Oktoberfest; Winter brings in Barley Wines and Winter Warmers. Be bold! Try all the exciting new brews you can lay your fingers on. They are only available for a brief time, so take advantage of the moment as you would a new lover!

BeerTip #4

A good dose of water mixed with brewer's yeast (vitamin B) before going to bed is the poor man's antidote for a hangover.

Beer Tip #5

If you would like some beer fun, consider having a Beer Tasting Party. Keep an open mind and a desire to assess flavors and aromas without the influence of others.

All beers should be sampled using the same type of glass. For judging purposes, a large, clear wineglass would be ideal. This will allow you to observe color, head and clarity, while having unimpaired access to the aroma.

Only judge five or six beers, starting with the lightest in intensity to the strongest. Bitterness needs to be tasted in the back of the throat, so don't spit. Swallow.

Keep a score sheet. Use a simplified system - judge for appearance (head, color, clarity), aroma (pleasant, complex, identifiable smells, appetizing), palate (the feel of the beer inside your mouth, complexity), finish (dryness, latent flavors, how long those flavors last), overall pleasure (memorable, juicy, quenching, satisfying)

Between beers, clear the palate with non-carbonated bottled water and pita bread or matzos, avoiding any strong flavors that may influence the palate.

Greasy foods, such as cheese, burgers, and sausages flatten beer, so save them for afterwards.

BeerTip #6

Glassware enhances your enjoyment of flavorful beer. Choose a glass that allows you to see the beer and admire its color. Hand washing is always preferred, and allows you to rinse the glassware thoroughly, leaving no residual soaps or oils that will deplete the head and lacing.

Choose a rounded glass, one that will allow you to swirl the beer a bit to release the seductive aromas. White wine glasses, brandy snifters, and champagne flutes are ideal choices.

There are, of course, specific glasses that will accentuate unique characteristics of particular styles in beer - the Bavarian weissbier glass (at nearly 10 inches in height), the chunky faceted glass for Belgian wheat beer, the short footed tulip for Belgian ales, and the pilsner that is designed to show off the color and clarity.

When ordering bottled beer in a restaurant, ask that it be served with a white wine glass. You will be amazed by the enhanced pleasures this simple change will make.


BeerTip #7

If you know any wine drinkers, you may find them to be stubborn about the idea of sampling beer. Here are some recommendations from Michael Jackson, the Beer Hunter, that will match their taste for wine with a comparative selection of beer:

Dry white: authentic, hoppy Pilsner

Gewürztraminer: spicy, malty Vienna-style lager, or a darker Munich-style lager

Champagne: wheat beer or Biere Brut

Blush Zinfandel or pink champagne: framboise (raspberry) or kriek (cherry)

Cabernet Sauvignon: fruity English-style ale, or oaky American India pale ale

Pinot Noir: richer Scottish Ale aged in oak or Belgian ale

Fino sherry: lambic or Flanders Red ale

Amontillado sherry: porter or dry stout

Port: Trappist dubbel or quadrupel, aged in the bottle

BeerTip #8

Dark beers are not necessarily more robust in body or higher in alcohol content. There is no connection between the color of the beer and its body or level of potency. Color is imparted from the malt selected.

A Guinness Draught has only 4.2% ABV and is lower in calories than a Budweiser. A light golden Duvel has 8.5% ABV (alcohol by volume).

BeerTip #9

Porters and Russian Imperial Stouts are compatible additions to a spice or chocolate cake recipe. They lend moistness to the cake itself, and enhance the flavors of chocolate and spice.

Beer Tip #10

Never drink beer from a frosted glass. When beer hits the thin layer of ice that makes the glass frosty, condensation occurs. You may think that the resultant diluted beer will not be different enough to notice, but water can affect the tastes in softer or harder beers, altering the enjoyment of your favored brew.

Frosted glasses can also alter the serving temperature of beer, Belgian ale, for instance, develops more complex flavors as it warms, so being served cold is no advantage.

Hand wash your beer glassware, and rinse well. Soap and chemical residue from dishwashers can affect head retention or alter flavors and aromas. Avoid head-killing dust particles by allowing your glassware to air-dry.

Beer Tip #11

Tip for Home brewers - Toasted or amber malts can add a rich nuttiness to your brews, without the "roasted" or "burnt" flavors of the darker malts. Make your own toasted malt for the greatest control over flavor - Preheat oven to 275 degrees. Spread pale malt on a cookie sheet. Toast for 60 minutes. Increase temperature to 350 degrees, and toast for an additional 30 minutes. Cool the malt, then use as you normally would.

BeerTip #12

A Barrel holds 31.5 U.S. gallons
A Keg holds a half-barrel or approximately 15 gallons and weighs about 136 pounds ("Real-life" experiments translate that to about one-hundred-forty-two 12-cup servings).
An Import Keg is 13.2 gallons of beer.
A Pony or Quarter-barrel Keg holds 7.75 gallons.
A Sixth-barrel Keg is ~5 gallons.
A 750 ml bottle serves approximately three 8-ounce glasses of beer.
An average bottle of beer is 12 ounces.
A Middle or a Pot holds 10 ounces.
A Schooner is 15 ounces.
A Stubbie is approximately 12 ounces, but is shorter and fatter than the typical American beer bottle.

Cheers!

Riedel Ouverture Magnum Red Wine Glass, Set of 6 plus 2 Bonus Glasses
- This beautiful wine glass is a perfect all-purpose beer glass. It gives you a great visual view of the beer, and you can hold the glass by the stem, which keeps temperature more constant.

Schott Zwiesel Tritan Crystal Stemware Diva Collection Grappa/ Distilled Spirits 4.2 Ounce, Set of 6
- Grappa Glassware works well for serving Biere Brut, Lambic and vintage wild ales.

 
You Should Also Read:
Wedding Beer
Beer Float Recipes - Sweet Seduction
Terroir and Beer


Related Articles
Editor's Picks Articles
Top Ten Articles
Previous Features
Site Map





Content copyright © 2018 by Carolyn Smagalski. All rights reserved.
This content was written by Carolyn Smagalski. If you wish to use this content in any manner, you need written permission. Contact Carolyn Smagalski for details.