Savor 2011 - American Craft Beer & Food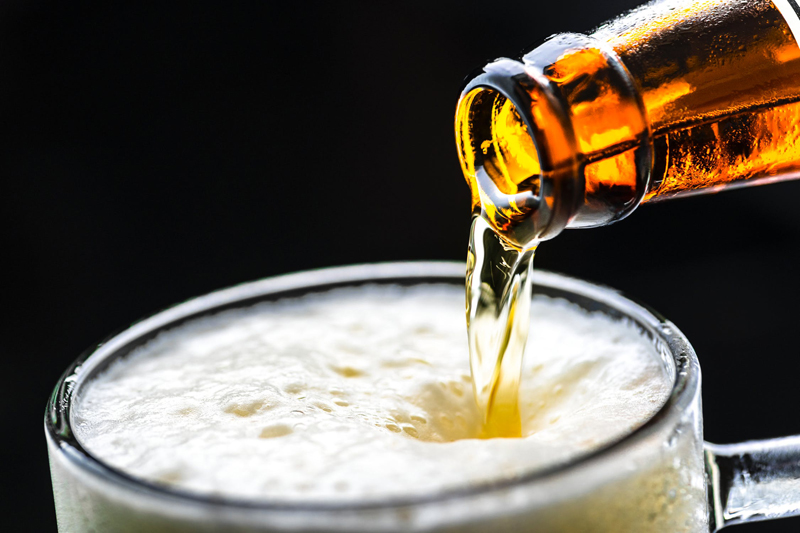 Savor: An American Craft Beer and Food Experience has been aptly named by the Brewers Association to describe the elegant mingling of food and beer, sumptuous combinations with a focus on both flavor and fashion. The savor that we enjoy in comestibles consists of the flavor, the aroma, the piquancy, the sapidity, the sapor, the tang, the spice, the zest. When food or drink displays these attributes, it becomes an affectation that excites our senses. With that, we cannot help but luxuriate in the overall experience. We succumb, as to a temptation, relishing every nuance, looking for more.

Savor has settled into the Smithsonian Museum in our nation's capital, finding a home at the National Building Museum on F Street, to present a classic, upscale beer and food event that the public can "savor." So successful is this event that it has expanded into two evening sessions, with eighteen Private Tasting or Educational Salons appended to the festivities. This year, 2011, both evenings sold out in little more than 10 minutes, including the Salons which were not included in the base ticket price of $110. That may seem pricey for some, but the idea of Savor is to present craft beer as a living, breathing segment of upper cusp living, proving its value in the locus of fine dining.


Beers from 72 small and independent craft breweries were teamed up with pairings that ranged from artisanal cheeses and coffee rubbed pork loin to herb roasted mushrooms and hot smoked pepper salmon. The menu in 2011 was designed with west coast-east coast in mind, using the skills of Adam Dulye of Monk's Kettle in San Francisco and Teddy Folkman of Granville Moore's in Washington, D.C. In collaboration with Federal City Catering, the pairings were drafted to enhance the distinctive attributes of each beer – even those crafted by different breweries, or of different styles.

For example, many beers with assertive hoppiness pair well with the lactic creaminess of cheese. IPA's scrub the palate after it is immersed in rich goat cheese. This same goat cheese will be enhanced by American-style Belgo Ale that has earthy and lactic aspects. The assertive hop accents dance with alacrity in the presence of the fats, making a successful double pairing using only one food between two beers. Savor presents tapas-style foods in this smart manner, creating an artist's palette for each grouping of craft brewing establishments.

The 72 craft breweries represented every part of the United States. Many of the tables were manned by the brewery owners or head brewers, providing an easy flow of information for those who had questions about the flavors, processes or ingredients that make craft beer a growing segment of the food industry.


Sam Calagione of Dogfish Head Brewery was pouring Savor Flowers, the collaboration beer crafted with Jim Koch of Sam Adams Brewery. Savor Flowers was herbal and intensely floral – another passionate, extreme beer.

Others on the floor were David Walker of Firestone Walker Brewing, presenting Parabola Barrel Aged Imperial Stout, a part of the Reserve Series of Beers; Dale Katechis of Oskar Blues pouring his canned Gubna Imperial IPA; Fred Bueltmann of New Holland Brewing Company with his vintage 2010 Envious, aged on oak and fruit, and settling in at 7.5% ABV; and Captain Lawrence Brewing Company with 5 Years Later Ale.

Being a smaller event than the Great American Beer Festival, Savor affords the opportunity to find and taste beers that may be unfamiliar to other regions of the country, particularly those made by the smaller craft brewers. As a guest of the Brewers Association, I chose to attend a Private Tasting Salon featuring two craft brewers from the Southern region of the U.S.
This Joie de Vivre Salon featured Karlos Knott from Bayou Teche Bierre in Louisiana and Leslie Henderson from Lazy Magnolia Brewing Company of Mississippi.

Generally, but not exclusively, the beers designed for the hot weather of the South are lighter-bodied and have lower ABV levels. It simply does not make sense to brew beers that would knock you over when the weather already does a fine job of that. In fact, "all the beers made by Lazy Magnolia are session beers" said Leslie Henderson, who pulled that statement back a little when she served her Southern Pecan aged in Bourbon Barrels, rich with luscious malts and indigenous ingredients.

At only a year old, Bayou Teche is rather new on the scene, but exhibits a solid business direction concerning the beer Karlos Knott wants to brew for the market. His wife, Stephanie, is also a brewer, who revels in experimentation, but follows Karlos' direct lead. They presented Grenade (gren- odd'-da), a wheat beer brewed with passion fruit that was paired with Prima Donna Gouda cheese, followed by Boucanee (boo-ca-nay'), a cherry wood smoked wheat beer that paired beautifully with Pinacorda, a bleu cheese imported from Spain.
The smoke was light and fragrant, enhancing the flavors of the pale malt. I could easily see myself on a hammock in the heat, poised for refreshment with this very drinkable beer.

I was anxious to taste Henderson's Sweet Potato Cream Stout, paired with oysters. The sweet potatoes are roasted, then mashed, before brewing, which creates a rich body enhanced by the addition of lactose. The Hendersons add lychees to the beer when aging in bourbon barrels, which add delicate flavors of peach and grape. The soft alkaline water from the region adds to the subtle flavors.

We also enjoyed Lazy Magnolia's Southern Gold, a brilliantly clear, golden beer made with honey. As the official beer brewed for the University of Southern Mississippi, it pairs well with andoullie sausage and other meats with a bit of heat.

Cheers!

Photos are (from top): Grenade, from Bayou Teche Bierre, presented during the Joie de Vivre Tasting Salon; Julia Herz and Paul Gatza of the Brewers Association; Sam Calagione of Dogfish Head with Savor Flowers; David Walker of Firestone Walker Brewing Company; Karlos and Stephanie Knott of Bayou Teche Bierre in Louisiana
 
You Should Also Read:
Beer & Cheese : Do you know this cheese?
Beer for Sophisticated Restaurateurs
Captain Lawrence at the Belgian Cafe


Related Articles
Editor's Picks Articles
Top Ten Articles
Previous Features
Site Map





Content copyright © 2023 by Carolyn Smagalski. All rights reserved.
This content was written by Carolyn Smagalski. If you wish to use this content in any manner, you need written permission. Contact Carolyn Smagalski for details.