Captain Lawrence at the Belgian Cafe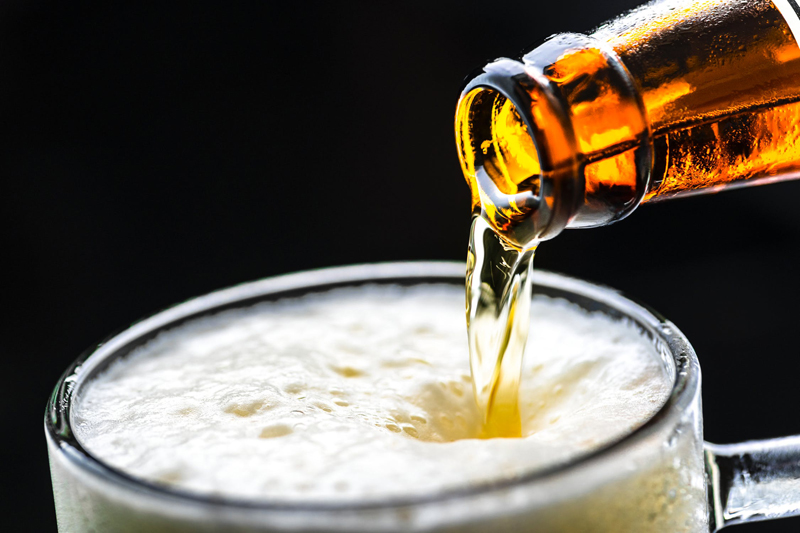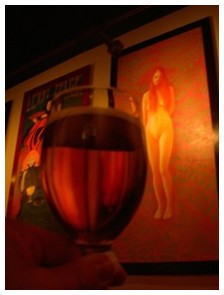 The Belgian Café in Philadelphia, Pennsylvania, USA, is a beautiful setting for a beer dinner. The dining room has a light and airy feel, drenched in the style of Art Nouveau, its walls embellished with paintings seven-feet high in lavish color. Silver light streams through the windows in late afternoon. As early evening descends, darkness drinks up the brightness, while tiny white lights glitter through the windowpanes. The mood shifts to casual elegance, and the palate readies itself for pleasure.

On September 8, 2009, Scott Vaccaro of the award-winning Captain Lawrence Brewing Company of Westchester County, brought his tasty brews to the Belgian Café. Originally booked as a Monk's Café Dinner, the Captain Lawrence event was moved to the Belgian Café, out of respect for the patrons of Monk's who had their world shattered by tragic news nine days earlier. A couple had encountered a freak fall from a fourth floor apartment above Monk's, and Tom Peters, co-owner of Monk's, felt it inappropriate to carry-on with a gala dinner in that location. Those who had purchased tickets graciously agreed that a change of venue would be in order, and Vaccaro readily agreed.

Vaccaro's wild journey into brewing began with the fascination of a 17-year-old, introduced to brewing "on a stove!" by the father of one of his friends. "Ask your parents if you can learn how to make beer," this dad cautioned. Vaccaro mumbled a quick request for permission as he ran past his mother (deep in thought on some other project). Scott soon brewed Cranberry Celebration Ale, one that his mother accepted with such enthusiasm that he laughingly recalls her passing out at the dinner table.

After a brief stab as an accounting major at Villanova University in Philadelphia and a bit of resistance from his mother and dad, he became immersed in the beer world, gaining education and experience from UC Davis to Sierra Nevada Brewing Company; then, through a 5-week brewery tour in Europe, and back to Westchester County, finally opening a brewery and naming it after the home of his youth.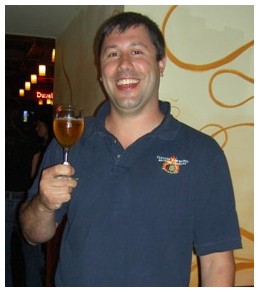 His Xtra Gold 10% Tripel won a Gold Medal in the American Belgo Style category at the Great American Beer Festival in 2008. That same year, Golden Delicious won a Bronze in the Wood and Barrel-Aged Strong Beer category. In 2007, Cuvee de Castleton seized the Gold in the American or German style sour ale category at the GABF. In 2006, Scott won the Matthew Vassar Brewers' Cup, an award given to the best brewery in the Hudson Valley.

His processes are fascinating, often including mashed and de-stemmed fruits or using special yeasts, shared by another award-winning brewer, Phil Markowski of Southampton Brewery. Conveniently located next to Prospero Winery in Pleasantville, New York, many of the Captain Lawrence Beers have the advantage of being aged in oak from barrels obtained at the winery. Vaccaro also utilizes beechwood barrels from aged brandy or other distilled products.

Captain Lawrence Beer & Food Pairings

The first course of the event matched the complex flavors of grilled watermelon seasoned with Thai basil, orange zest and ginger with Cuvee de Castleton, its quenching tropical muscat flavors and light oakiness contrasting the sweet, herbal spiciness.

As a collaboration-ale, NY3 combined the creativity of Ithaca Brewing, Southampton, and Captain Lawrence. This dry-hopped, amber Farmhouse Ale sounded-off with earthy, floral notes, and gleamed rosey-pink in the glass. Touched with honey flavors from each brewers' region, it was a perfect complement to the Frittata made with local eggs, corn, tomatoes, and zucchini.

Xtra Gold, shining with brilliant light, seduced diners as it paired with wild rice and quail, dripping with juiciness and sweetened by local peaches.

West Coast hoppiness came shining through in Captain's Reserve IPA , dry-hopped with Simcoe, Chinook, Columbus, and Amarillo, resulting in 90 IBUs. With the Cioppino of clams, mussels, shrimp and cod, the fruity flavors pulled the sweetness of the sea into center stage.

Every five-course meal deserves to end with a satiating digestif, and Smoke from the Oak, a 6.5% smoked porter aged in apple brandy barrels from the oldest distillery in the country was an able player. As flaky layers of the bleu cheese tart cradled pear sweetness, this newly released vintage resonated with the richness of oak and brandy, with subtle smokiness at the finish.

Cheers!

Photos are: Captain Lawrence Beer against art deco backdrop in the Belgian Cafe; Scott Vaccaro, Brewer/Owner of Captain Lawrence Brewing Company
 
You Should Also Read:
Best Beer Bars & Brewpubs in Philadelphia
Alpha King Challenge 2008 - Beer for Hopheads
Brewmaster's Mexican Beer Dinner at Iron Hill


Related Articles
Editor's Picks Articles
Top Ten Articles
Previous Features
Site Map





Content copyright © 2018 by Carolyn Smagalski. All rights reserved.
This content was written by Carolyn Smagalski. If you wish to use this content in any manner, you need written permission. Contact Carolyn Smagalski for details.