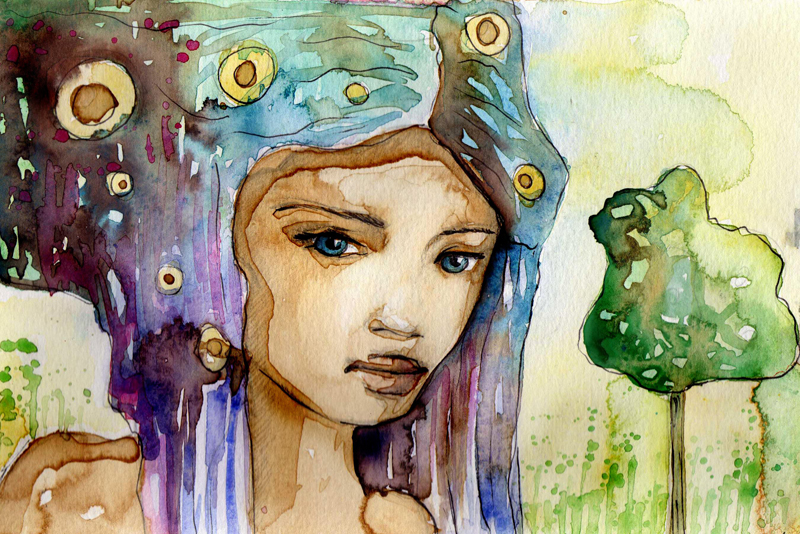 This month, in 'Ethnic Contributions,' I would like to introduce you to Lesa Prontaut, pronounced Lisa Pron-TOE. This extraordinary lady is a wife, a mother, a sister, a friend and an Independent Beauty Consultant for Mary Kay Cosmetics. Recently, in the Metro Atlanta area I spent a day with Lesa, shadowing her if you will, as she busily flitted through her jam-packed day. I watched her interaction with people, her patience and willingness to listen. I noticed her boundless energy and how people were drawn to her. Whenever we found ourselves with a few moments of down time, I peppered her with questions. The answers that she so graciously gave formed the basis of the interview which follows.

April: How did you get started with Mary Kay?

Lesa: I was between jobs, so I signed up. Then I got a job, but wound up getting laid off. So I picked the Mary Kay back up. Since I had bills to pay, you know—the usual stuff, I knew I had to make it work. I did some networking, and got some friends and family together. Things took off from there.

April: Who told you about the company?

Lesa: Meg Steward – she is a baaad girl. I mean this woman was just so real, and bright, and into it, and so knowledgeable...I was impressed. She has a light that shines out of her, and I just became interested. Since meeting her and becoming a Mary Kay beauty consultant, I have learned so much! Girl, I take advantage of all they offer. (Laughs, then pontificates) There is ongoing training, -- all free; there are skincare classes, makeup classes, classes to help one deal with financial matters, etc. You name it you can go and get training for it, each week.

April: What interested you in the product and the business end?

Lesa: I've always taken care of my skin. I have used all kinds of products... (Names some that are very well-known). So when I was able to 'test drive' these products, I became hooked. Then I knew that if I felt that way, other women would too. Over time I realized that for the price, and the performance, Mary Kay cosmetics rank with the best. For me, it is the best! Everything I use is from this line, for my eyes—to dissipate fine lines; to my skin, for the body; I use the makeup, the fragrance, everything!

April: How long did it take you to build your business?

Lesa: I'm still building. I'm working toward my first car. I really want that pink Cadillac!

April: What do you love about what you do?

Lesa: The flexibility! I love that no one is controlling my life or my family—their lives. You know, when you work in corporate, you spend more time there than with your family. If corporate says you have to work, you have to, but this way I make my own hours. I meet people. I don't push myself on them. I just meet them everywhere. I like the reputation of Mary Kay too. This cosmetics company turned 48, on Apr 13, 2011.

April: 48 years in the business, they must be doing something right.

Lesa: I love the quality, it is outstanding. April, a lot of people are sleeping on these products! I want them to know that they are top of the line. I know because I have used many of the big name brands. This company does research, I love that. They have scientists, they are into skin and women, and building something.

April: What has becoming a MK business owner done for you?

Lesa: I love that while selling these products or just showcasing them, I get to enrich women's lives. It has also given me a different type of confidence. When I signed up to become a consultant, I had no idea of all that I would receive, benefits, friends, contacts, associates --such fullness, and knowledge.

April: Name some ways in which you as a MK consultant may be different from others.

Lesa: I don't chase people. Most of the time they approach me, or they are referrals.

April: That means the person who referred them is happy...

Lesa: Yes. I also include our senior citizens in my beauty and skin care services. I go to them, wherever they are, with lots of good stuff. They love the attention and the pampering.

April: Often they are the very people that are forgotten.

Lesa: I know, and that is so sad. They like to see me coming. I love being sweet to people. For me it's not so much about sales. I like interacting with people -- I've found my niche. I also do [eye] lashes, and classes teaching women how to apply faux lashes. I teach them to get the look they want.

April: I know. I attended one of your classes, it was free. You had champagne and edibles. You showed us how to get glam. I had a lot of fun. I met nice people and I was amazed at how much patience you demonstrated. Most of the women looked great wearing their new lashes too!

Lesa: This is about building relationships.

A: What advice would you offer other women who may be between positions?

L: Just do it. The option is always there to sell product. It's not expensive to start; get rid of the fear. On starting, a person receives $450.00 worth of product. The truth is the product sells itself.

A: What if the person finds they aren't cut out for this?

L: They will have full-sized products that they can use or sell. They can even gift them to family and friends.

Ethnic beauties, I thank Lesa for her time. I also look forward to bringing you another special someone -- soon, as well as their contribution!

~April
You Should Also Read:
Lesa and Glam
Forty Something N Beyond Style
Wear Summer Into Fall


Related Articles
Editor's Picks Articles
Top Ten Articles
Previous Features
Site Map





Content copyright © 2019 by April Alisa Marquette. All rights reserved.
This content was written by April Alisa Marquette. If you wish to use this content in any manner, you need written permission. Contact Juliette Samuel for details.